We are influencers and brand affiliates.  This post contains affiliate links, most which go to Amazon and are Geo-Affiliate links to nearest Amazon store.
With so many drones coming into the market, how can you tell if you have a good one? Well today I take a look at the AKASO K88 Quad copter Bundle from Tablet express.  The kit includes a few things others in it price range don't offer. I will get more into that in a few, first let me give you a glimpse of what this drone looks like in the wild outdoors.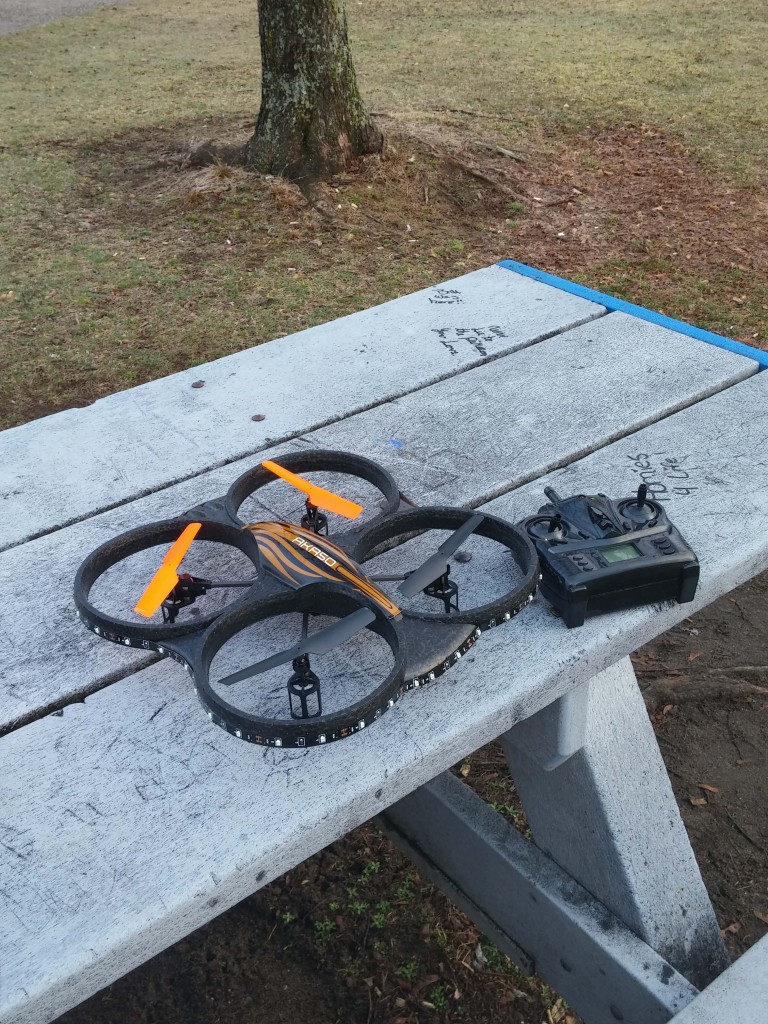 Check Out My Unboxing Video Here!
Now that you got a  look at it in the wild, lets take look at what comes in the package.
You get two extra propellers. You also get four batteries, a remote. You also get a four in one battery charger. The kit includes the drone, a 4 GB micro SD car and reader. The last two pieces that come in the kit are instruction manual and screwdriver.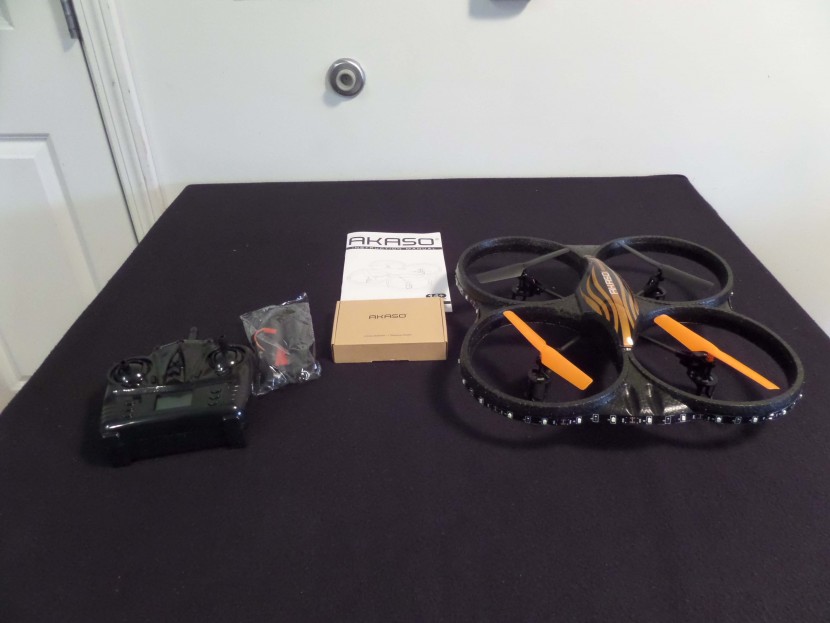 As you can see in the picture above, the remote is all black. This is a 4 channel 2.4Ghz remote and has a range of up to 100 meters. It has several buttons on it including a single button that will make the copter do a 360 flip. You also have two buttons that work the camera. One is for video and the other is for single picture mode. On the top let of the remote is the button that is for speed control.
The speed control button has three modes. The modes are low, medium and high. To know it is in low press and it will beep once, for medium press again and it will beep twice and for high press again it will beep three times.  A few other buttons are for trim buttons, these buttons are for making the drone fly correctly.  If the drone goes up when you have no other button pressed you will need to adjust the trim settings.
The stunt button or what I like to call the 360 flip button, this button works with speed setting.  If you have it at 30% to 60% the stunt flip button will do one flip forward when pressed, if you have the speed control set to 100% it will flip over and over.   Move the right control stick in any direction and watch it flip.  Move the controller stick again and watch it flip again.  In this mode you can do a front flip, back flip or a sideways flip.  You also have a 1 inch screen to see propeller speed  and trim control.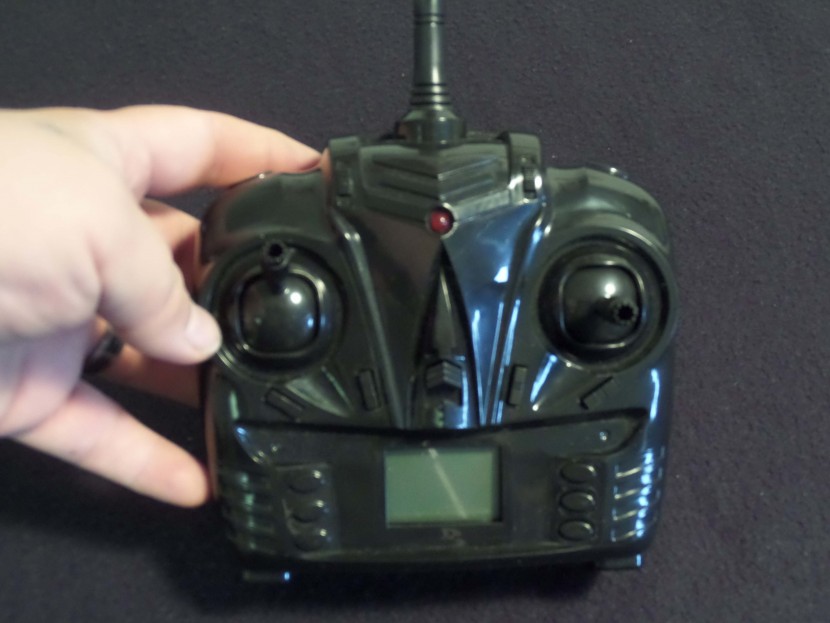 On the back side of the remote is the battery compartment. This takes six AA batteries.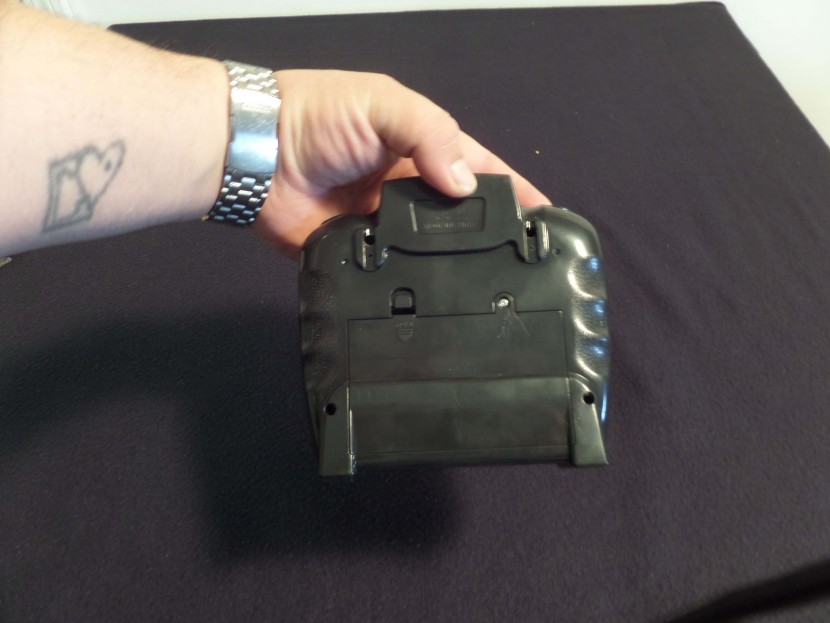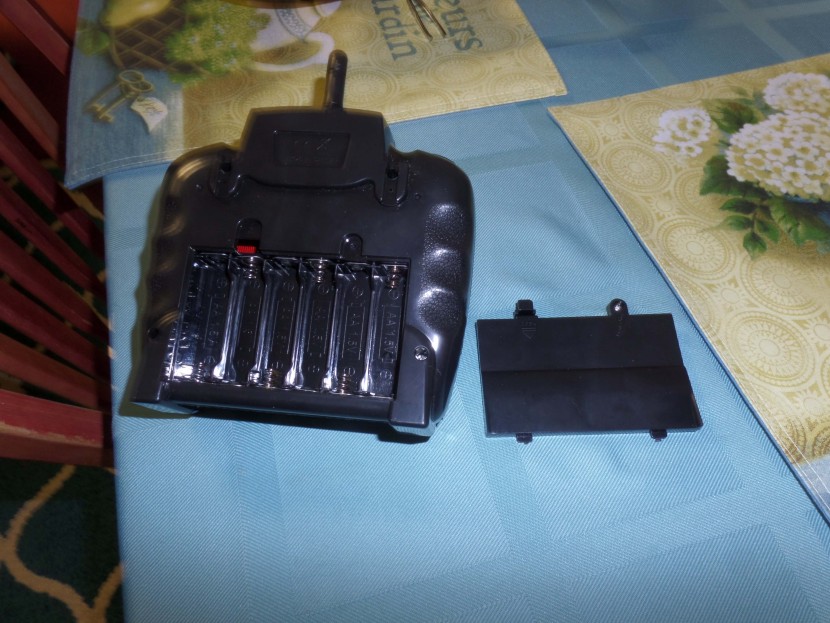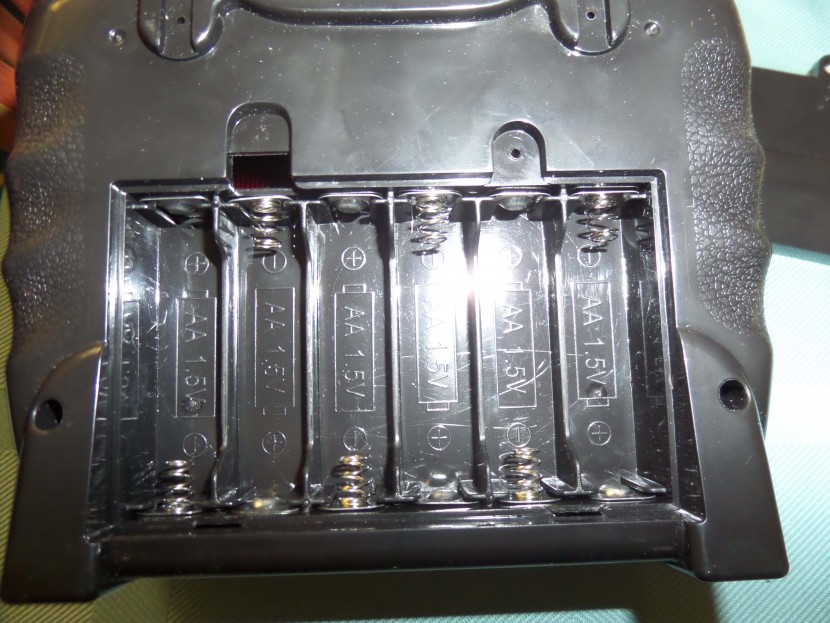 One thing I will point out is the better the batteries the longer the life span and usage time  of the remote.
Taking about batteries, let talk about the battery bundle kit and the battery that runs the drone itself. The battery is a Li-pro 3.7v 850 mAh, this lasts for about 6 to 8 minutes of flight time. This is due to the LED'S on the drone.  If you shut them of you will get about 7 minutes of flight time. With the LED's on you get about 5 minutes.  Which is not bad since they include 4 batteries, so on average you get between 20 and 28 minutes of flight time.  Now they say it takes around one and half hours to charge the battery, they include a charger that can charge all 4 at once.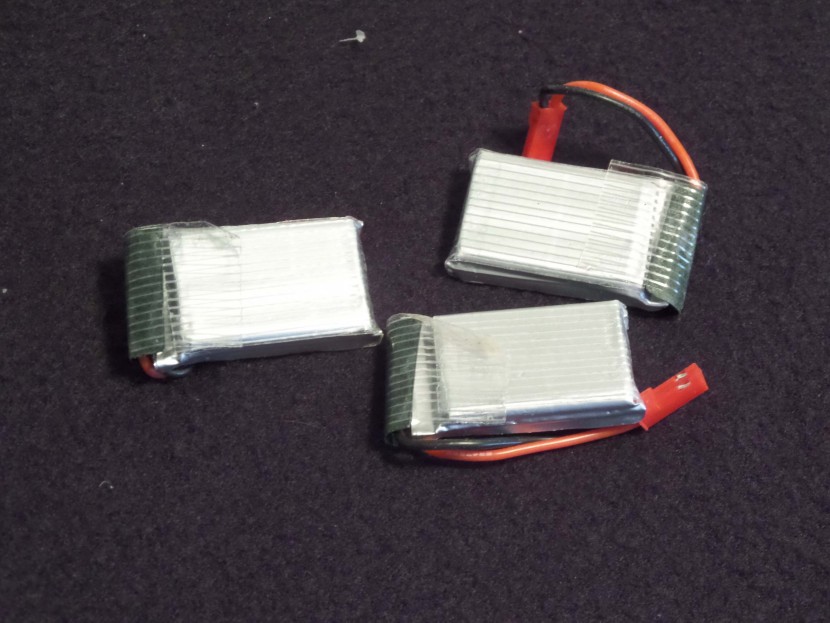 As I mentioned previously, you can charge four at once, this tiny charger has 4 plugs for the batteries to charge and you also get one port for the charging cord that connects to the USB wall  charger or PC port.  I used my wall USB port to charge it. It took on average around a hour to charge the batteries. I will post some photos of the charger and cords.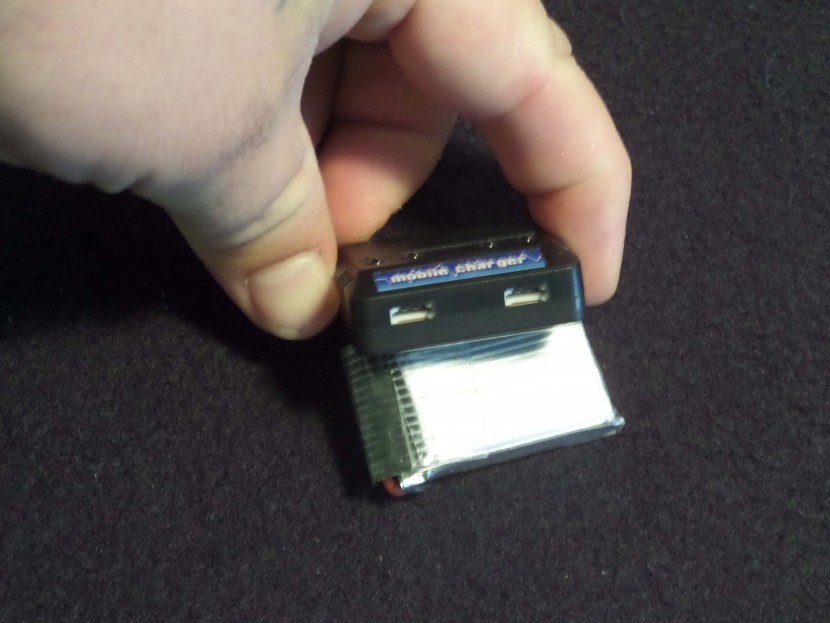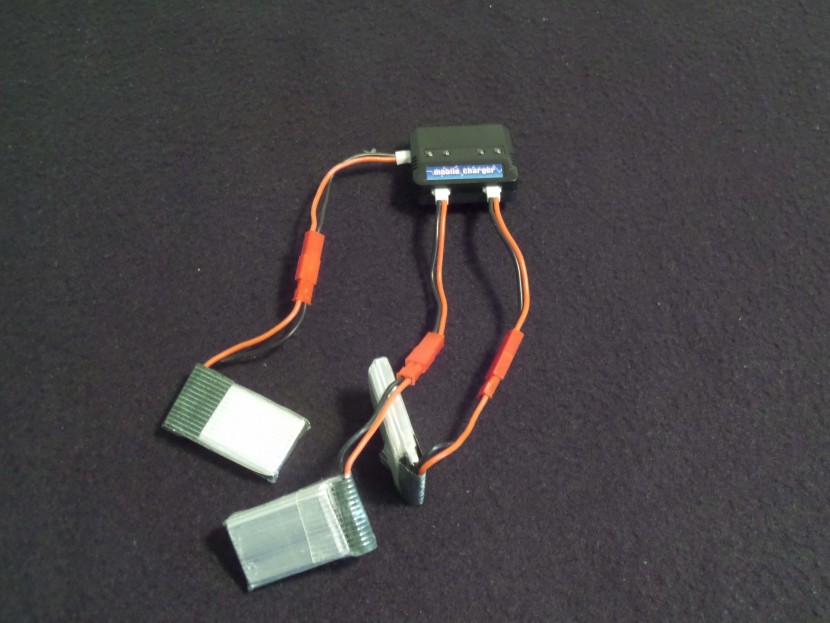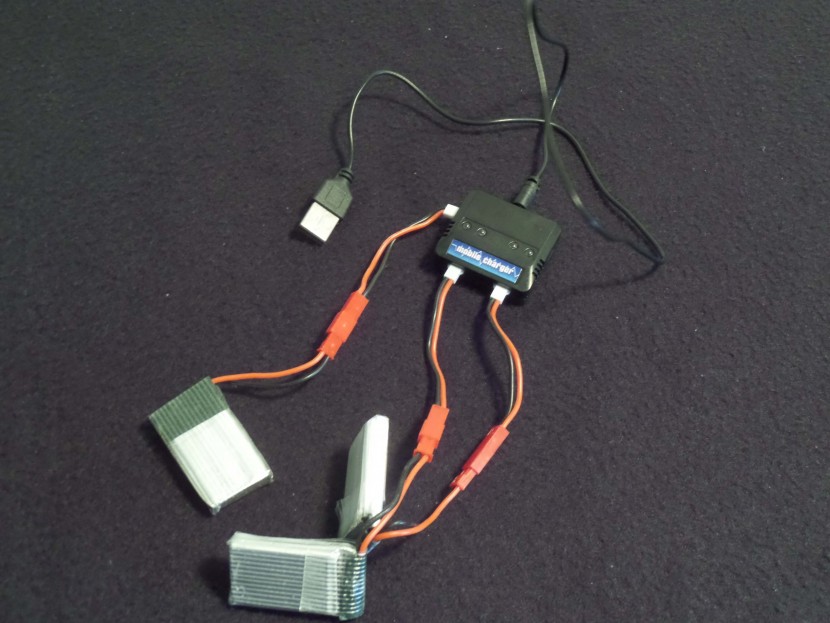 As you can see from those photos it is a wired mess but works well. I would love to see better charger options for these batteries.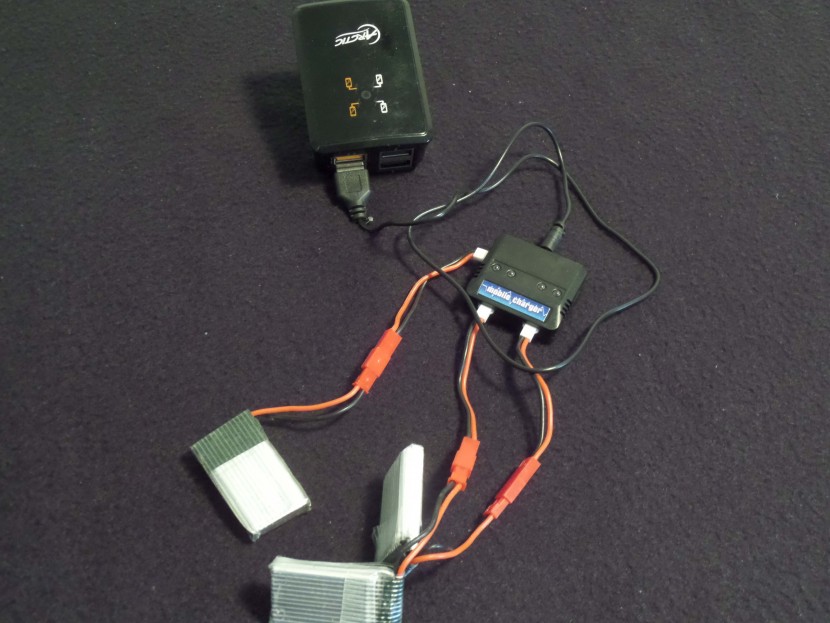 What you don't see is the forth battery. That because I miss-placed it when I took the pictures. Has been found since then. You place one battery on the bottom side of the drone and connect it to a red and black wire. You will see this on the next photo.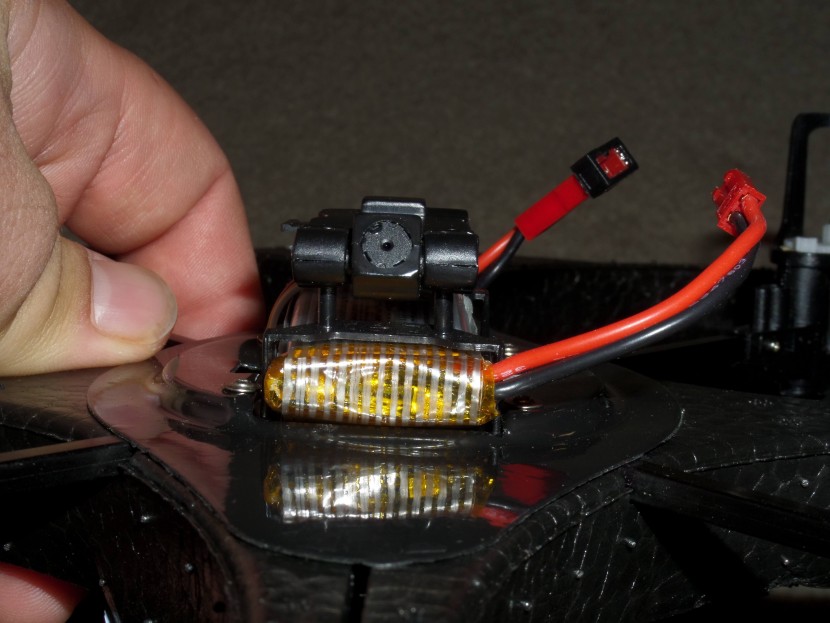 You can see the housing without the battery in the next photo.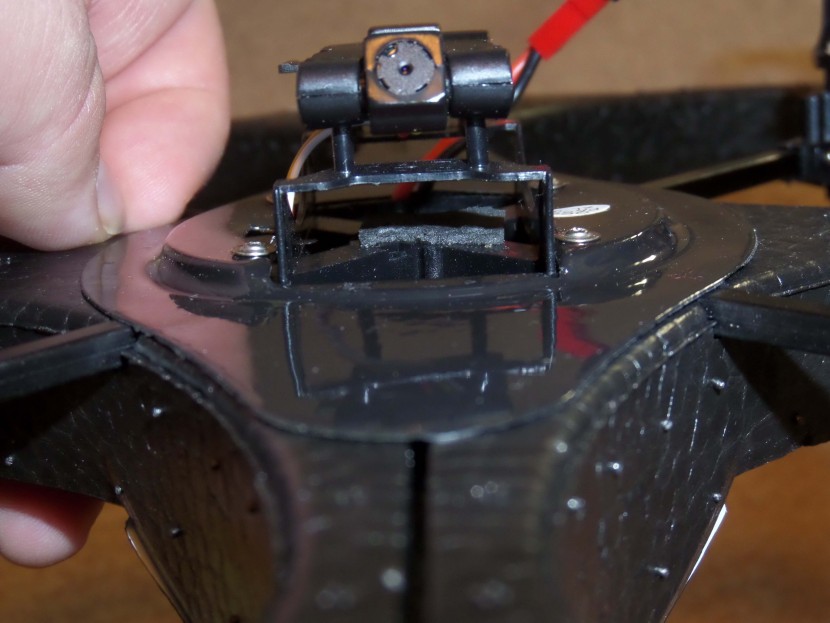 Now the package also includes two extra propellers. In this photo you will see the propellers and the fourth battery that was missing. You will also see the screwdriver that is needed to change the propellers.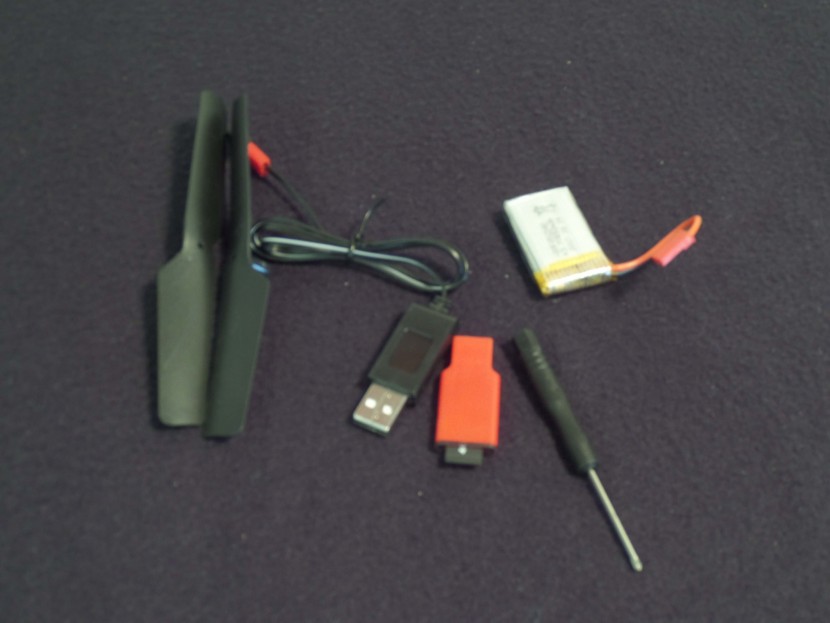 Now you also get the 4 gigabyte micro SD card and reader. The card reads 3.8 gigabytes for me when tested.  This card get inserted into the camera on the drone.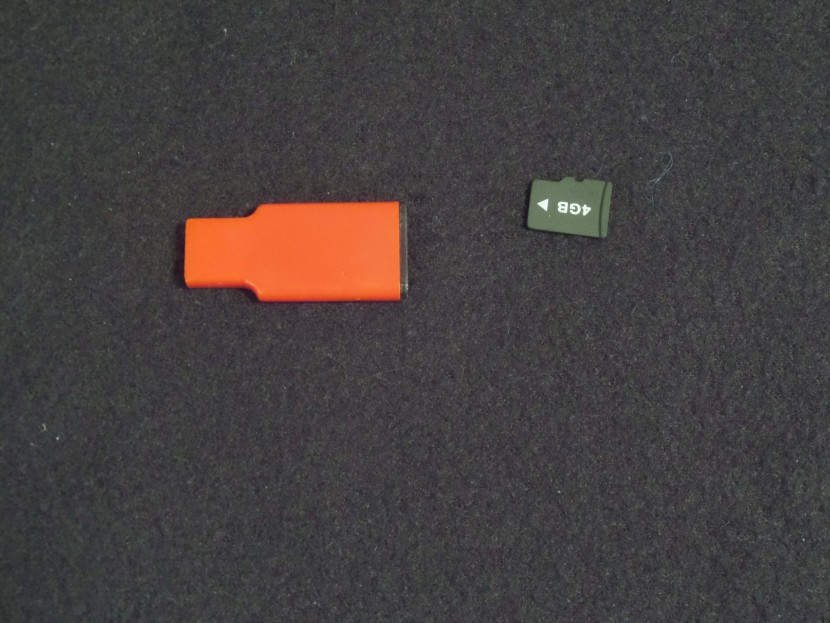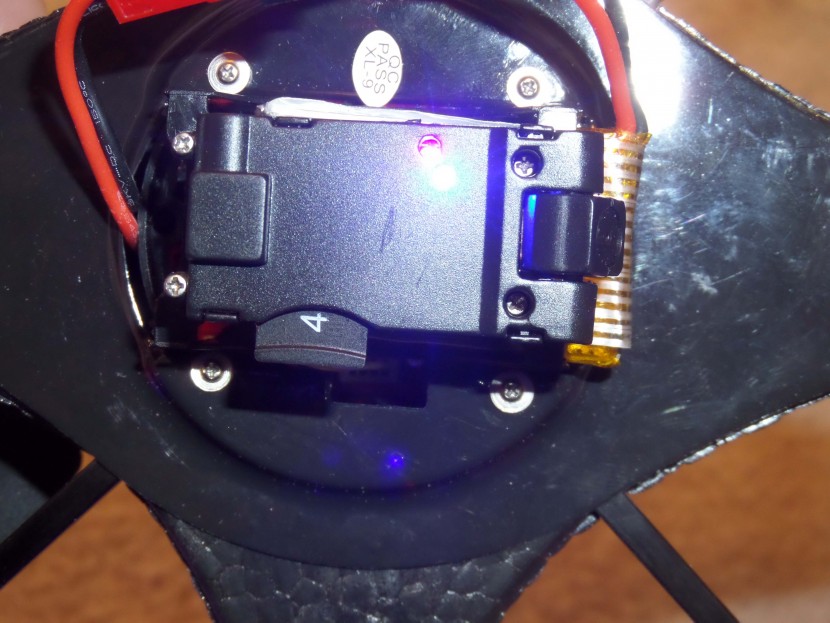 Now that you see where the micro SD card goes you can see the K88 has a camera. This camera takes photos at 1280 x 1024. It also will shoot video.  The video is recorded at 640 x 480 at 30FPS. Not too bad for the price of this drone.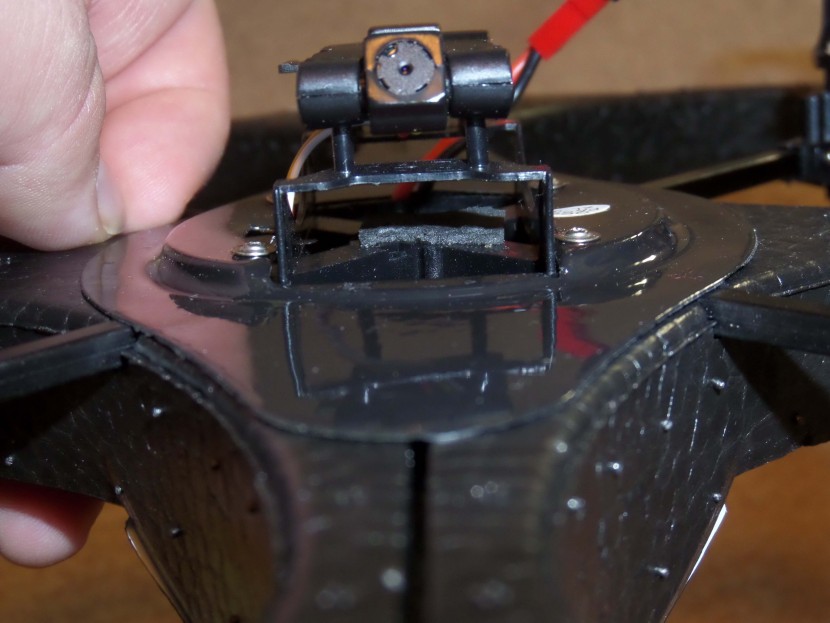 The camera eye is movable and you can rotate it about 30 degrees I would say.
I guess you want to know about the drone itself, well I guess I can tell you. Well it is lite, almost weightless, less than half pound I would say. The specs on their page says 3.8 ounces. Now since it weighs so little you wont need to register it with the FAA.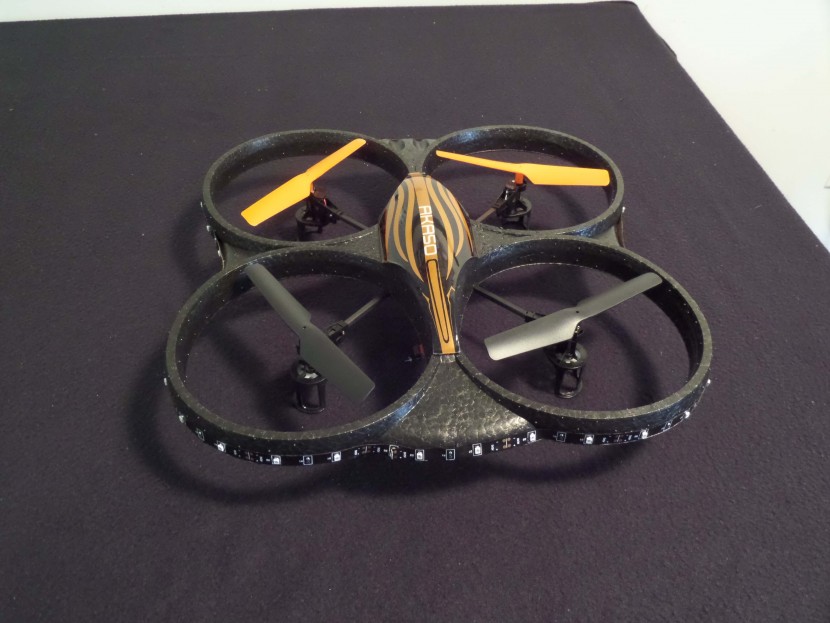 As you can see in the picture above it is made from a foam like a bicycle helmets made from. This make it very durable. The foam protects the propellers so they won't break as often during crashes like other drones. It also has a LED strip that wraps around the entire drone. Each side is its own color. You have blue, white, red, this comes in handy at night.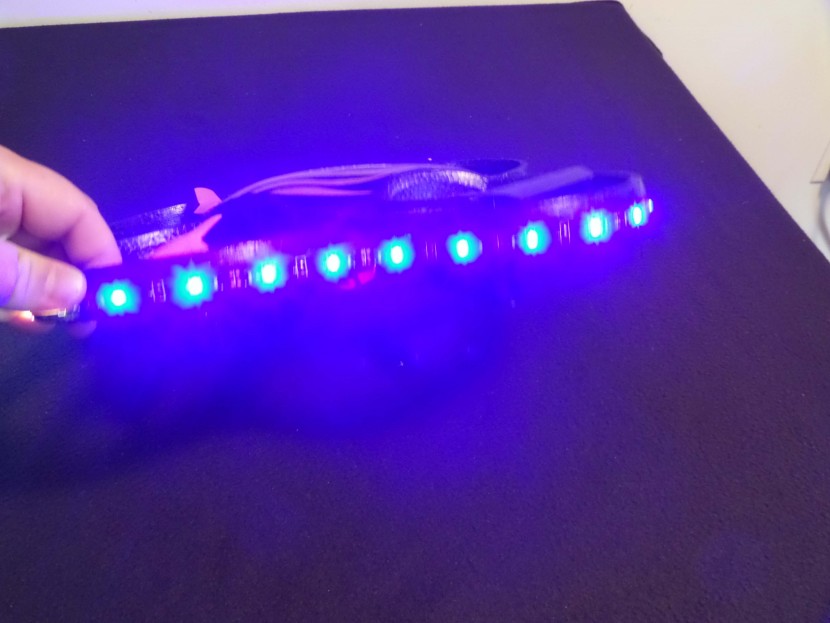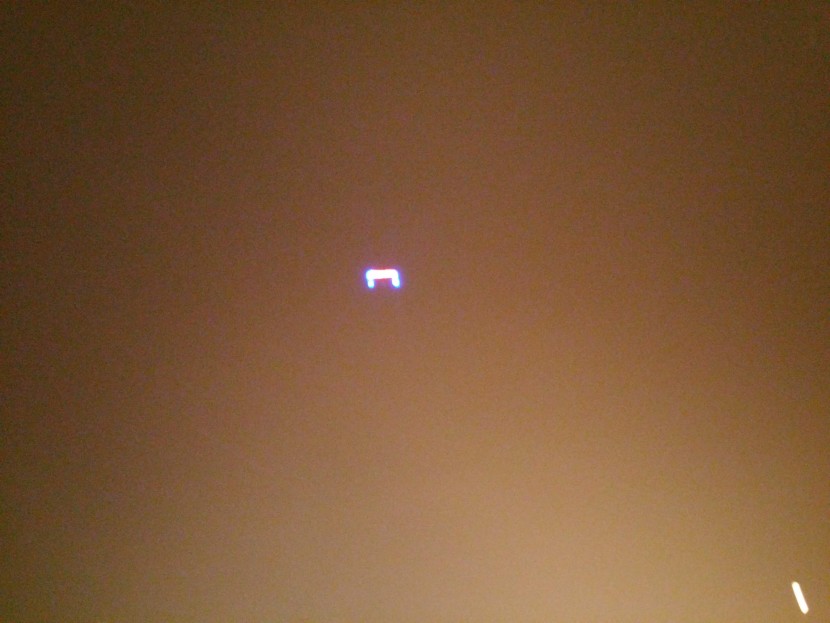 As you can see, the lights are very bright and easy to see even in fog. The drone has a 6 axis' to keep it stable during flight. You can reach a nice height, I would say few hundred feet or higher with ease.
Let me show you a few photos of it in low height flight.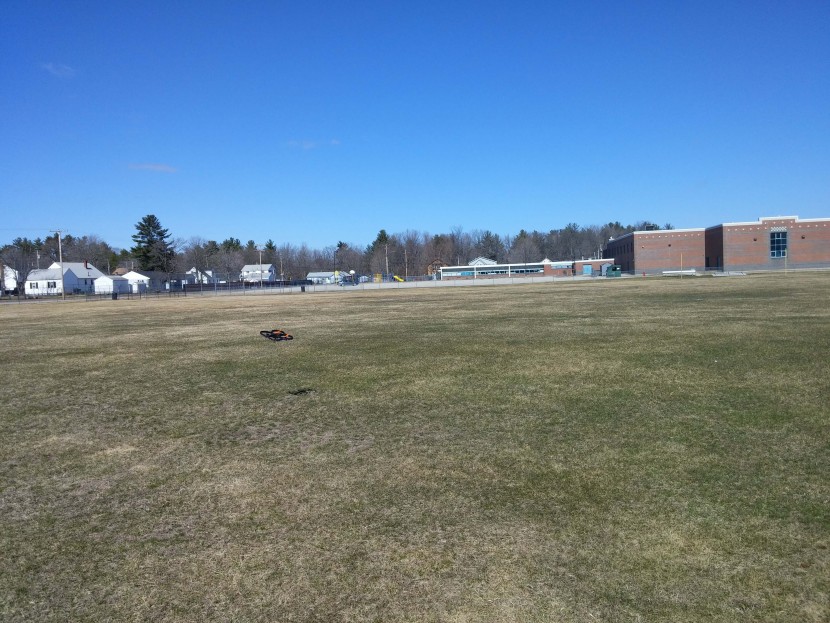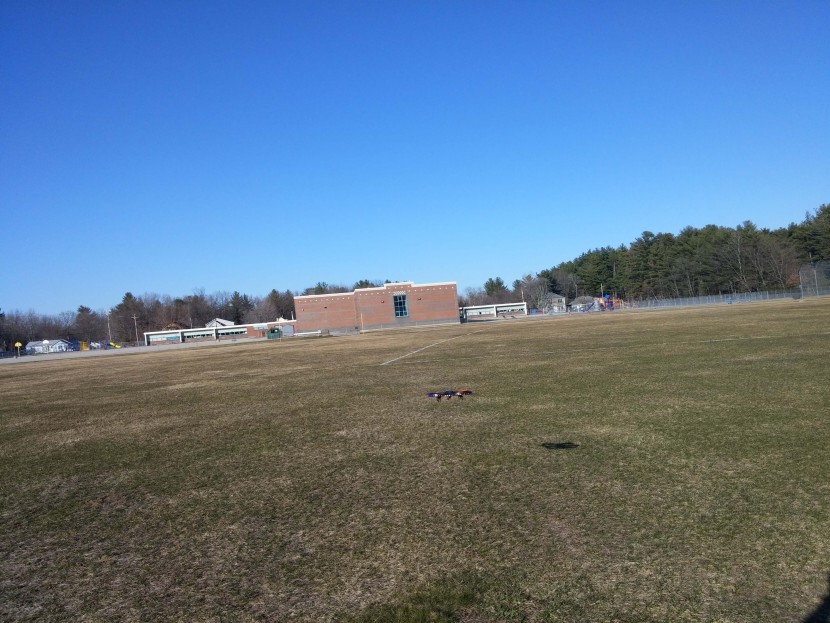 As you can see it glides across the ground with ease. High flight is very nice also. You can do tricks or just fly around with no issue unless you get winds above 10 miles a hour.
Check Out My Flight Video Here!
Back to the original question I asked, how can you tell you have a nice one for the price?  Well my answer would be can your kid or neighbor kid fly it without it breaking.  As you seen in the video above my neighbors daughter flew it with no issues. She was able to do tricks and keep it in the field with little hassle unless higher winds hit. I would say that would make it worth the price. Then you check to see if their smiling, she was and asked to fly it again.  So I would say that would be a good way to check.
Final Thoughts! 
The AKASO K88 drone bundle runs around $89.99 right now on Amazon. For that price and with the extra batteries I would say it a nice kit. You can fly it for a nice amount of time without buying extra batteries. Not to say you cant buy even more for more flight time. They designed it with durability in mind for kid and adults alike. You can reach a nice height when flying. It can be clearly seen in the dark or in fog.  Do I think the camera is the best, no there are better out their but those will cost you a lot more so for an entry level drone. The one thing I would like to see is a different charger. This lacked for me, since I hate wire messes but wont complain too much since the price is decent and the drone flies well. This will definitely stay in my collection for a good while. This is the 3rd drone I have flown to date and would say it ranks above the others in durability. The others have broken blades after blades. So with the 20 to 28 minutes of flight time per trip. I would say it's a good buy for a drone.
Disclaimer- TabletExpress sent me the AKASO K88 drone bundle to give a honest review of. All opinions are mine and mine alone. 
We are influencers and brand affiliates.  This post contains affiliate links, most which go to Amazon and are Geo-Affiliate links to nearest Amazon store.
Hi everyone I'm James Braga. I was born in Oregon and moved to New Hampshire a few years back. I love most things that have to do with video games and electronics, It doesn't matter if it for a car or a house, if it has electricity in it i will love it . I'm also in school for Information Systems Technology.