A few weeks back I got my hands on the Alienware Steam Machine. This is their new model and is not to be confused with the Alienware Alpha (which run's Windows OS). This is their Steam OS model. It arrived at my door in less than 24 hours from the time they said it would be sent. Which blew my mind at how fast it shipped and arrived honestly. The Steam Machine showed up in a plain paper cover with a little alien on the cover. You can see the cover in the picture below.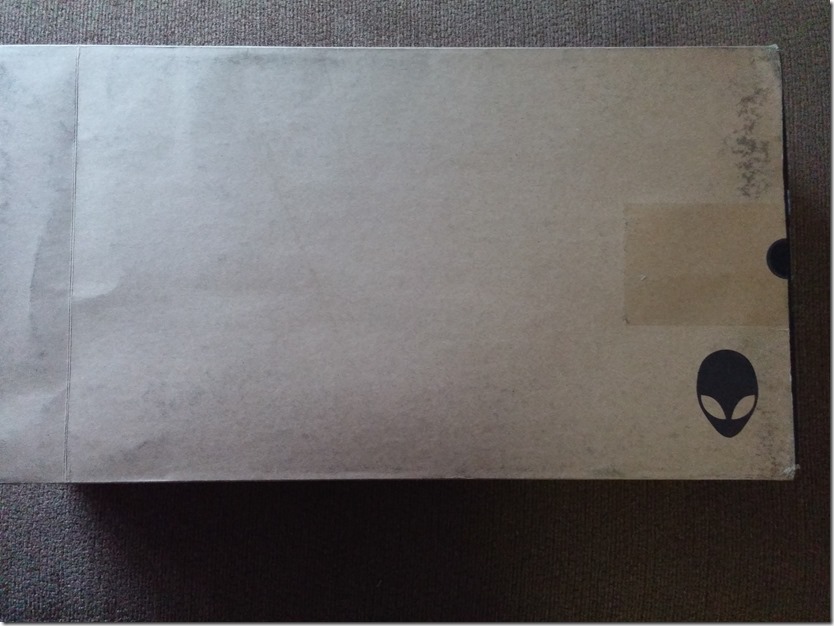 Now I thought to my self "that's kind of bland looking". Little to my knowledge  there was another cover hidden and stuck behind tape.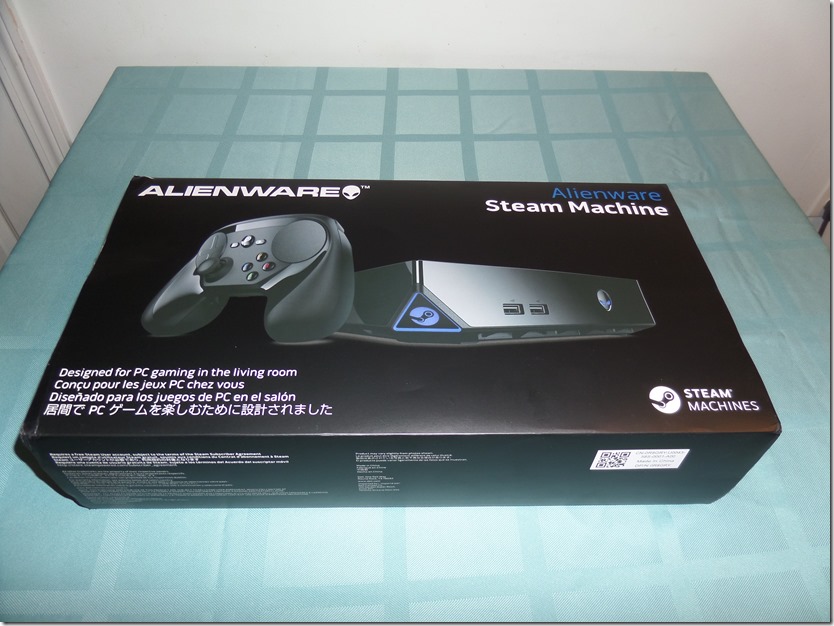 CHECK OUT MY FIRST THOUGHTS OF THE ALIENWARE STEAM MACHINE HERE! CLICK HERE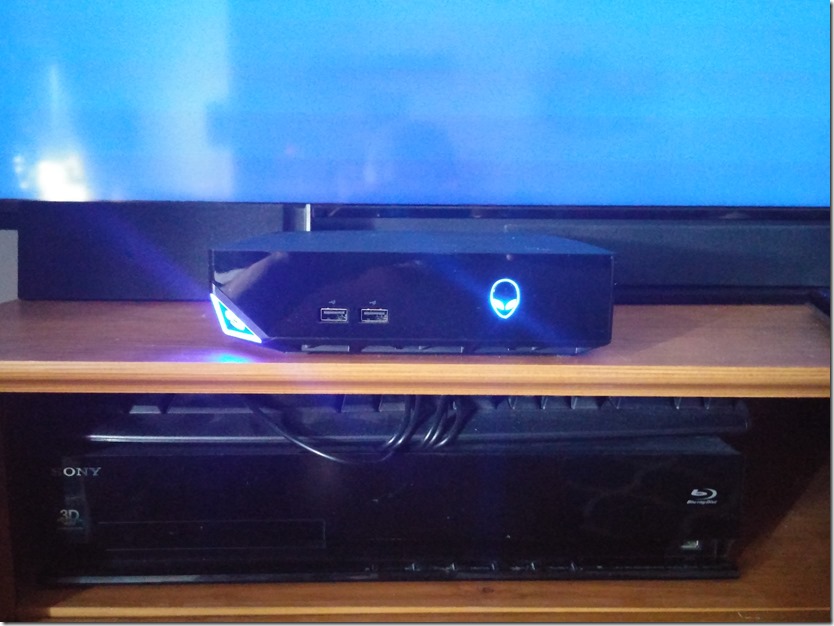 If you read my first thoughts on the machine I was impressed with the size and overall look. After weeks of using it, my thoughts have not changed on that front at all. I just love the size of the machine. It is about the size of a Nintendo Wii. You can see it in the next picture sitting side by side to a PS4. The size difference is quite noticeable considering the hardware in the Steam Machine is more powerful than the PS4.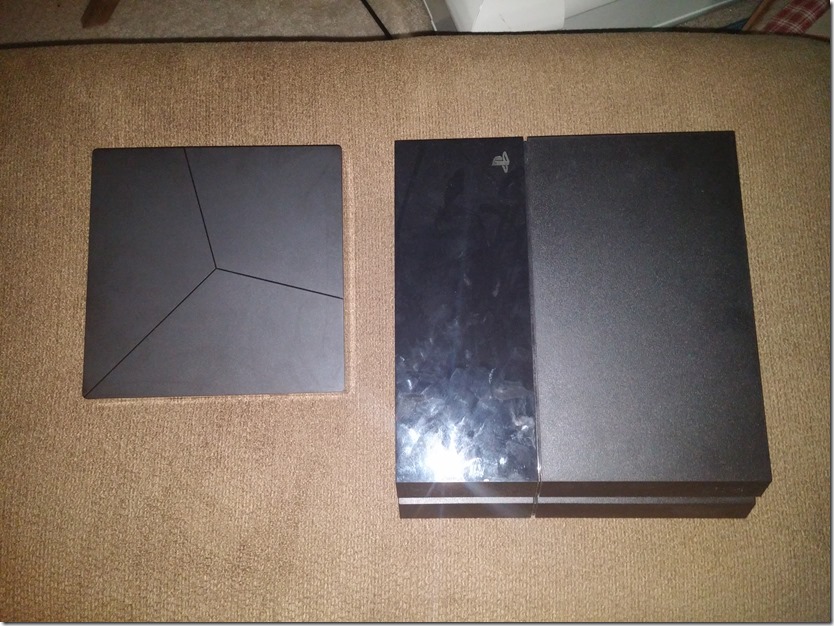 Alienware flaunts on how easy it is to upgrade the CPU, Hard Drive, and Ram which is something you can't do in traditional consoles (Hard drive only). So I decided to take the lid off it and get a  look at the insides. You can see the dual blower fan set it that keep the CPU and GPU cool.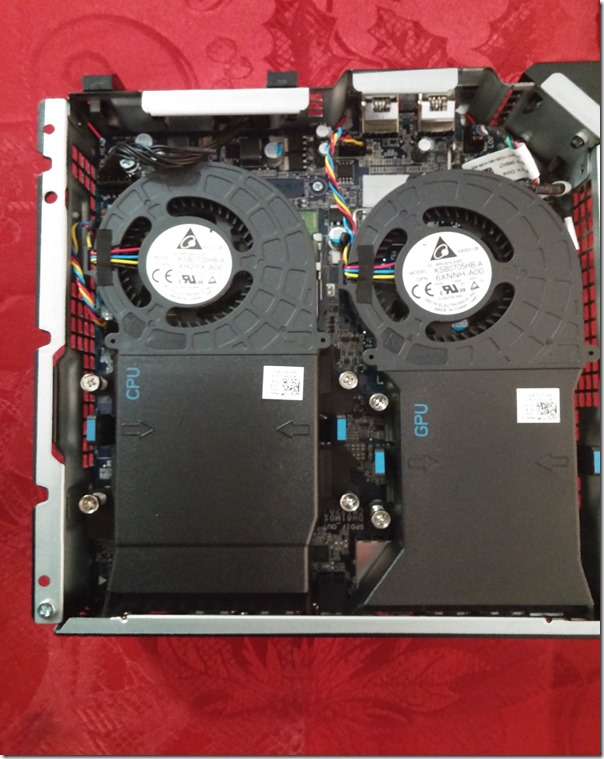 Now to take the fans off there are two little blue clips on each side you press. Once you press this the fans can come of the GPU and CPU very easily. Underneath each fan is the two heat sinks one for the CPU and GPU.  Near the CPU side is the dual sticks of ram. The model I have has two 4gb sticks of Samsung Ram. You can see it in the next picture circled red.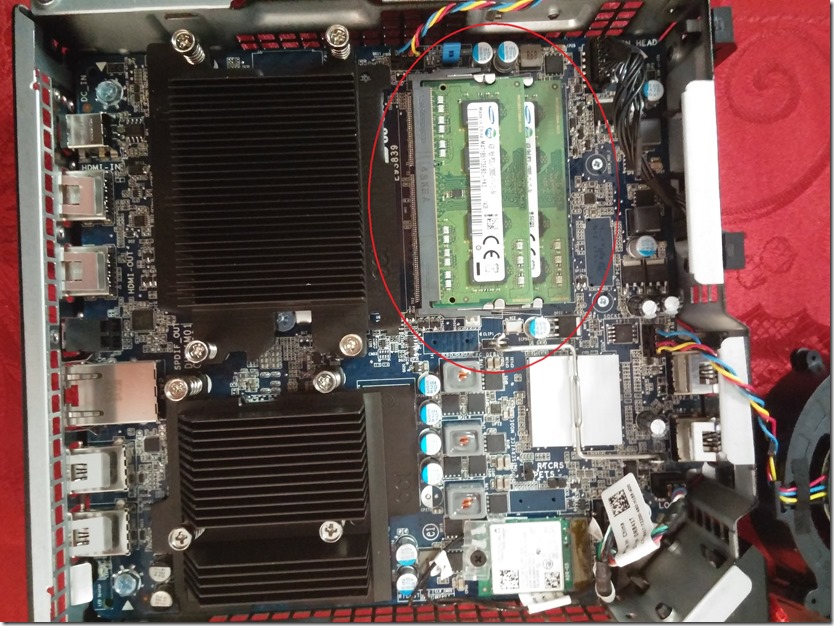 I would have loved to taken off the heat sinks on the CPU and GPU for you guys but that would have meant repasting thermal paste. Which I was running low on.  As you can see though, to swap out the RAM would be very easy and you can . Four screws to open the case and then pop those out and swap with new ones. My guess would be just as easy swapping out the CPU. Now the Hard drive is just as easy to remove, but it is on the opposite side of the case.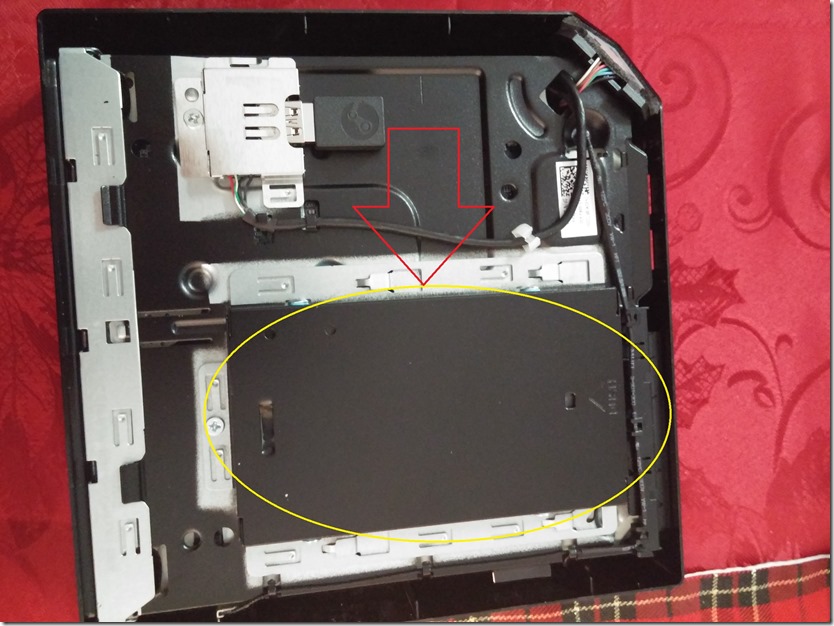 What you can see in the above picture is the hard drive cover with one screw on the front and it should slide right open. Then there would be 2 screw on each side holding the drive in. You could swap it out with a SSD or just a larger hard drive. Alienware made it rather easy for you to upgrade certain aspects of the Alienware Steam Machine. Just remember that you will want to go with a 2.5 SATA style. Any larger and it will not fit in the area. At some point I plan on doing a RAM upgrade and maybe a hard drive upgrade. If and when I do this I will record video and write a blog article on that for you guys as well.
The Steam Controller
As for the Steam Controller, know that it will take you a few tries to get use to it. Since this is a whole new controller and the device is more of a PC gamer device. Most of us PC gamers are so used to the keyboard and mouse it will take you a few to get use to this controller, the configuration of buttons and toggle sticks is not even aligned with XBox or PS4 controllers so you still will have to retrain fingers and hands. It took me at least an hour or so. Some of my friends I brought over for a Steam party got used to it within 30 minutes. The all around comments are great from every one of my friends who took turns playing with the Steam Controller however. Another great piece they added to the Steam environment is the option to use other people's key bindings for the controller. This in short means that if you don't  have the time to configure buttons yourself for a game, you can try other people's button mapping profile's for that game for the steam controller. I had the device before pre-launch so there wasn't as many profile's ready. Now however, days after the launch there are tons and tons of profiles available for most games.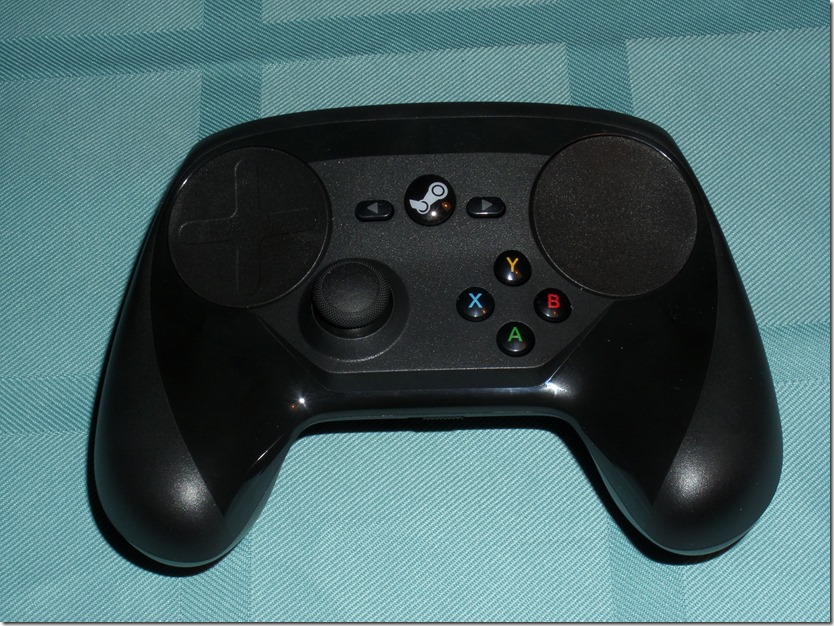 Now they did add a few extra buttons on the Steam controller that most console players don't have. That in it self is a nice touch. To me the controller has an all around nice feel to it.
Now the one piece I would like to add is you don't have to use the controller. You can use a mouse and keyboard or even other device controllers. There are many options you can use here, and you can pair up to 4 Steam controllers off of the same USB receiver that comes plugged into the Alienware Steam Machine.  But you can mix and match, one person can use an Xbox controller, the other a PS4 controller while you use the Steam controller for example.
One down side of this controller is that you need to use two AA batteries or a cord. Now I would have loved to see this be rechargeable like most controllers, but you get a hefty 80 hours of play time from one set and you can always use rechargeable double AA's.
Is the Alienware Steam Machine a Console Killer?
To be blunt, I don't think this will kill off consoles. If anything I think it will make Sony, Nintendo and Microsoft step up their game. Since you can upgrade your Alienware console, you are better off than consoles, so maybe future versions of PS4 and Xbox will have modular CPU or RAM models or maybe not. The graphics card is better then most current gen consoles since it is an NVidia based GPU. The GPU is a custom version of the 860M. This GPU can handle most games that come out. And they don't claim the Steam Machine to really be a true console anyway, it kind of feels more like a hybrid console and a mini ATX PC running SteamOS.
Steam Console Games or Lack There-Of!
With the vast amount of games that are out on the market how many are on Steam OS. Well simply put there are over 1500 Steam OS games that are out at the moment. Alienware says that hundreds are being added monthly. That is a vast amount of games you can play on Steam OS. The reality is that if you also have another computer in the house you can play the other 4500 games that are on Steam through streaming on big picture mode. There also is a way that you can add non-Steam games and play them (again streaming from your PC). I have tried and played some non-Steam games as well as Steam OS games. I had no issue with almost all games except Grand Theft Auto 5 from Rockstar. I think this was due to it being a Rockstar game and not bought off Steam itself but couldn't get it to play by Streaming it.
Can the Alienware Steam Machine play guys like Fallout 4?  Sure it could as long as you play it through big picture mode. I see no issue playing what games I had and they played rather smooth also.  What this means is that you still need a PC to play most games, especially non-Steam games and all the latest titles that aren't on Steam.  No Star Wars Battlefront, no Battlefield 4, no Overwatch…etc without having a PC that can stream the game in Big Picture Mode.
PC gamers will say the lack of big name games is the biggest issue with the system currently, but the system is still new and games are coming out more and more frequently. You can already play ARK: Survival Evolved. To which I have been playing a little of so far and no issues but the frame rate can't keep up with my gaming PC.  Due to graphics drivers and updates and tuning with Windows and most GPU's most games play better on Windows the the Steam OS with identical hardware configurations. That is because the Steam OS is still so new that there aren't the drivers being tuned or the games being adapted for the Linux drivers, and most games are made for Windows and not the Steam OS. I believe that in time and with new updates the games will get better and smoother if the Steam Machine turns out to find a place in homes and compliment the PC gaming market who also want a living room console that plugs into their existing PC game library.
Alienware Steam Machine Specs and prices!
System Specs
Intel Core i3 – 4130T Dual Core
nVidia GeForce GTX GPU w/2GB GDDR5
4GB DDR3
500GB 7200RPM HDD
1×1 802.11 Wireless Card
Steam Controller
Ports and slots
(2) external USB 2.0
(1) internal USB 2.0
Power adapter port
HDMI in
HDMI out
Optical audio out
RJ45 port
(2) USB 3.0
System Specs
Intel Core i3 – 4130T Dual Core
nVidia GeForce GTX GPU w/2GB GDDR5
8GB DDR3
1TB 7200RPM HDD
1×1 802.11 Wireless Card
Steam Controller
Ports and slots
(2) external USB 2.0
(1) internal USB 2.0
Power adapter port
HDMI in
HDMI out
Optical audio out
RJ45 port
(2) USB 3.0
System Specs
Intel Core i5 – 4590T Quad Core
nVidia GeForce GTX GPU w/2GB GDDR5
8GB DDR3
1TB 7200RPM HDD
2×2 802.11 Wireless Card
Steam Controller
Ports and slots
(2) external USB 2.0
(1) internal USB 2.0
Power adapter port
HDMI in
HDMI out
Optical audio out
RJ45 port
(2) USB 3.0
System Specs
Intel Core i7 – 4765T Quad Core
nVidia GeForce GTX GPU w/2GB GDDR5
8GB DDR3
1TB 7200RPM HDD
2×2 802.11 Wireless Card
Steam Controller
Ports and slots
(2) external USB 2.0
(1) internal USB 2.0
Power adapter port
HDMI in
HDMI out
Optical audio out
RJ45 port
(2) USB 3.0
As you see they come in several pre-built configurations. The price isn't too bad for what is included. Not only do you get the Alienware Steam Machine you also get a bundle of games that come added to the machine once you log in to your Steam account through the device. The games included are PAYDAY2 + DLC* (available in SteamOS in early 2016), Roller Disco Derby and Screencheat. Along with WAR THUNDER DLC, Brawlhalla DLC, and Coffin Dodgers demo. All worth over $200 in the packages which means you are getting a lot of games with your rig not just the rig for that price.
Check out our Steam Machine Party Video!
As you can see I have a little get together to let people try out the machine. Almost every one loved it and wanted to do another  party. Which I agree it was fun and we will do it again.
Final Thoughts and Summary!
Is the Alienware Steam Machine the future? Sure it has it place like ever other device in my opinion. This is better then most consoles since you can upgrade more then just a hard drive. I do however think it lacks in a few areas like the game library since it need to be Linux compatible games only to run natively. Games need to be compatible or this machine will not get traction. Though I am hoping as more and more games are compiled and released for SteamOS this becomes less of an issue over time.  It also lacks something every one wants these days and that is native game streaming capability. As of right now you cant stream straight to YouTube or Twitch at all, which is something all consoles can do built in. This make some people want to walk away and I think it should have that built in for sure.  Note, this is a limitation of SteamOS itself and nothing to do with Alienware, so start writing complaints to Valve and say you want native Streaming to Twitch/YouTube built into a future SteamOS update!
You can always add a external streaming device but that is more wires strung around. One such device would be the Hauppauge HD PVR2 with some software which can do it.
I have heard people talk of modding the Alienware Steam Machine and putting Windows on it, or running other configurations, but remember you are probably voiding whatever warranty or support you will get, but feel free to do what you will with your Steam Machine.  The price is not too bad. I know some will be turned off on the $450 to $750 dollar range when they could just  build there own small form factor PC and play all there games that way but consider the components and it is hard to find a custom machine or pre-built machine with these specs for that price.
This machine has a place in your household if you have a Steam game library on your PC and want to take a break and play your Steam games in your living room.  This could be a great gift for someone in your household this Christmas. This will not however replace PC Gaming, it is a compliment to an existing PC Gamer rig, but it is too limited at this time to really compete at the PC Gaming level.  To make it compete at the console level, you need a PC as well that can stream all the titles that aren't natively supporting the SteamOS too.
Disclaimer: Alienware sent us a Steam Machine so we could do a thorough and accurate review. All opinions are 100% mine and mine alone.
Hi everyone I'm James Braga. I was born in Oregon and moved to New Hampshire a few years back. I love most things that have to do with video games and electronics, It doesn't matter if it for a car or a house, if it has electricity in it i will love it . I'm also in school for Information Systems Technology.