We are influencers and brand affiliates.  This post contains affiliate links, most which go to Amazon and are Geo-Affiliate links to nearest Amazon store.
Ports, we need them non-stop. USB, HDMI, Ethernet, if you own any device there's never enough of these lying around. Well a good USB hub can fix that problem in a snap. From charging devices to full on data transmission, a hub can fix many issues with your current device setup. They're also generally easy to use, just plug it into your PC, and you expand one port to several ranging from USB to HDMI to even Ethernet ports. This is an incredibly useful piece of tech and the vast majority of them are generally at a reasonable price point. The hub I have on show for you today is a fantastic one, featuring six different ports, a compact size, and some features that blow other USB C hubs out of the water. So without much more talk, lemme tell you all the ins and outs of this fine product. Lemorele has quite a treat for us in store today, so I hope you'll stick around till the end to hear why you, as a consumer, would want this top notch USB C hub, as well as it's various applications. Lets get started!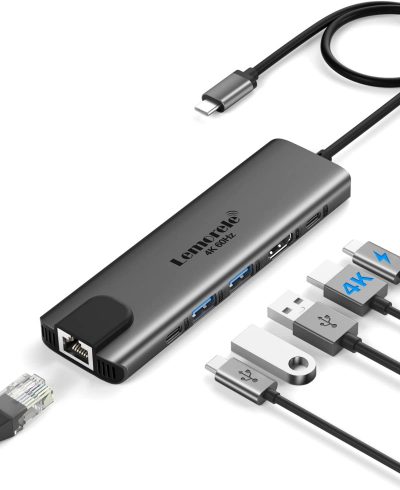 Features
The standard USB C hub may feature four ports, but Lemoreles utilizes a total of six ports, one of which includes a 4K HDMI port, two USB-A 3.0 ports, a RJ45 1000Mbps Ethernet port, a dedicated USB C 100W charging port, and a USB-C 3.0 data port. This is an insane amount of function for a solitary hub, not to mention the 4K HDMI is surprisingly innovative for a USB hub which typically prioritizes function over form. It's higher than the majority of specs on most hubs on the market. Absolutely fantastic for those times when you've only got one HDMI port on your GPU and more than one 4k display to hook up.
The USB-A 3.0 and the USB-C 3.0 ports feature a 5gbps write speed, which is absolutely blazing in terms of data transmission and design over traditional USB 2.0 ports. That'd support an SSD, camera, mouse, keyboard, printer, scanner, and any other equipment you might wanna use with minimum delay on any of it. In addition to that, it also features a dedicated charging USB-C port which is extremely nice, setting at 100W which will charge most small devices quickly.
Do keep in mind that this particular hub does require a driver installation! That's not a big deal however given the amount of value Lemorele has managed to pack into this device will absolutely cover all your port needs in one simple plug. A solid use for mine I have is turning my Chromecast with google TV (This method will also work with any streaming device with a USB-C port, into an emulation machine by expanding its built in storage.
Lemorele's USB C hub is compatible with a wide variety of devices including Macbooks, iPads, Chromebook, and it supports multiple operating systems including Windows, Android, Mac, Linux, and even Chromebook OS. It also uses aluminum alloy in its design which provides excellent heat dissipation, which is pretty important in devices like this.
Final Summary
Lemorele's USB hub is a fantastic, value packed hub when we compare it against other hubs on the market. Between the extremely high number of ports, the data transmission speed of the USB ports, and the compact size of it, I'd give this particular hub a 10/10 in terms of function against price point. It's an absolute steal even at a slightly higher price, and would be a shame to pass up. Especially due to the extremely fast transmission speed on the A and C ports respectively. I tend to use hubs as mostly storage devices, and transferring data can be a lengthy process if you're using slow storage. This in conjunction with it's use as a screen extender/duplicator, charging port, and Ethernet port, ensures it's absolutely jammed full of value. One thing of note for Macbook users though, if you're looking to extend more than one screen you'll need to use the USB to HDMI adapter, this hub will only support one screen extension! Aside from that, it's an absolutely fantastic product well worth the price, and I hope you'll give it a look! Thank you for reading and have a fantastic rest of your day.
We are influencers and brand affiliates.  This post contains affiliate links, most which go to Amazon and are Geo-Affiliate links to nearest Amazon store.
I am just a 25 year old doofus who enjoys rpgs, sugar rushes, and passing out at odd hours.