Amazon is seeking to set the tablet market ablaze with the introduction of their new impressively affordable tablet known as the [easyazon-link asin="B0051VVOB2″]Kindle Fire[/easyazon-link]. In true Amazon style, every purchase of the Kindle Fire will come with 1 month free of Amazon Prime – a service that allows for free two day shipping on many items as well as unlimited streaming of tons of television shows and movies. It is important to remember that the Kindle Fire originally comes from e-ink e-readers that were not illuminated and strictly intended for reading e-books. Fire on the other hand is designed to be an entertainment device which hopes to rival the [easyazon-link asin="B0013FRNKG"]Apple IPad[/easyazon-link] in some respects.
[youtube width="550″ height="343″]http://www.youtube.com/watch?v=VVsfLnMqOC4[/youtube]
Is this bold challenge one that will leave the Ipad in the dust or will the Kindle Fire be dead on arrival? To be honest, narrowing it down to such black and white conditions is not the correct way to go about it.
Tablet Hardware
Looking at only hardware and software advantages the [easyazon-link asin="B0013FRNKG"]IPad 2[/easyazon-link] sports 16 GB of storage versus the [easyazon-link asin="B0051VVOB2″]Kindle Fire's[/easyazon-link] 8 GB. The Ipad 2 also has cameras both on the front and rear panels of the device while the Kindle Fire does not include them. Apple already has tons of apps that have been reviewed and tinkered by the community relentlessly. Amazon isn't empty on future apps its just there is no telling how great they will be without any official word on them yet. You can use the internet anywhere on the Ipad with 3G capabilities while the Kindle Fire will be a Wifi only device. Where is Kindle Fire's biggest victory in this battle? One word…FLASH. That's right, the Kindle Fire will support flash video.
Going past the tech-talk how is this device good for former Kindle owners, tablet ninjas, and those new to e-readers/tablets entirely? This is where the pros and cons get more complicated.
Kindle Owners/Newbie E-readers
The Kindle in its original iteration was not a Swiss army knife device. What it sported however, were the advantages of amazing battery life (2 months in the newer models) and e-ink that read like paper. For those who really love the Kindle experience because of those two factors or those who always desired an e-reader because of its closeness to printed text…these are huge selling points. An illuminated display kills such great benefits. As someone who stares at a computer screen much too much, buying a backlit e-reader would be an additional strain that my eyes will not be happy to welcome.
Amazon's Answer: They are releasing other iterations of the Kindle including an e-ink touch model called the [easyazon-link asin="B005890G8O"]Kindle Touch[/easyazon-link].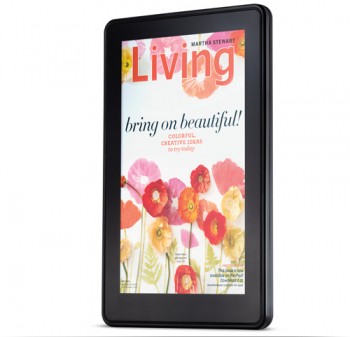 Tablet Ninjas/Newbie Tablet Users
The Ipad has long reigned supreme with tablet veterans and many swear never to switch to any other device. Think about it though – is it really convenient lugging around a 10 inch Ipad 2 or a 7 inch Kindle Fire? Some may prefer the increased screen size while others value a compact form factor…so this part is subjective. Hardware wise, the Ipad dominates the Kindle Fire but many Ipad 2 owners woe the lack of Flash video capabilities. Price ultimately is what may draw tablet owners to switch or newbies to sway in the direction of the Amazon jungle – I mean store. After all $499 is not as pretty a number as $199 don't you think?
Amazon's Answer: Don't forget Amazon is offering a free month of Prime with every order. Which means you can get free two day shipping on several items and unlimited streaming of many popular series as well as movies. Does Apple care to challenge that?
The matchup of the [easyazon-link asin="B0051VVOB2″]Amazon Kindle Fire[/easyazon-link] and [easyazon-link asin="B0013FRNKG"]Ipad 2[/easyazon-link] has been characterized by many as David versus Goliath. What they fail to realize is that Amazon in many respects is gargantuan in reach…it just chooses to bide its time and walk through the shadows.
I think it's silly at the end of day to view the tablet competitions as battles of who is the latest and greatest. The fact of the matter is all of them offer advantages that satiate the thirst of tablet users better than the others.
The real question is which of these are you going to buy for Christmas?
Amazon Kindle Fire

([easyazon-link asin="B0051VVOB2″]Order Now[/easyazon-link])

Apple Ipad 2

([easyazon-link asin="B0013FRNKG"]Order Now[/easyazon-link])

[easyazon_image asin="B0051VVOB2″ alt="Kindle Fire, Full Color 7″ Multi-touch Display, Wi-Fi" src="http://ecx.images-amazon.com/images/I/41Xx9W8gdRL._SL160_.jpg" align="left" width="160″ height="160″]
[easyazon_image asin="B0013FRNKG" alt="Apple iPad 2 MC769LL/A Tablet (16GB, WiFi, Black)" src="http://ecx.images-amazon.com/images/I/31mRJLNfKlL._SL160_.jpg" align="left" width="116″ height="160″]