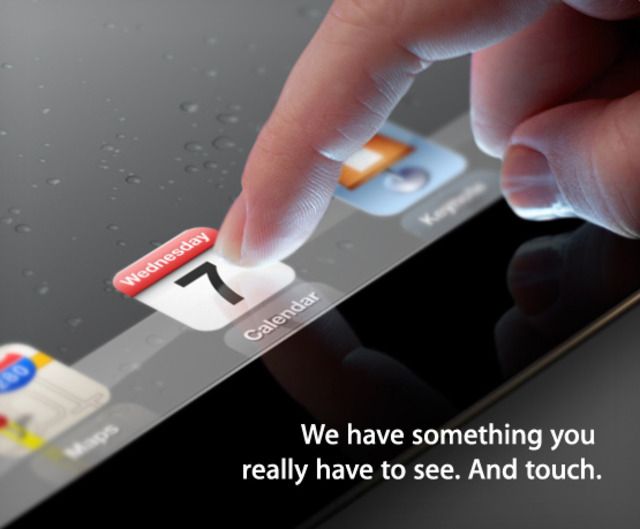 Apple iPad, the revolutionary device that has changed the tablet arena since the time it has launched, is now finally getting another makeover in a couple of days time. Yes the news has been confirmed, with Apple officially announcing the launch of its third generation iPad, at a special launch event which will be held at the Yerba Buena Center for the Arts in San Francisco.
After much of a speculation and rumors about the upcoming tablet from the technology giant, Apple has finally let out the date for the D-day and has started sending out the press invites to all the media people regarding the launch event. As of now we are still not sure whether Apple will be streaming the event live or not, since every time the company doesn't disclose those details until the very last moment.
So what will the new iPad look like? Will there be any drastic design changes? Is Apple planning for a real big surprise? Well we can't answer some of these questions at this moment right now, but we do wish that the tablet comes up with some interesting new features, since as we all know Apple is the best at keeping all those secrets within themselves.
But there have few leaks of some of the hardware parts of the iPad 3 (or iPad 2S), which give us a hint that the design remains pretty similar to its predecessor, except for slightly bigger casing, which probably to accommodate a bigger battery and its all new faster processor, probably the dual-core A5X. We still don't think that Apple is looking to bring about a quad-core processor as of now, but if it does that would be the biggest surprise.
The best and the most awaited feature, is of course the new display, which might be a high resolution 2048×1536 pixel Retina display from Sharp, which might actually be the only feature that is confirmed on the new iPad, including a higher megapixel cameras for better facetime experience. Also rumors do hint the launch of a cheaper 8GB version of the iPad 2 along with the latest version.
The event will start at 10AM PST on March 7th this Wednesday. So set your reminders for the big event and stay tuned for more updates for most anticipated tablet of the year.
Gadget freak, mad abt cars, share my b'day wid A R Rehman, no wonder i m mad abt music, DSLRgrapher, Blogger…