Saw some huge spikes in traffic in April 2012 for DragonBlogger.com which in turn started increasing earnings dramatically.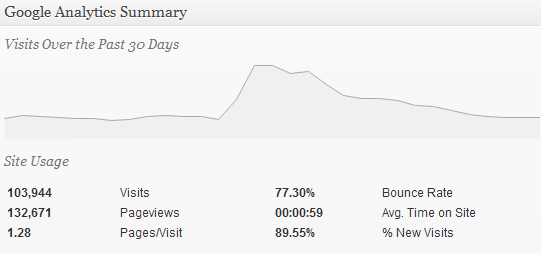 The site had 103,944 unique visits, 132,671 pageviews in a single month which was nearly the highest ever in 3 years.  This was in part due to some serious trending of the Pottermore articles that were written last year.
This of course drove income up on the site in the AdSense department, to where AdSense earnings reached a near all time high of $300.46 only 1 other month did it break $300 in the past year.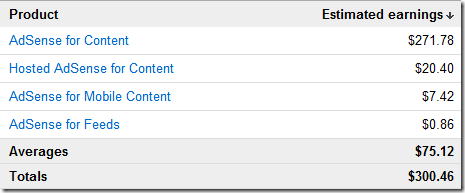 Income Sources for April 2012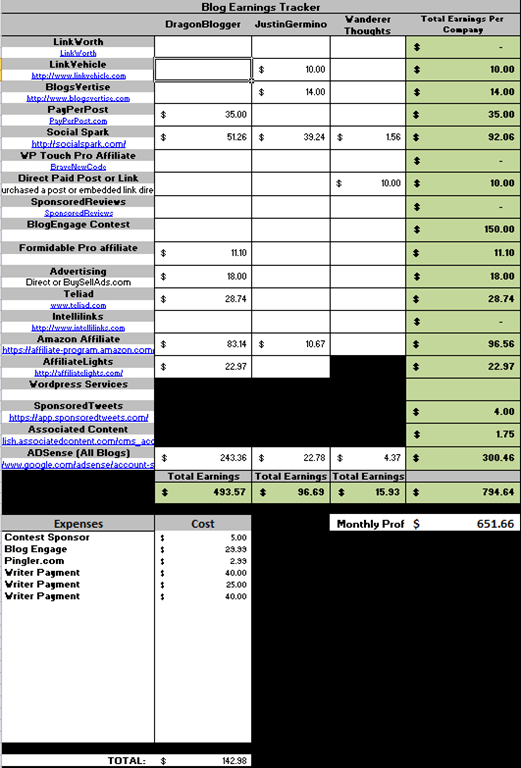 Out of all the programs I use to make money online, there is still so much benefit to being just as varied as ever, with AdSense being the single largest income source, but winning $150 in a Blog Engage Guest blogging contest wasn't a bad 2nd place.  I also earned $96.56 from the Amazon Affiliate program and Social Spark came in with $92.06 the best part is that a good portion of it (all of it on DragonBlogger.com was from IZEA Media advertisement and not paid opps).  So to make $51.26 for a single month hosting a 300×250 banner was great and this earned far more than having a BuySellAds slot did in the same spot.
You can see how DragonBlogger.com still drives most of all my online earnings, but was nice to get almost $100 from my personal blog.  With a monthly income of $794.64 it was less than last month's earnings but my expenses were way down at only $142.98 so I had a higher net profit from April 2012 than I did with March 2012 with net profit being $651.66.
What did I do with the money?
I bought my son a brand new $500 Lenovo A6 laptop with it so both of my kids can have their own laptops!
-Dragon Blogger