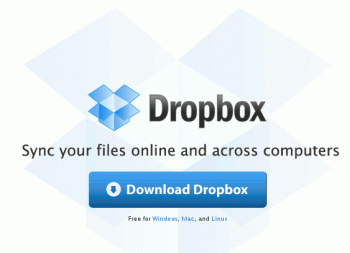 Dropbox is a great way to auto-update or backup Gigabytes of data online for free, which you can retrieve from the internet wherever you go. Just install the quick-setup package and you're ready to auto-sync/backup up to 10GB of data on your account. On signing up with a referral link like
http://www.getdropbox.com/
you get an additional 250MB, while the referrer gets an additional 250MB for referring you!
Setting up a FREE Dropbox account is very simple:
Follow the link above and sign up for a FREE Dropbox account using your email ID and any password.
Once the account has been registered, you can download the Dropbox desktop software program to your Windows or Linux based computer.
Then a folder is created on your computer's hard disk where you can store the files needed to be backed up or shared.
When you place a file within this folder, or edit/remove it, the same changes take place on the online backup servers of Dropbox. You may also directly upload the files/folders through the dropbox website.
You can create additional folders within the Dropbox folder which you can share with others, so that when one of you updates some files within that folder, the same changes are carried out on the other computers.
With dropbox, you may also share public or private download links with others, in case you want to share some pictures, videos or ebooks.
Dropbox is pretty useful for webmasters too, as backups of websites and blogs can be stored safely online if needed in an emergency.

When you are formatting your computer or transferring files to a new computer, using dropbox will speed up and simplify the whole process.

Using dropbox you can also create entire static websites! Just upload the html and media (images, videos etc.) to a folder inside the dropbox folder and share the public/private link to the home page with your friends!
Clearly there are several more ways you can use Dropbox, so don't miss out on a great FREE online backup service. Please share your Dropbox experiences with us.
INSTALL DROPBOX FOR FREE NOW!