With more and more voice-controlled devices coming out, life at home or in the office is getting easier. With a simple voice command, you can now control most of the things in your home, and the
Avatar smart plug
makes that process even better. In my apartment, I have a few hard to reach outlets, but I still want to be able to control when devices are on and off, even if I can't reach it easily. That's where this plug works best.
How it works
The
Avatar plug
allows you to control devices with ease. Each plug can be monitored and controlled together or independently. You can use your smartphone to turn off or on each appliance. This especially comes in handy if you have an outlet that's hard to reach but you still want to turn off a device. It doesn't connect through Bluetooth, instead it connects through your WiFi network.
Connection options
There are quite a few ways you can connect and control the the
Avatar plug
:
Connecting it to the app is a little complicated, so be sure to follow the instructions exactly. It doesn't use Bluetooth like most devices, so you have to connect it to WiFi. I do not have Alexa or any of the other devices to test it out fully, but it's working perfectly through the app so far. If your WiFi is off, it does disconnect. Just something to keep in mind when you use it.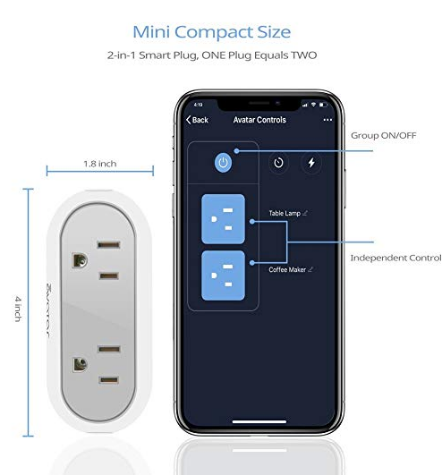 What it can do
The great thing about the
Avatar plug
is that you can also monitor how much electricity your devices are using. That way, you can know which devices in your home are using the most power so you can manage them accordingly. You can also set a timer for all of your devices, so you can make sure things turn off and on at their designed time. For example, if you're always in a rush in the morning, you can be sure to schedule your coffee timer so it turns off every morning.
Specifics:
Rated Voltage: 110-240V
Rated Current: 10A (Max.)
Max. Power: 2200W
Size: 4.0*1.8*0.77inch
Certification: ETL/FCC/IC
[P_REVIEW post_id=1079209 visual='full']
I received this product at a discount for the purposes of testing it and reviewing it.  All opinions expressed are truthful and 100% my own.