We are influencers and brand affiliates.  This post contains affiliate links, most which go to Amazon and are Geo-Affiliate links to nearest Amazon store.
According to the Hub Spot Report 2017, approximately 80-85% of the web traffic comes from the mobile users. Amid the digital marketing surge, the mobile app market is growing exponentially. As per Smart Insights Report, the globally mobile population crosses more than 4 billion watermarks. In the wake of this significant figure, businesses are in a continuous state of flux either to use mobile apps or website to promote their products or services via digital marketing services in the USA. Those organizations which have ample funds opt for both mediums. However, most organizations of small or medium size allocate their monetary resource in one medium, which makes more sense. This decision of investing in one channel depends on multiple factors such as target audience, cost suitability, and the desired features. Also, Michigan Studies have revealed that a user prefers mobile apps more than mobile websites, that mobile apps have a competitive edge over mobile websites to reach out to the target customers.
Let's have a look at some key reasons that makes mobile apps preferable than mobile websites.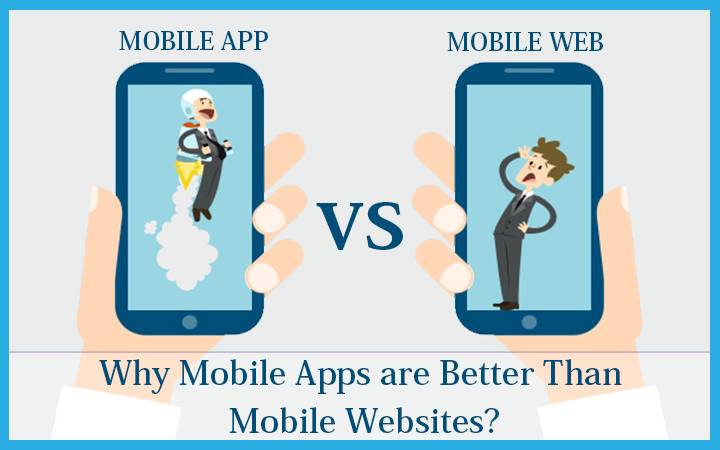 Personalization Potential  
One of the first reasons to go for mobile apps is that a mobile website lags behind in matching personalization capacity. Mobile apps use native features of the mobile device to provide more personalized, faster as well as highly intuitive user experience (UX). It can be made possible only by drawing data on potential customer demographics, their interests, preferences, habits, locations and spending behavior. Mobile apps are more capable of tracking as well as analyzing the likely user behavior that is the critical key to providing online audiences with custom updates. However, many apps allow prospective customers to set their preference from the beginning and gain access to customize the content that way.
Freedom in Designing  
Despite all the technological advancements in web designing, mobile websites have to rely on the browsers to perform the most basic functions. It includes the "refresh button"; "back button"; "address bar" to work. On the contrary, mobile apps do not possess any of such restrictions. A mobile app is designed with the purpose of providing elaborate functions based on advanced gestures such as "tap"; "drag"; "hold"; "swipe" and others. Apps offer these gestures to prospective customers so that they can perform their tasks in a better way. For instance, an app can let potential consumers move to a next step or a previous step by using a swipe gesture.
Easier Communication  
Mobile app serves as an excellent communication platform. Their usability is increasing while there is a declining trend in open as well as click rates of other channels. The reason for their soaring behavior is the user-friendly integrated features such as push as well as in-app messages. These utility staples allow brands to communicate with the potential users in a less intrusive manner. Also, these in-app notifications appear when a user runs an app or showing a specific intent to do something. According to the Smart Insight report, push notifications can gain the respectable click-through rates of approximately 40%.
New Branding Experience
A mobile app is separate from a company's website. Companies have the opportunity to design its app from scratch in a manner which lures customer attraction and increase customer engagement. Leading SEO services in the USA can be utilized to optimize the content explicitly written for the website to target potential customers. Also, it gives companies an added benefit to try new branding styles for the app. Furthermore, mobile apps allow potential customers to customize appearance as per their online audiences' preferences.
Conclusion  
In summary, mobile apps are better as compared to the mobile website concerning communicating with the potential customers, giving them a new branding experience which lures customer attraction and leads towards the successful customer conversion. Also, it provides the online audience personalized services as per their desired requirements. IPS USA is a digital marketing agency providing digital as well as web development services to its valuable customers.
We are influencers and brand affiliates.  This post contains affiliate links, most which go to Amazon and are Geo-Affiliate links to nearest Amazon store.
I am interested in all things technology, especially automation, robotics and tech that helps change how society will live in the future.