We are influencers and brand affiliates.  This post contains affiliate links, most which go to Amazon and are Geo-Affiliate links to nearest Amazon store.
There have been a few new arrivals to the game capture scene lately. Not to be outdone by the others AVerMedia went out and brought a new one to the table.  This is their new Live Gamer Portable 2. I was just so lucky enough to get my hands on one to review for you.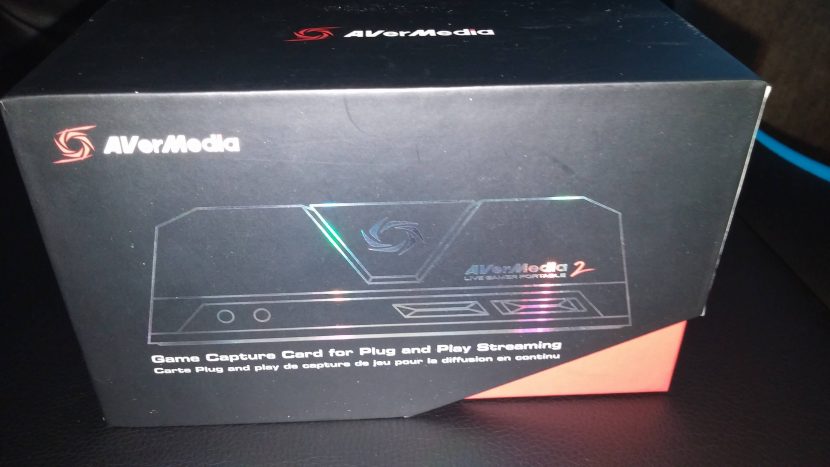 I know, that picture is just a box but hey you get your first glimpse at it. Let me show you the actual product now.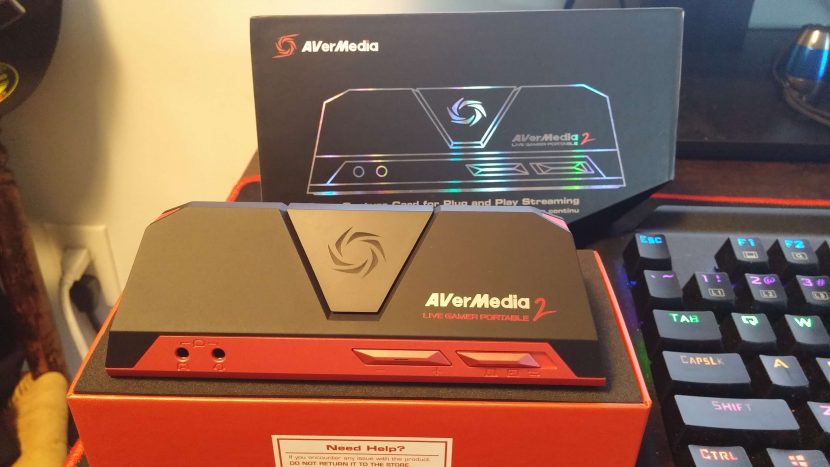 Now that you got your first glimpse of the AVerMedia LGP2. Let me talk about some of the specs this product has.  One important feature is that you can plug and play this device in and record at 1080p at 60fps. The second big feature is you can use it PC free or connected to the PC. They also have their RECentral software. I will get a little more in that software a little later.
Another great thing is you with the AVerMedia LGP2 is that it can do commentary without being in party chat on consoles if you would like.  You have USB 2.0 plug and play and this is used for power or transferring your videos off an SD card. Yes, that right there is an SD card slot for a PC-free mode. You also have two HDMI ports for input and one for pass through. You have two 3.5mm headphone jacks where one is for Mic and one is for the headphones itself.
Check Out My Unboxing Here!
In the video, you can see that AVerMedia sends you three cables. One is the HDMI cord. The second cable is a USB power cable which also works for transferring files to the SD card or for updating the drivers and BIOS on the device. The last but not least is a 3.5mm aux cable. The 3.5mm cable with jack works for headset use on consoles when using your controllers. The HDMI cord is very short roughly 12 inches, which I personally think was too short and not really good for a lot of applications unless you had your console and AVerMedia Live Gamer Portable 2 very close together.
To use the 3.5mm jack you will need to plug the 3.5mm jack they sent you into the controller for your console.  Then you plug that into the jack plug on the device which has the logo of the controller. Then you plug your headset into the port next to it. Let me show you the port up close.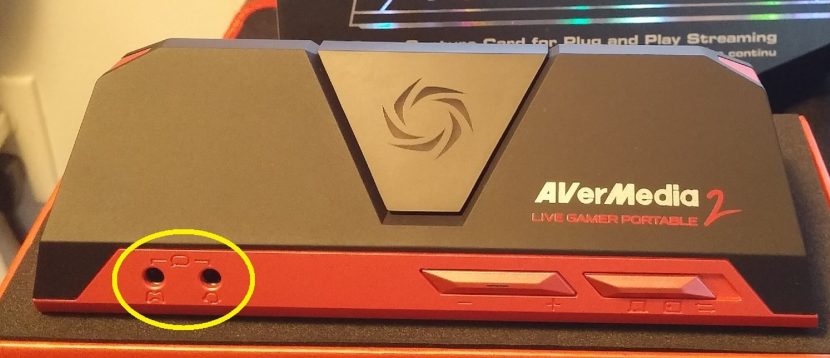 As you see they give you the option to use it this way for voice-over commentary or in-game chat. To me, I won't use it that much for that since I don't like sitting that close to my big screen tv. I did, however, test it using my microphone connected this way for you. You can hear it in the next video.
Microphone Recording on the AVerMedia LGP2!
From that recording, you can tell that the microphone sounds decent. I was rather shocked it sounded that good when pairing through to plugs. I did however also test it from the PC recording so you can get a chance to see how it records that way also.
AVerMedia LGP2 Game Capture with PC
These videos also give you your first look at how it look when being recorded PC and PC-free. Let me show you a few other videos.
AVerMedia LGP2 Mad Max Game Play Capture
Now on the front of the device, you have the option to raise or lower your microphone volume. This makes the microphone louder or quieter depending on what you like which is a really nice feature especially when not using a PC. Let me show you that piece.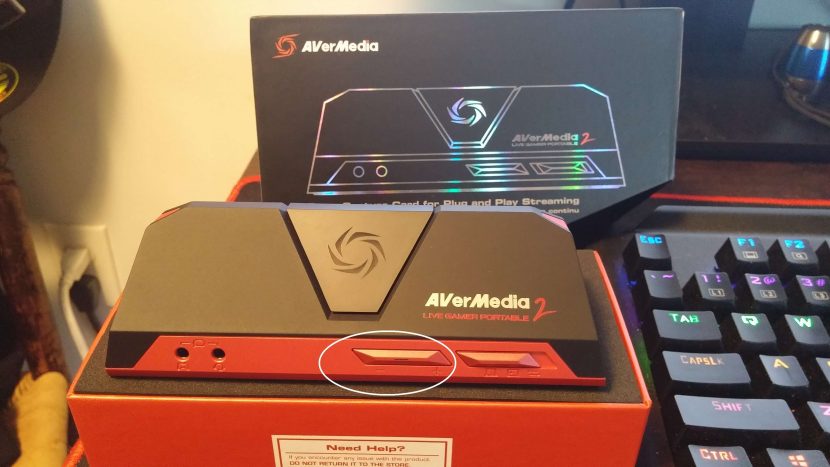 Right next to that is the switch that can make it go from PC mode to PC-free mode to Storage device. I won't circle that since you can clearly see it in the above photo. Those functions go left to right.
One thing I have not shown you yet is the back side of the AverMedia Live Gamer Portable 2.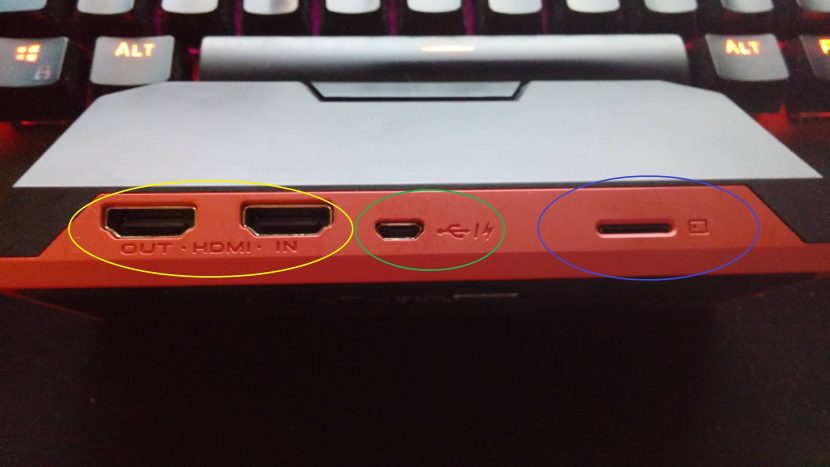 You can see that I have circled the ports in three colors. Yellow is the HDMI ports. Green is the USB/power port. Blue is the micro SD card slot.
HDMI PORTS!
With the HDMI ports, you can see you will need to have two to make this work. One is your signal source HDMI and the other is your output. The input or signal feed will come from the device your hooking up from. The output will go to your monitor or TV. If it is not connected correctly it will not display anything and the device itself will stay red. The part I love is they have all ports on the back side, unlike a few others I have tested and were on all side of the device. Which made for horrible cable management.
SD CARD!
The SD card slot is on the back side also. Now you will need a class 10 sd card or the device will not recognize it. I ran into this issue myself and had to grab a new card just for this review! The SD card I grabbed was a PNY 32 GB class 10 this worked great and had no issue. The AVerMedia LGP2 will record directly to the card for 24 to 25 min increments. Which is okay in my book since I do editing but others may not like that they will need to edit their videos to add them to the web. Some others will be like me and be happy since they like to post more than one video on YouTube.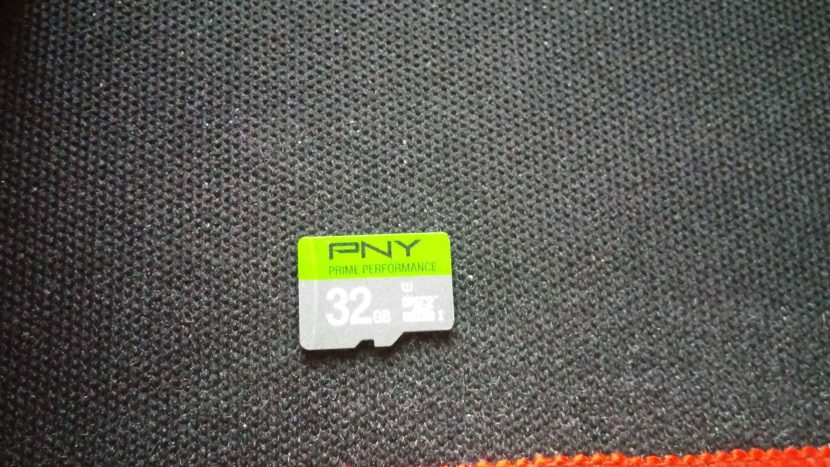 Recentral 3 Software!
AVerMedia  has their own software for those PC users. It called Recentral 3. The software gives you several options.  You can record what you play or you can stream. They also give you the option to add layers or scenes. You can add an away picture so if you step away from the game stream your followers can see the away picture. It also gives you the option to add your camera view and chat with them while showing your gameplay all at the same time. One issue we ran into with this software is that it crashes with EVGA's Precision XOC. Now the only fix I found for this was uninstalling this precision xoc. Which really wasn't a big issue whatsoever for me but something to note. You have seen a small walk through of the software above in the gameplay and voice capture. The software works great and does what you want.
Final Thoughts!
With everything the AVerMedia Live Gamer Portable 2 has, this makes it a must have if you need a capture system. I do suggest keeping software up to date with the device and the Recentral software. They may come up with some new updates and some fixes to the issue of the precision x. Now I know some of you won't like the color but just think it will give you something to do repainting it to match your build. I love the size and how the plugs plug in on the back. This makes for a nice clean look. I also like how AVerMedia gives you a wide variety of scenes on their Recentral software. You can also just stream with this device on OBS. With the others, I have tested this is the best out so far in my book. Well worth the purchase.
Disclaimer: AverMedia sent me their Live Gamer Portable 2 so I could do a showcase and share thoughts on the product. All opinions are 100% mine and mine alone. For more information visit http://bit.ly/dbdisclose
We are influencers and brand affiliates.  This post contains affiliate links, most which go to Amazon and are Geo-Affiliate links to nearest Amazon store.
Hi everyone I'm James Braga. I was born in Oregon and moved to New Hampshire a few years back. I love most things that have to do with video games and electronics, It doesn't matter if it for a car or a house, if it has electricity in it i will love it . I'm also in school for Information Systems Technology.