With video games costing an average of $60 lately, not everyone can come up with the scratch to get that game they want in the fall especially if you are a student and you have college expenses or just scraping buy.  So therefore, I decided to host this Battlefield 1 Giveaway as a reward to Dragon Blogger fans and use it to help celebrate our
2 Million YouTube views
that we have achieved!
The game chosen for this giveaway is Battlefield 1 which is coming out on October 21st 2016 from EA.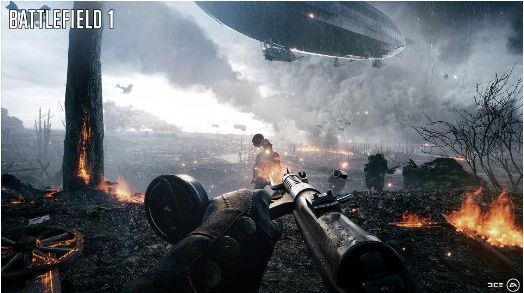 Battlefield 1 takes you back in time instead of the trend of constantly going into the future for war games and features EPIC multiplayer battles of 64 people on the same map at the same time.  From armored trains, gigantic airships and tanks you can assault or defend with vehicles as well as your infantry.  The game advertises a dynamic weather and intuitive destruction system which means every battle, every map is never exactly the same giving Battlefield 1 a more unique feel even when playing the same maps.
Enter Now for your Chance to Win Battlefield 1
Disclaimer: Winner will be chosen on September 1st 2016, and game will be ordered so that it ships to you on arrival.  If you are outside of the U.S. you will be given a digital code only, but winner may choose whether to receive an Xbox One, PlayStation 4 or PC copy of the game and may choose to have the physical game or digital copy basically if you go to the Battlefield 1 Amazon page you can choose any one of the delivery options for the "Standard" game.  No special editions are going to be chosen, only standard game.