Intro
If you are a gamer on a PC, 99.9% chance you are using a mouse, heck if you use a PC, 95% chance you are using a mouse.  I know some use a touchscreen monitor as an input device, but after 5 minutes of that,… you are back on your mouse.  Keyboard and mouse have ruled the PC for a very long time and that may change one day, but not today.  Today I will be reviewing Cougars 550M Gaming Mouse.
Before I get into the review, let me touch on some of the specifications and features.
DPI Resolution between 50 ~ 6400DPI
SDNS-3988 Optical Gaming Sensor
32-Bit ARM Processor
Omron Micro Switch
Up to 1000Hz Polling Rate
Maximum Acceleration 50G
Maximum Tracking Speed 200 IPS
512KB Onboard memory
Gaming Grade Scroll Wheel
Braided 1.8Meter/5.91 Foot Cable
Gold Plated USB Plug
2 – Zone 16.8Million Color LED

3 Stage DPI LED Display
Palm Rest LED Display

ANTI-SLIP Flanks
6 Programmable Buttons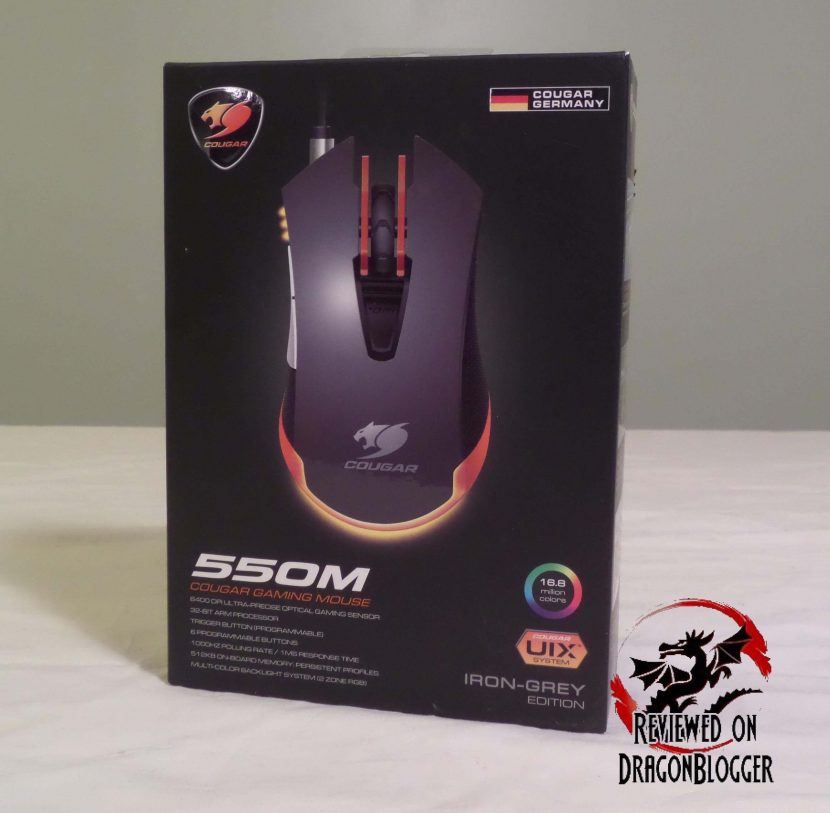 Let's check out the unboxing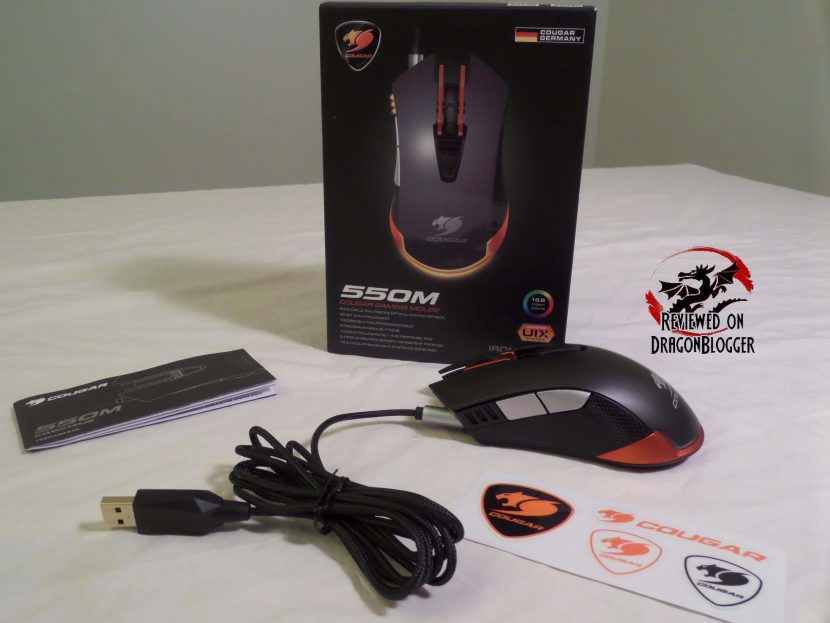 Just a few things in the box, it is a tiny box.  So first off, we have the instruction manual.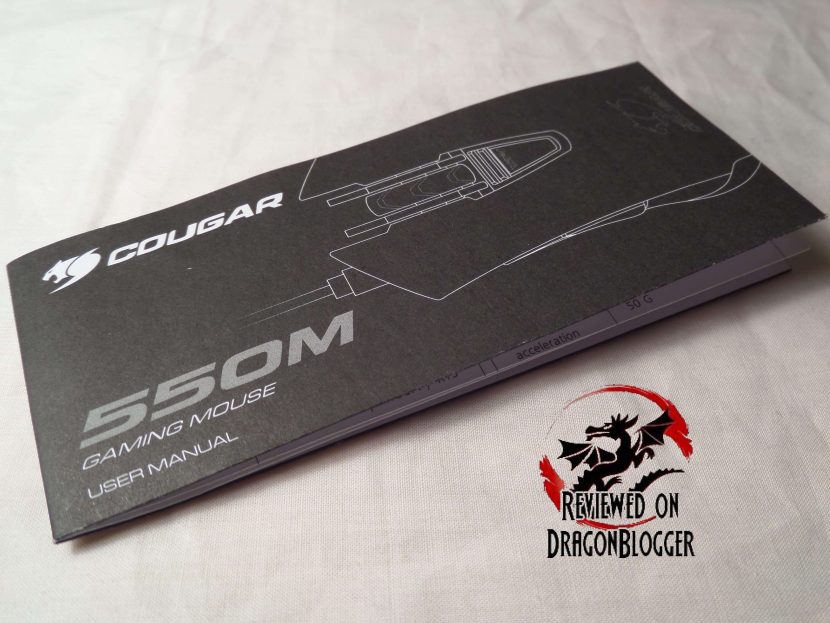 At first I thought it was a book type manual, where you open it and turn pages from right to left, but it turned out to be a single sheet folded nicely.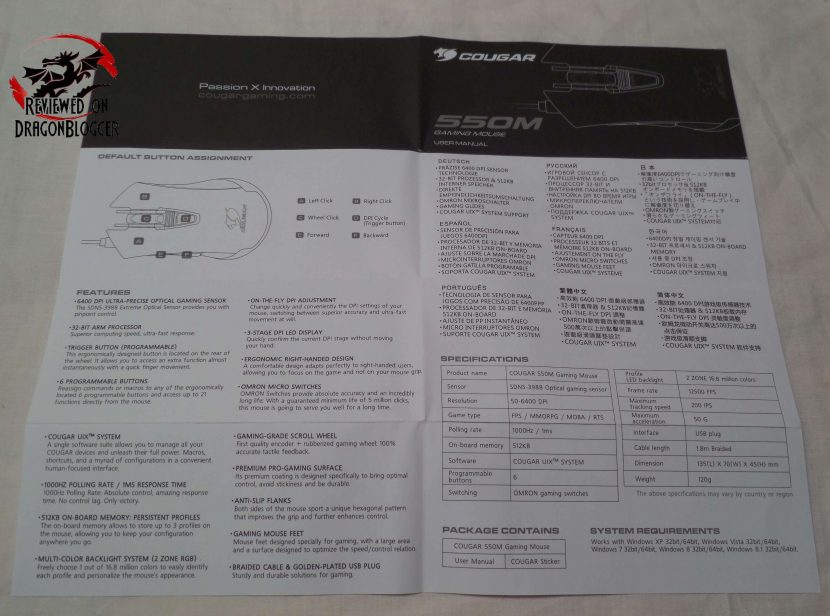 This side shows the features and system contents in a few languages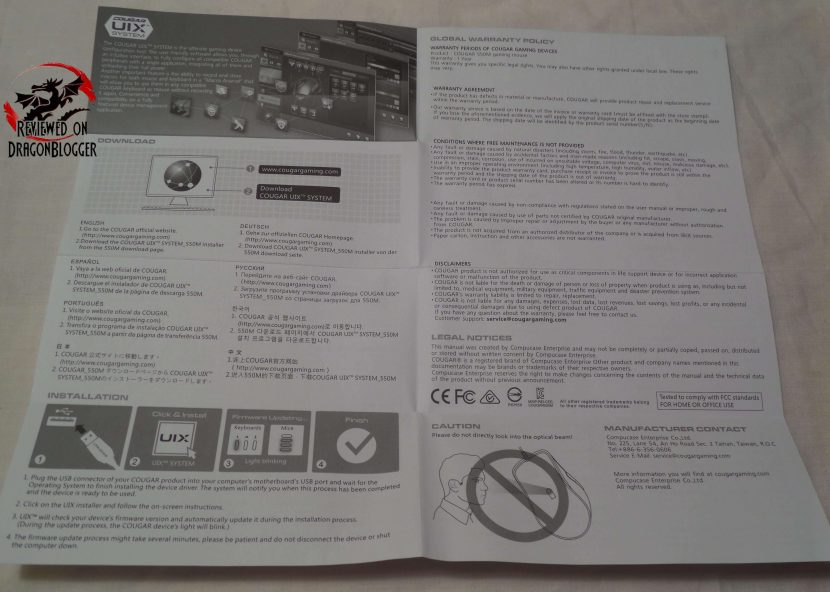 The other side shows you a bit on the UIX software, which we will go over a little later in the review.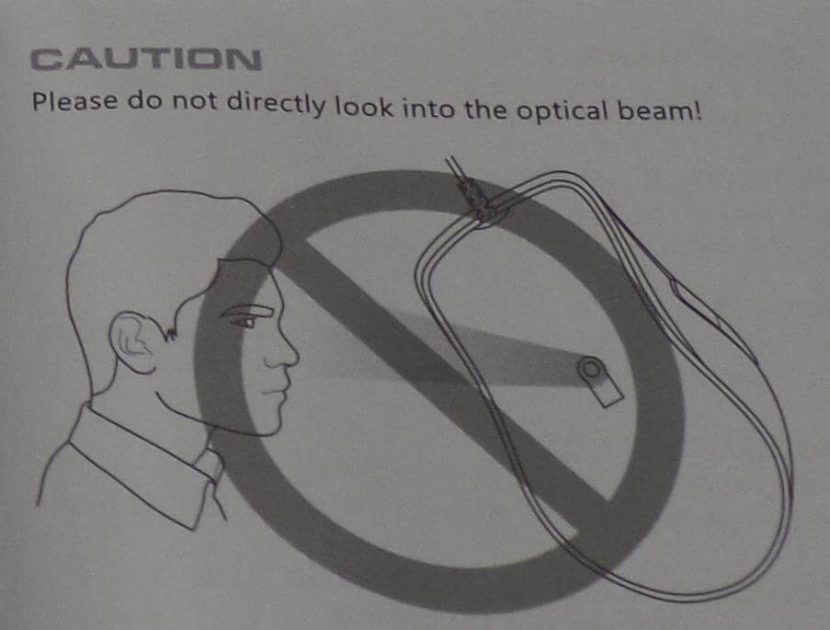 They also provide you with this very important piece of information,… I know now.
Digging in a little more, we find guitar pics stuck to a sheet of paper.  Really they are stickers, pretty cool ones too.  Sadly the Dragonblogger logo is not a sticker that they include,… but it should be.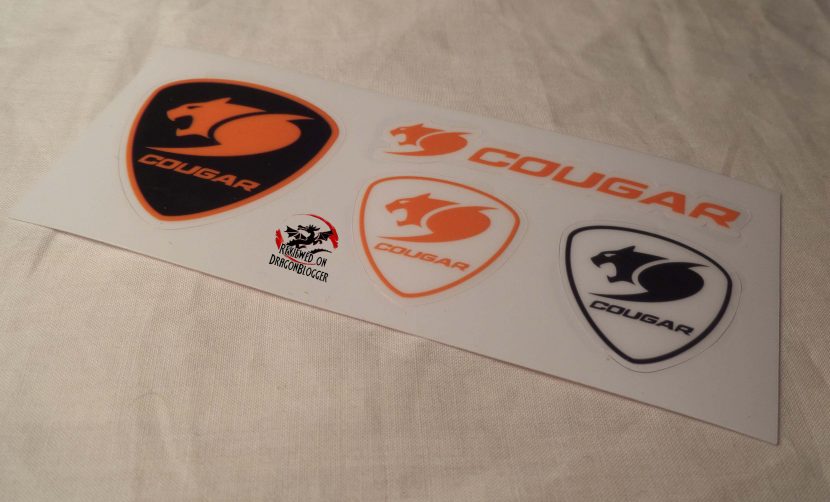 The cable for this mouse is braided, a very nice and tight braiding.  It was a little difficult to get a nice shot of the braiding since it was so tight, but I think I got a good one.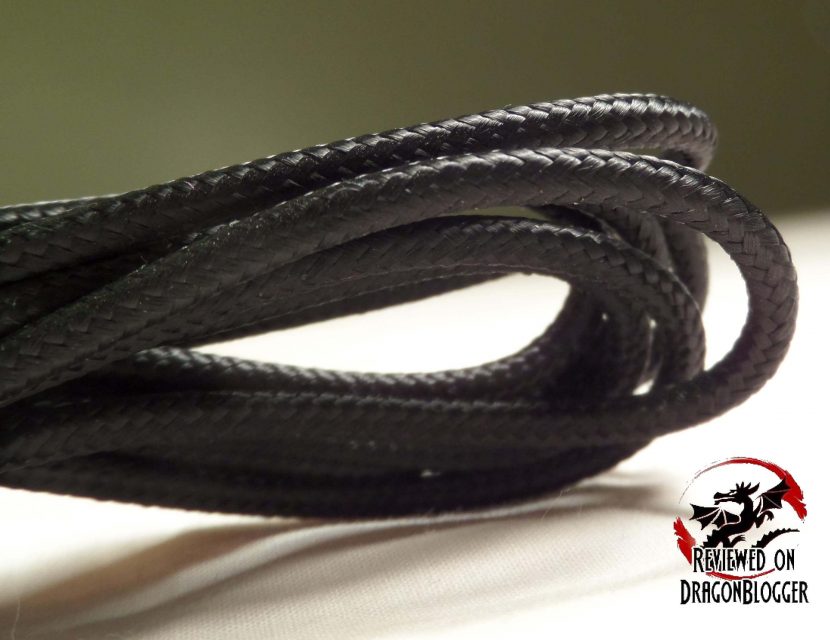 On one end of the cable, we have the Gold platted USB plug.  On this side, it shows you USB logo.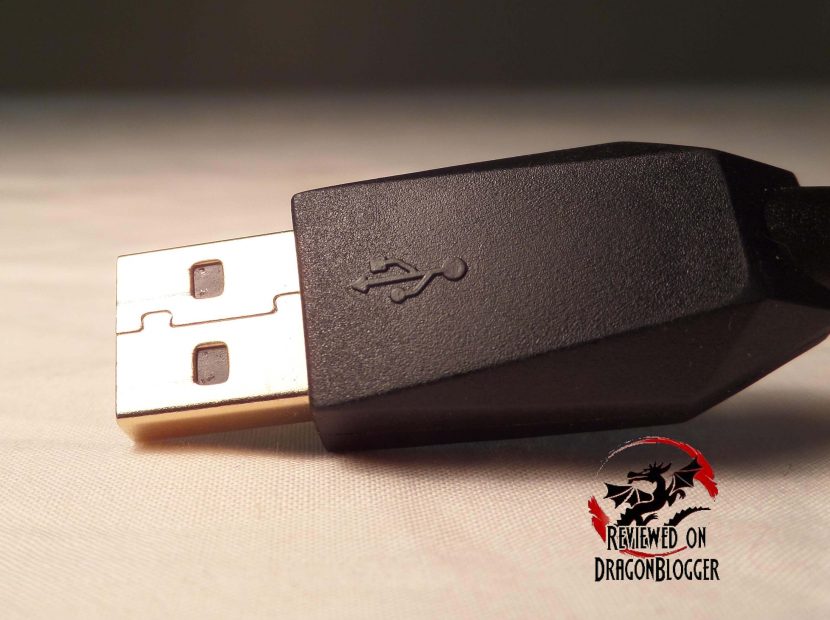 Flipping the plug over, we find the Cougar logo.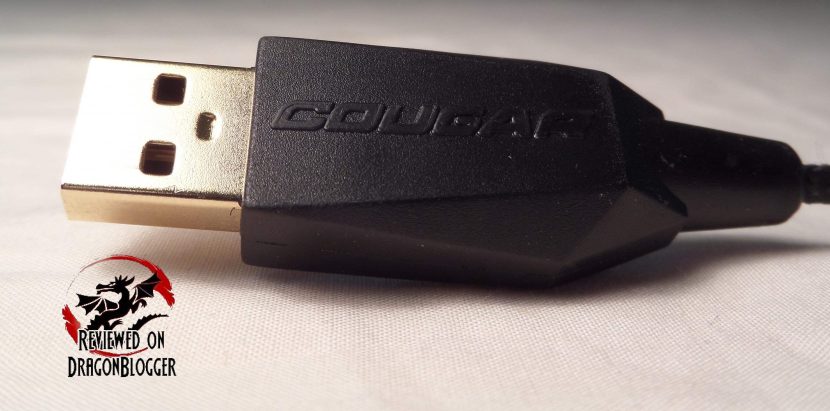 At the other end of the 5.91 Foot beautifully braided cable, we find the mouse itself.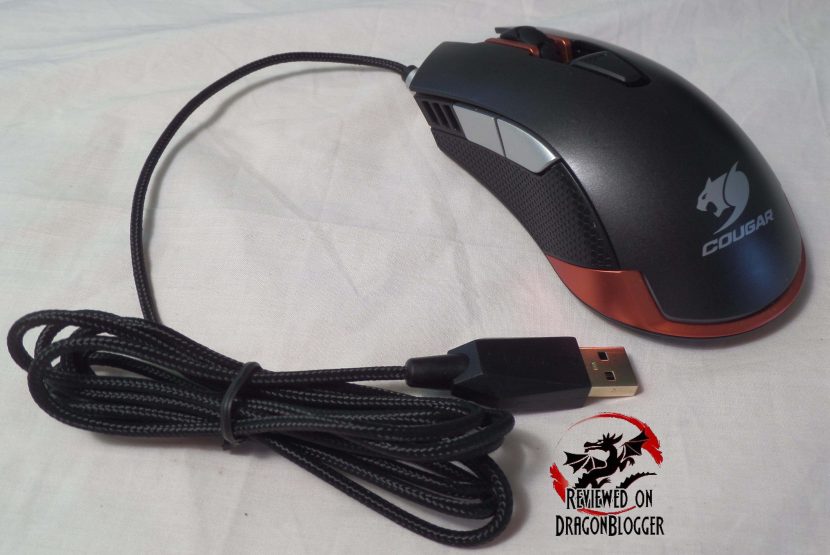 Let's take a closer look at the Cougar 550M Gaming Mouse.
I have spent many years in the PC boutique name space as Product Development Engineer for Alienware and later Dell through Alienware's acquisition and finally Velocity Micro. During these years I spent my time developing new configurations, products and technologies with companies such as AMD, Asus, Intel, Microsoft, NVIDIA and more. The Arts, Gaming, New & Old technologies drive my interests and passion. Now as my day job, I am an IT Manager but doing reviews on my time and my dime.