I am the first person to admit that I haven't been looking at projectors that often for my own needs, but after seeing what one artist did with the LG Mini Beam I may have to change my mind.
Check out this Beaming Rocket Video and tell me what you think!
I love how the projector puts wings and animated flames coming out the back of the vehicle, I wonder how many projectors it took to do what Huan did with the LG Mini Beam.  I am betting at least 4 (1 for front, left, right, rear) but maybe 2 for the front.
I picture this causing some mass distraction scenario's while on the road in real life but you know I can think of some pretty creative Christmas decorating that can be done with this LG Mini Beam LED projector.  Way beyond the cheap projector stuff just displays a static image on your garage door or house wall too.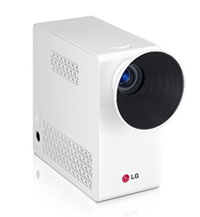 Projectors like this can easily become a video artists tool to create amazing displays that stand out from the ordinary and really capture the attention of viewers and those who happen to be there to witness them.
What kind of creative things can you imagine doing with the LED Mini Beam projector?  It also has a speaker built into it and the RGB LED has a lamp life of 30,000 hours.  It also supports WiDi and Wireless Display.