If you are a Mac user, it is highly likely that you engage in creative activities involving images. You have to enhance your photos every now and then. You would want to create GIFs and share with your friends. You would want to edit images, sometimes multiple images at a time, edit videos, record your screen to create videos, refine images, draw something, or organize your galleries, and do much more. This is where creativity apps can help you. Just installing a few different creativity Mac apps can mean spending hundreds of dollars. And then you have to update them regularly, which can cost more.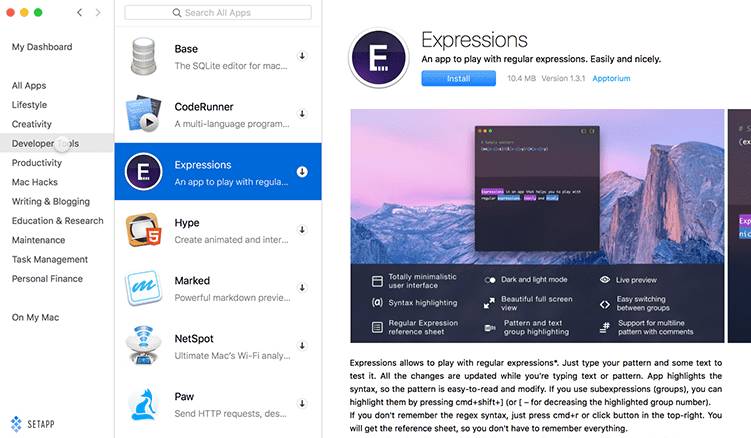 A more effective and affordable alternative can be to choose Setapp. This subscription suite offers you hundreds of Mac apps for a tiny fee. And this includes much more than just creativity apps.
Setapp's Subscription Model
A subscription model, such as the one offered by Setapp, is different from a one-time installation. You can start using an app for a very small monthly fee. And it is not just one app, you can access over a 100 Mac apps for the same fee.
For example, Setapp has a monthly subscription fee of just $9.99 (or $8.99 for the annual plan). And this gives you access to dozens of creativity apps including Sip, IconJar, Gifox, Capto, PhotoBulk, Image2icon, and Pixa among others. When you subscribe, you get access to all the apps you will require. There is no need to search through the app marketplace to find the best apps, read the reviews, and compare the prices.
And most of these apps cost more than the entire suite of apps provided.
Best Creativity Apps
Sip: This is a popular app that makes it easier to find the perfect color for your needs. Determine which color you want, to utmost precision, and then find it using the touchbar. If you are into graphics designing, you will certainly realize the importance of this Mac app. A single app purchase could cost you almost $12.
IconJar: Icons have an important role in designing. They are required repetitively for different tasks. Setapp also offers IconJar within its suite so that you can store and organize all your icons in one place. This app costs €30 to start with. This icon organization supports SVGs and all the different icon fonts. It is a trusted app used by leading brands including Google, Microsoft, Intercom, Shopify, and Airbnb among others. It also simplifies icon management by integrating licensing and tags.
Gifox: If your work or hobbies include recording and sharing animated GIFs, this app is going to serve you perfectly. Record your screen and convert into useful GIFs for educational, demo, and other purchases. It allows pixel-sharp selection with the option to eliminate desktop background. Setapp offers it as part of the suite for just $9.99. It offers a wide range of controls along with sharing options.
PhotoBulk: If you want to edit multiple images simultaneously, this can be just the tool that you require. You can add watermarks or resize multiple images. Save valuable time every time you have to batch edit. Rename images or compress them with a few steps. While the app costs $9.99 on the Mac App Store, you can have access to hundreds of apps including this one for $9.99/mo on Setapp.
Additional Advantages of Setapp
When you choose to subscribe to Setapp, you are not only saving hundreds of dollars on getting started, you are also saving on the upgrades. This ensures that you will have access to the latest app versions without having to pay extra or having to take steps to update those apps.
Once you subscribe, you can start using any of the over 100 apps. There are no distractions about in-app purchases, ads, or updates. You can simply focus on your task. And all this comes at a charge of less than $10 a month. And the steps involved are simple for everyone. Start by signing up for an account and download Setapp. Check the different categories to choose the apps you need. For example, Sip, IconJar, Gifox, Capto, PhotoBulk, Squash, Image2Icon, Pixa, and other apps are available in the 'Creativity' category. The platform keeps adding new apps to the suite so that you can have access to more tools.
I am interested in all things technology, especially automation, robotics and tech that helps change how society will live in the future.