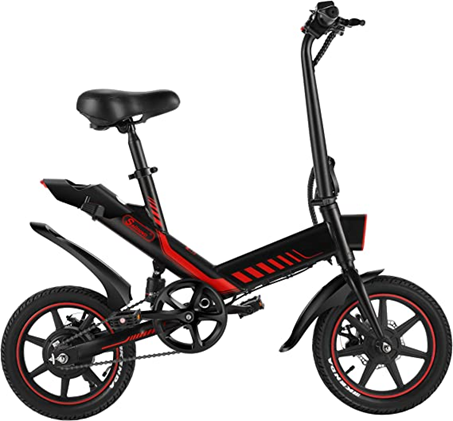 Looking for an electric bike but don't want to spend a lot of money?
Electric bicycles every year considerably improve their performance and it is increasingly common to find electric bicycles on the streets. Electric bikes offer interesting features that considerably improve our performance and speed. For the vast majority of people using a traditional bicycle can sound somewhat boring and the vast majority prefer to use an electric bicycle. You can use the electric bike to go to work, school, get to know new places, or simply as a hobby. Bicycles could reduce carbon emissions significantly. Bikes are an option to consider if you want to save money on fuel. Electric bikes usually come at a steep price and not everyone is willing to pay more than $1000 for a bike. Even so, there are electric bicycles below that price that offer us excellent performance and autonomy. That's why I'll talk about Sailnovo 14" an electric bike with incredible value for money. This bike provides a power of 350W which is enough to reach a top speed of 18.6 mph in addition to covering a long distance. If you are looking for an electric bike but do not want to spend a lot of money surely you would like to know more about this product.
Features of the Sailnovo 14" electric bike
The Sailnovo is an incredibly compact electric bike that offers a power of 350W. The main feature of this bike is its price. You may find a few options for this price. It includes a motor that provides a power of 350W that is enough to reach a speed of up to 18.6 mph (30 km/h). Another amazing feature of this compact electric bike is its autonomy, the bike is capable of reaching a distance of up to 45 miles when using the pedaling assistant. Another unsettling feature is its compact design that allows you to store the bike easily unlike most electric bikes. This bike uses a 36V, 10.4 Ah rechargeable battery. It includes an LCD screen to read useful information about the battery level or distance traveled. It includes 3 different modes of use (pure mode, assistant with pedaling, and manual mode). It is an ideal bike for people between 12 and 60 years old which makes it a perfect gift for teenagers and adults. Another feature of this bike is its high-quality brakes, it uses double disc brakes on both tires. Tires are also an important aspect. High-quality 14″ tires significantly improve driving stability. It also includes an LED headlight for safer night driving. The bike is IPX54 certified to use the bike during the rain. Please note that the maximum load of this bike is 264.5 pounds. The manufacturer includes a lifetime technical service (using the warranty). If you have a question about the product, you will get a response in less than 24 hours.
Summary
If you are looking for an electric bike for personal use or to give as a gift, but do not want to spend a lot of money surely the Sailnovo 14" is what you need. It is a compact bike that offers great performance and is capable of traveling long distances.
You can buy this item here: Amazon.com : Electric Bicycle, Sailnovo 14" Electric Bike for Adults and Teenagers with 18.6MPH 45Miles Waterproof Folding Electric Bike with Removable 36V 10.4Ah Lithium-Ion Battery Throttle & Pedal Assist : Sports & Outdoors
My name is Joel! I love to read, I go to university like most people my age.
In my free time I usually train boxing, I love music, I also know how to play the guitar and the harmonica.