In the past, people mainly used Virtual Private Networks (VPNs) for security. But today, VPNs are used for other purposes too.
Over the last decade, streaming has become so popular all over the world. In fact, for many consumers, it has become part of everyday life. Since the spread of the novel coronavirus, the entire world is streaming more than ever, and streaming services like Netflix are becoming more and more popular each day. This popularity of streaming services leads to an increasing need for streaming VPNs like Wachee VPN. But why? What are the reasons for using streaming VPNs? What advantages do they have? Let's get to the point:
Why do you need a Netflix VPN?
There are several situations in which you need to use a Netflix VPN. Let's name some of them:
Unblock Netflix at school (or your office): Imagine that you are in school (or in your office) and you find out the network administrator has blocked access to Netflix. In this situation, a Netflix VPN like Wachee helps you unblock Netflix and makes your streaming activity completely anonymous.
Access more movies and Tv shows with your Netflix account: As you may already know, streaming services like Netflix and Hulu use geo-blocking to respect the licensing agreements they signed with copyright holders. It means that the number of available content for each of the subscribers depends on his/her geographical location. This is really frustrating, especially for Netflix members who live outside the US (which has the best library). And this is where a Netflix VPN like Wachee can help, by combining your region's Netflix with other countries' libraries.
Watch your favorite series while you are on a trip: As Netflix's available content for you is based on your geographical location, when you leave your country and travel somewhere else, your catalog will be changed based on your new location. It means that you are not able to continue watching your favorite series while you are traveling. However, a good Netflix VPN like Wachee VPN enables you to access your favorite content wherever you are.
Why is Wachee VPN the best option for unblocking Netflix on your Android device?
Most of the Netflix VPNs do not work exclusively for Netflix, but Wachee does. This amazing feature makes Wachee more secure compared to other VPNs since it only tunnels the traffic of Netflix and does not affect the traffic of any other applications on your device.
There are not so many VPNs that work with Netflix due to its strong VPN detection algorithm, especially while using cellular data. Since Wachee works exclusively for streaming, all of its resources are being used to make a stable connection and perfect streaming experience for you. Wachee has the best servers that unblock Netflix 24/7 for you without any problem.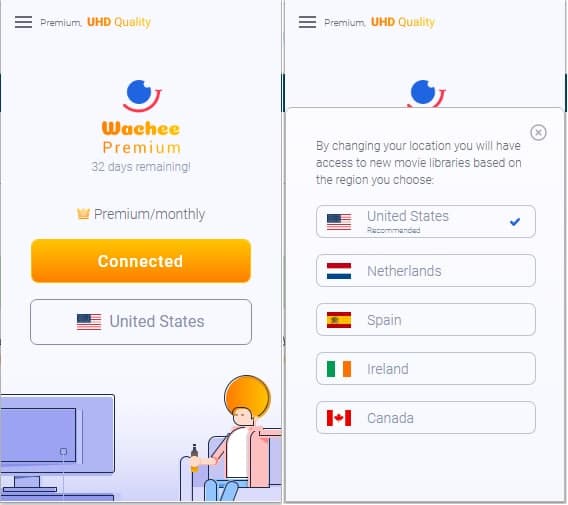 Wachee provides the best of the Netflix locations that cover more than 90% of its library. Wachee's current locations are the United States, Spain, Netherlands, Ireland, and Canada. We are always doing our best to add more locations based on your needs.
Besides all the mentioned features, Wachee's plans are also one of the most affordable in the market, starting from 2.99$ per month. It also has 7-days free-trials that enable you to test the service and make sure of its quality before buying it.
Conclusion: If you are looking for the best Netflix VPN for your Android phone or tablet, don't hesitate to choose Wachee.
I am interested in all things technology, especially automation, robotics and tech that helps change how society will live in the future.