We are influencers and brand affiliates.  This post contains affiliate links, most which go to Amazon and are Geo-Affiliate links to nearest Amazon store.
The San Diego Comic-Con this year had a panel with several Firefly cast members and others involved in the show.  November will be the 10th anniversary of the show premiere.  The show initially aired on Fox TV; out of order and switching the night it played; but was recently acquired by Science.  General Manager and Executive Vice President of Science Debbie Myers says "Firefly is a landmark work of science fiction and a favorite with our viewers. Ever since it premiered on SCIENCE, fans have asked us to do something special to mark its 10-year anniversary."
Set in the year 2517 Firefly is not a sci-fi show with aliens but humans only who have found a new star system to live in as Earth which we know can no longer sustain life.  After a civil war where the Browncoats fought for independence, and lost, China and the US, who are the only surviving superpowers, fused their cultures to create the government.  The series is based around the nine people on Serenity, which is a Firefly-class spaceship.  Joss Whedon explained the show as nine people who see nine totally different things in space.  The characters were well-defined and highly engaging.  Firefly is considered a western in space.  If you have seen the series it makes sense because many of the outer planets have that pioneer culture.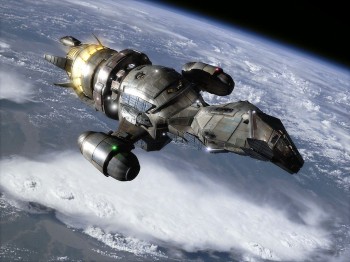 For the ten-year anniversary SCIENCE will air, once again, all 14 episodes in order.  Once the show is over though, fans should stick around for the hour-long special "Browncoats Unite".  This special will feature exclusive footage from the Comic-Com panel, a behind-the-scenes roundtable facilitated by Jeff Jensen of Entertainment Weekly, some memories from those both in front and behind the camera, and first-person accounts from the individuals who made the franchise the show it is even today.  The 2012 Comic-Con Panel included creator Joss Whedon, stars Nathan Fillion, Alan Tudyk, Summer Glau, Adam Baldwin, Sean Maher, show runner Tim Minear, and writer Jose Molina.
http://youtu.be/gaLPpKCC9pg
Despite the short life of the show, with just 11 of the 14 episodes airing on Fox TV, it has become a cult classic.  The fan base even today is strong and might be said to be as big as Star Wars or Star Trek.  Fans, who call themselves Browncoats, were lucky enough to get "Serenity" a movie in 2005, which Whedon stated would have been the second season had the show continued.  Tune in November 11 for the entire series along with the world preview of "Browncoats Unite" and see they can't take the sky from you.
We are influencers and brand affiliates.  This post contains affiliate links, most which go to Amazon and are Geo-Affiliate links to nearest Amazon store.
I have been a gamer for over 20 years. My preference is RPG, fighter, action, adventure, defense, and strategy although I will play just about anything. I also prefer console to PC gaming. Depending on what interests me, I watch TV and movies. Some things every week or when its new and others as they catch my fancy. Here I prefer dramas, fantasy, sci-fi, and action. I also am an avid reader and writer.