With so many people into streaming or TikTok, everyone is looking for good lighting at a decent price. Some can be very spendy but lucky for us BlitzWolf has come through with an affordable LED light ring. This ring light is not only affordable but has many options. The first thing you will notice is that it comes in a plain white and green box with their logo in the green at the top right corner and the model number right in the middle. This I'm sure cuts down on price do to not needing to spend money on some outrageous picture or box design.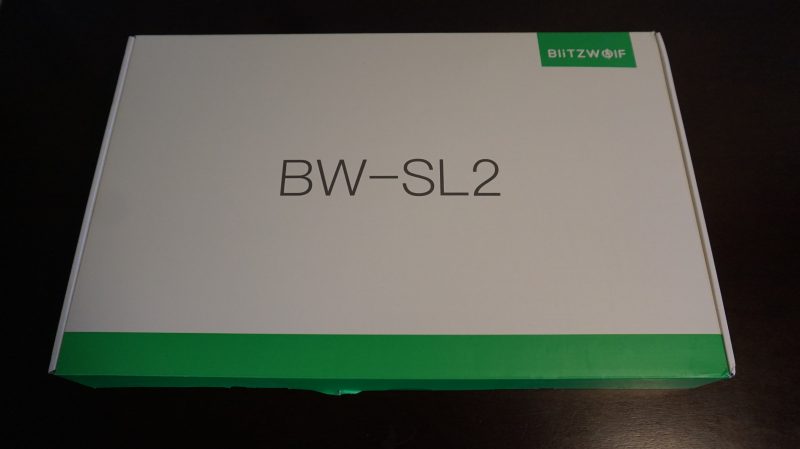 You can see that the weight is 956g and there are 120 light beads inside the 10 inch ring according to the box, but it says 126 on the product page so I am not sure which is accurate.  Enough with the boring details of how the box looks, I'm sure you want to know what comes in this box.
Watch My Unboxing the BlitzWolf 10-inch Ring Light Here:
BlitzWolf Ring Light Box Contents
Inside the box comes several pieces. You get a tripod, remote, phone holder, phone holder bracket, carrying case. 10.2-inch ring light and a user manual.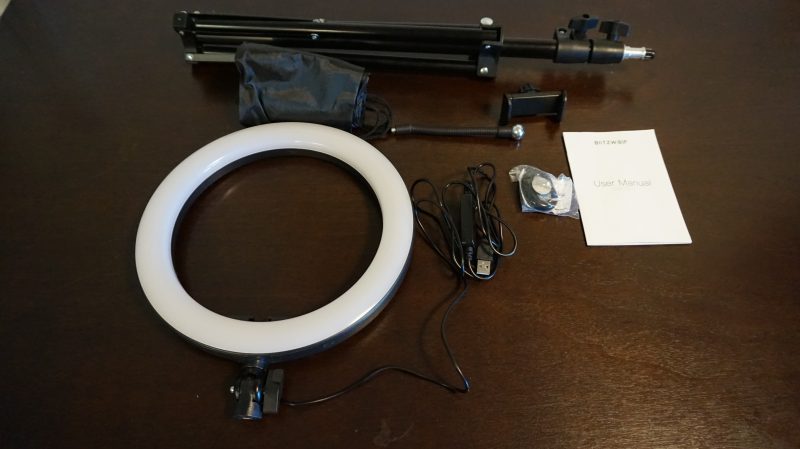 First, let's talk about the tripod. The tripod is sturdy and seems well made. You can extend it all the way up to 63 inches or at its lowest point 21 inches. The tripod could be used for other items like a camera as well. The tripod is black as you can see and it has three layers of adjustments each layer has a plastic screw that you loosen and tighten to make the tripod reach your desired height.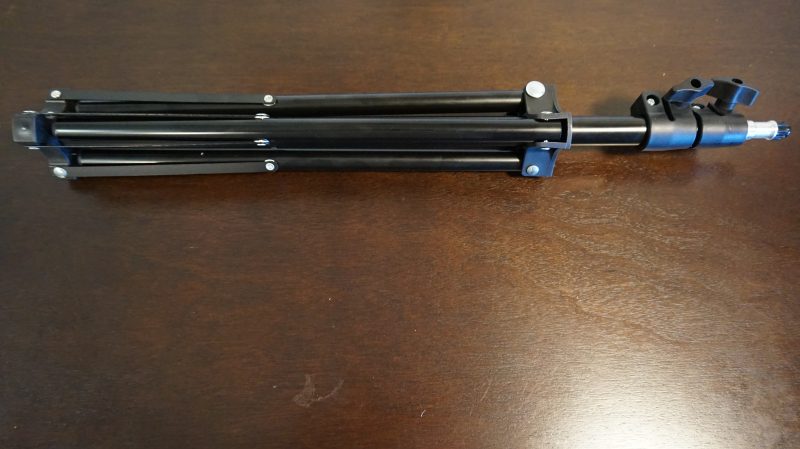 The BlitzWolf ring light itself is 10.2 inches round and has 3 different color tones. The color tones are warm, natural, and cold. Each color tones can range from temperature 3000K-5500K. Each lighting mode has 11 adjustable brightness levels to choose from. They claim each ring light has 126 bulbs. I did not take it apart to make sure this claim was accurate as I didn't want to damage or destroy this ring light while reviewing it.
The cord is permanently connected to the ring light which is where you will control the color temperature and brightness. On the end of the cord is the USB plug which is how you power the device up, it can be plugged into a PC, USB Hub or USB AC outlet but there is no reason to tie up a PC USB port if you can use an AC USB power source.
The inside of the ring light is where you will screw in the phone holder. This lets you hold your phone and record your videos with the best lighting. This comes in two pieces which are the metal bendable screw and the plastic phone vice which allows phones from 2.16-3.35 inches wide. You will see in one of the photos that the plastic coating on the bendable bar is cracked but does not affect anything but looks.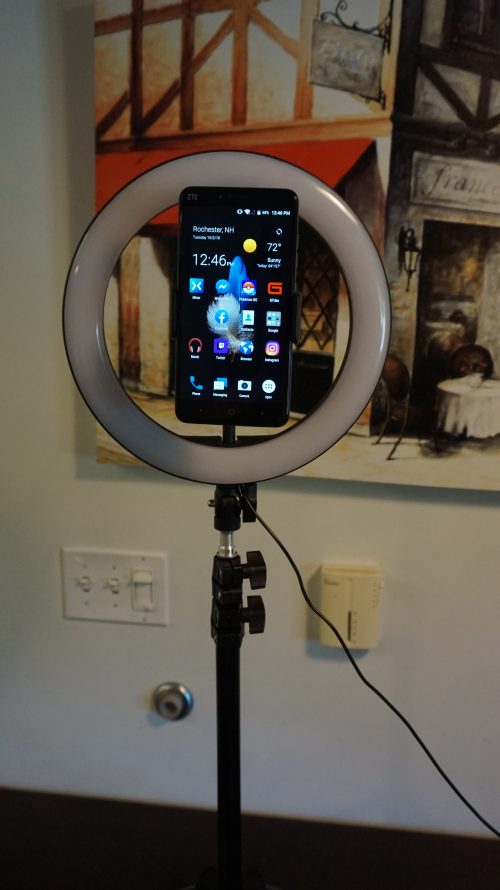 Now that you see it connected with the phone in the middle let me show you it with the lights on. You will see in the following pictures all three color tones.
Watch The BlitzWolf Selfie Ring Light In Use Here:
The last item that comes with this kit is a Bluetooth remote that connects to the phone. This item to me is pointless but to others will come in handy. It allows you to take photos or start recording without having to reach over to your phone if that is what you are using. It comes with two batteries one installed and one spare. You will need to connect the app they have provided to make it work.
Final Thoughts
The BlitzWolf 10.2" selfie ring light works phenomenally well for the price of under $40 dollars. The cord is a little short for some uses but can be overcome by using a USB extension cord. The USB can be plugged into any USB outlet that provides at least 5v of power so it is a very low power draw which is great for many reasons. The color tones are very bright and easy to stare at unlike some of the older house style lights which can make you strain. The remote is just that a cheap plastic remote that may come in handy for some but for me just had no use for it but, if you need to take photos and stand some distance from the ring light this can provide good value and was nice to include. The tripod bag fell flat for me since it can only hold the tripod and not the ring light as well.   I wish they would have thought about a bag to carry the whole item in it as that way it can be transported to various locations. Yet again the fact that the bag only was for the tripod would not hold me back from buying the BlitzWolf 10.2" ring light.
When all is said and done the BlitzWolf 10.2″ ring light is under $40 dollars and does everything I love using it for my nearly daily Twitch streams to unboxing products or as product review lighting for some items. If you are in the market for a selfie ring light to do any type of recording I would highly recommend the BlitzWolf 10.2″ Selfie ring light. I cant wait to see what else they bring to the market.
Hi everyone I'm James Braga. I was born in Oregon and moved to New Hampshire a few years back. I love most things that have to do with video games and electronics, It doesn't matter if it for a car or a house, if it has electricity in it i will love it . I'm also in school for Information Systems Technology.