If you arrived here on DragonBlogger.com via Google Chrome, you may have been presented with the following error: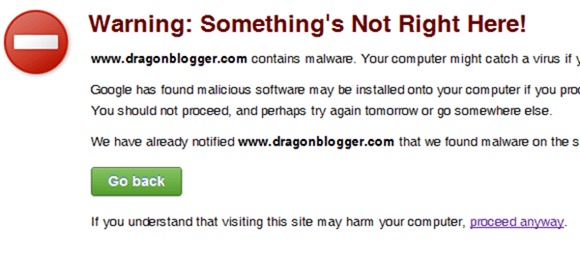 This started happening yesterday and it is related to Google Safesearch flagging subdomains hosted on Bluehost (the parent company of HostMonster which hosts DragonBlogger.com) having some domains serving malware.
If you dig further by clicking on the safe browsing diagnostics page you will see the following:
Safe Browsing
Diagnostic page for dragonblogger.com

What is the current listing status for dragonblogger.com?
Site is listed as suspicious – visiting this web site may harm your computer.

Part of this site was listed for suspicious activity 2 time(s) over the past 90 days.

What happened when Google visited this site?
Of the 87 pages we tested on the site over the past 90 days, 3 page(s) resulted in malicious software being downloaded and installed without user consent. The last time Google visited this site was on 2012-09-21, and the last time suspicious content was found on this site was on 2012-09-21.
Malicious software is hosted on 1 domain(s), including admaxstat.com/.

This site was hosted on 3 network(s) including AS4436 (AS), AS46606 (BLUEHOST), AS15169 (Google Internet Backbone).

Has this site acted as an intermediary resulting in further distribution of malware?
Over the past 90 days, dragonblogger.com did not appear to function as an intermediary for the infection of any sites.

Has this site hosted malware?
No, this site has not hosted malicious software over the past 90 days.

How did this happen?
In some cases, third parties can add malicious code to legitimate sites, which would cause us to show the warning message.
So DragonBlogger.com is not infected with Malware and doesn't pose any risk to visiting it, but most readers wouldn't know to investigate the warning further because of the big scary red box.
My current steps have been to open a Malware Reconsideration Request through Google Web Master tools, and I have done this.
Request a malware review:
On the Webmaster Tools Home page, select the site you want.
Click Health, and then click Malware.
Click Request a review.
I hope it takes less than 48 hours to have the review and malware error removed from visiting DragonBlogger.com but in the meantime I hope my readers take the time to know that they are not at risk from visiting my site.
Consequently, I use the same CDN and feed some content to my other sites from cdn.dragonblogger.com so this same error occurs for JustinGermino.com and some other sites that read in static images from the DragonBlogger CDN.
Thanks for your patience while I work to resolve these issues,
-Justin Germino