I found a great giveaway contest going on over at Daily Techie where the owner purchased an Xbox 360 Kinect Bundle to giveaway to 1 lucky reader.  They are also paying for shipping costs (including international) so anyone can enter the contest.
Enter the contest from Daily Techie directly, or you can enter via the widget below.
I decided to help co-host as well as enter the contest myself, heck if I won this bundle I would just turn around and give it away to one of my readers anyway since I already have an Xbox 360 with Kinect.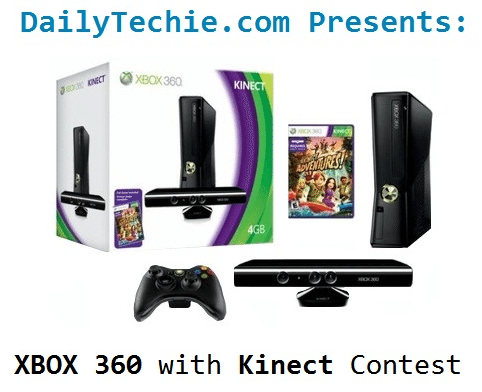 So enter for your chance to win an Xbox 360 with Kinect bundle from Daily Techie and after speaking with Kamal who runs the site, we are going to partner on another great gadget giveaway soon (Maybe a Google Nexus 7 tablet giveaway starting in October).
In the meantime, this is another Punchtab contest so remember to get as many entries as possible to increase your odds of winning.
Xbox 360 Kinect Bundle Giveaway
Note, my favorite Kinect Games so far would probably be Power Up Heroes which I play with my 5 year old, though I did like Kinect Sports for the boxing matches even if it didn't match my punches all the time accurately.
I hear Kinect Star Wars is pretty fun, but there are more and better Kinect games coming in the future.
-Justin Germino