Statcounter is a free and fantastic website analytics service that gives you a lot more information about your blog or website visitors than say Google Analytics. While Google Analytics can be integrated with Adsense and Webmaster Tools to create a unique tracking service for bloggers and webmasters, Statcounter allows you to track and even label each unique visitor!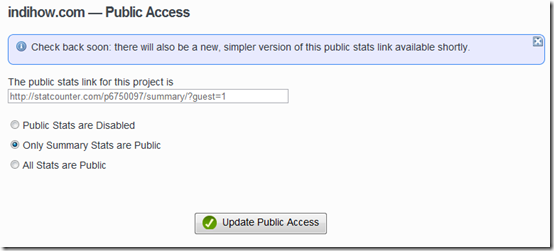 You can label a particular IP-address with a name so as to track specific visitors, their visiting frequency and preferred pages. Moreover, unlike Google Analytics, you can even track the exit link activity of visitors, which can be used to track affiliate link clicks and ad unit clicks. If you regularly link to other blogs and websites, you can even analyze the popularity of those ordinary links!
Statcounter's free service has a visitor log of the most recent 500 entries, beyond which only the summary is retained, with total number of visits, visitors, exit link clicks etc. You can opt for the paid services which allow much bigger log sizes.
Unlike Google Analytics, Statcounter allows you to share your site statistics including pageload activity, traffic sources, visitor details and visitor maps with your site or blog's visitors! All you need to do is allow public access in the project settings and share the link on your blog or website!
Here's how you can allow public access to your statcounter statistics:
Go to the Project Settings page for the blog whose statistics you want to share with the public.
Go to User/Public Access and scroll down to the bottom of the page.
Select the level of access you want to give the public – all stats or just summaries.
Click on the Update Settings button and you're done!
Now all you need to do is copy the link provided on this page for guest visitors and share it on the blog/website.
As for the why:
A page called "traffic stats" or "visitor stats" with a link to the statcounter project would be very useful for advertisers in deciding whether they want to sponsor your blog/website.
From personal experience I know that blog visitors like to know more about other people who visit your blog. Especially if your blog is about blogging!