AlternativeTo.net is a blog authored by two tech enthusiasts, who have resolved to help all computer, mobile phone and tablet users find great alternatives to free and paid software products.
The blog has thousands of popular software products for Microsoft Windows, Apple's Mac computers, Linux based systems, Online/Cloud applications, iPhones and iPads, Android Phones and Tablets, Windows Mobile as well as Symbian 60 systems.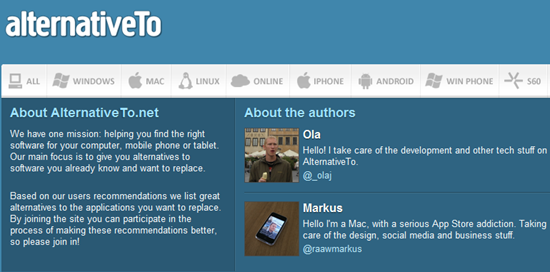 While the authors list several good alternatives to most of these programs, the blog's readers play a very important role too!
The readers "Like" the programs, which helps relatively inexperienced tech enthusiasts choose the best alternatives to the software products they already use. The software solutions can be filtered based on the type of platform – Devices and Operating Systems – and can be sorted based on the number of times they have been liked, viewed, the most recently added as well as those with no alternatives (yet!).
More often than not, the number of likes for each software program is found to correspond with how versatile, easy-to-use or irreplaceable it is. However, in certain cases the lack of viable alternatives is also responsible for its popularity. Certain software products like VLC Media Player and Dropbox (cloud based backup solution) are extremely popular, with thousands of likes!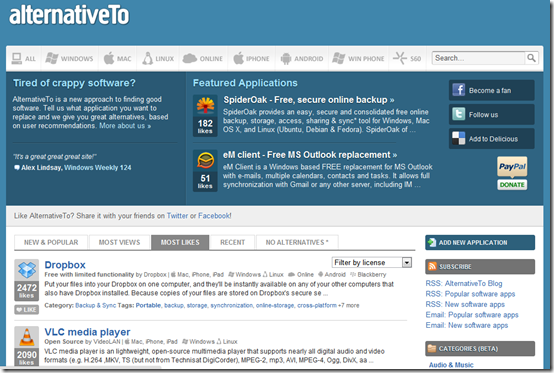 It is important to note that the most popular software programs may not always be what you should go for. There are specific advantages and disadvantages of seemingly similar programs. GOM Player allows you to play media files from the exact place where you had closed the file the previous time you were playing it, while VLC Media Player allows you to raise audio volume to as much as 400%. KM Player on the other hand lets you play damaged media files much better but doesn't help with low audio volume.
So, while the blog authors and readers of AlternativeTo.net make a lot of effort to provide you with great alternative software products, you definitely need to do a bit of research to find the best solution for your needs! Moreover, sometimes it is better to have multiple alternatives installed on your computer/tablet since not all the data files you use will be in the same format or have the same issues!
While I only discovered AlternativeTo.net last year, ever since I've been using it a lot. The blog is basically a one-stop-solution for most of your computing needs. Don't forget to check it out!
I'm a Generalist Researcher working on a Theory of Reality, Horticulturist, Blogger, Natural Systems Analyst and Amateur Architect