Instagram, the Facebook-owned image-sharing social network, was launched in 2010. 10 years since it has been active, Instagram has grown from a place to show-off your stylized meals into a marketing tool used by most brands.
Instagram's image-first strategy makes it possible for brands to truly showcase their products to their customers. It is often used by the brands to explore their creative side and reach out to an audience base that is younger and has a hunger for exploring the unusual and unique side of the brand.
Brands use Instagram for a variety of reasons beyond merely marketing their products. Given the visual appeal that the platform demands, brands often make it a point to explore a variety of objectives via Instagram.
Why Use Instagram for Your Brand?
Out of the several reasons how a brand uses Instagram for their digital marketing, here are the top 5 –
Engage with the audience: Instagram is a great platform to stay connected with one's target audience. There are a million brands making their way into the feeds of people who are using the platform. But to make your audience feel cared for, it is essential to connect with them through engaging activities that help them feel like the brand sees them and wants to stay connected with them.
Tell people about your brand: Influencers play a major part in creating awareness for brands. Besides Instagram ads, they are a great source to get the word out because choosing the correct influencer would definitely mean that you are reaching out to the correct audience.
Find new fans: Instagram has an amazing feature called 'Discover'! This allows users who are interested in similar things to find stuff that fits their area of interest. With your innovative posts and creative content plan, you can make your way to the discover feed of your target audience. Besides that, Instagram ads have an excellent feature that drives users to visit your profile and convert them into followers of the brand. But at the end of the day, great content on your page is what will make your potential fans actually follow you!
Make announcements: With a huge fan following on Insta, most brands use it to make important announcements – whether it's a 50% off sale for a premium fashion label or about the trailer for a new show on a streaming platform! Instagram stories especially have features like the countdown timer that allows the audience to add a particular countdown's timeline to their account and even keep track of the announcement!
Launch new offerings: In recent months, Instagram has seen fashion designers launch their new collection on Instagram Live or a celebrity launch their makeup brand through stories. Moreover, influencers play a major part for brands when it comes to launching new offerings. Several brands have collaborated with influencers to test and launch their new products, especially makeup on the platform.
Instagram Ads and Why They Are Effective
A lot of brands have already been using Instagram as an advertising platform. Instagram ads sync directly with Creative Hub or Ads Manager, which helps you find the perfect way to advertise.
Based on the 7 pre-set objectives that exist on the platform, you can find the sweet spot to fulfill your marketing goals on this platform. These objectives are –
Brand awareness: Get people to notice your brand
Reach: Reach out to more people in your target group
Video Views: Garner more eyeballs on your videos
Conversions: See significant action on your website/app
App Installs: Get people to download your app
Lead Generation: Gather significant data about your focus group
Traffic: Drive traffic to your website or landing page
If your brand hasn't yet started the same, here is a quick guide on how to advertise on Instagram for a particular event or announcement using some of the most intriguing templates designed to suit your every advertising need!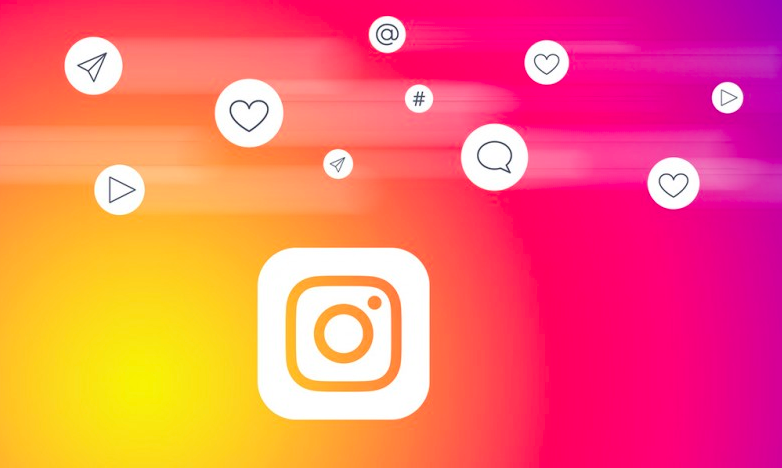 These save the date templates allow you to minimize the work required in designing a brand-new creative for your specific purpose. They give you a gorgeous pre-set pattern in which you can retrofit your brand's messaging to convey your message effectively.
4 Types of Templates to Up Your Instagram Ad Game
Here are 4 best templates that you can use to create save the date Instagram ads:
Fun, colorful and young: If you are a young brand that is mainly looking at reaching out to a millennial audience, a cheerful pre-set template with bright colors and exaggerated fonts would be ideal for you. You can use this save the date template to announce the launch date for a product as well as the beginning of your anniversary sale!
Colorful yet classy: Is your brand affordable luxury? Is your primary target audience the uber-cool, chic professional? Then these simple, clean, and colorful save the date templates might be the perfect ones to attract them to your page! Whether it's the opening night of your new banquet or a charity gala, these templates will add an enticing pizzaz to your ad.
Minimal, chic, and visually tempting: Who doesn't love a template that essays the vibe that your brand stands for? These elegant pre-set with eyecatching visual imagery would definitely be the best choice to market your brand on a platform like Instagram that thrives on good visual content. The minimalizm is absolutely essential to talk to your target audience, who are used to a certain level of sophisticated design from your brand.
Clean, stylish, and dark-toned: Whether you are a brand with a slightly older audience or a more conservative visual language owing to the kind of services or products you deliver, these relatively somber templates might be perfect for you. Replace the text, and you are all set to let your audience know about your big announcement!
Conclusion
Instagram is a potent platform to market your brand with the help of visually appealing and creative content. The ads on this platform are created to help you reach your chosen objective, coupled with your smartly designed campaigns! So, use pre-existing templates for various formats of content and start getting your business the kind of eyeballs that it deserves.