CALABASAS, CA, Calif. – May 21, 2019 – Global videogame publisher 505 Games and developer Turn Me Up Games will bring the award-winning indie adventure game Brothers: A Tale of Two Sons to Nintendo Switch™ on Tuesday, May 28 for £ 9.99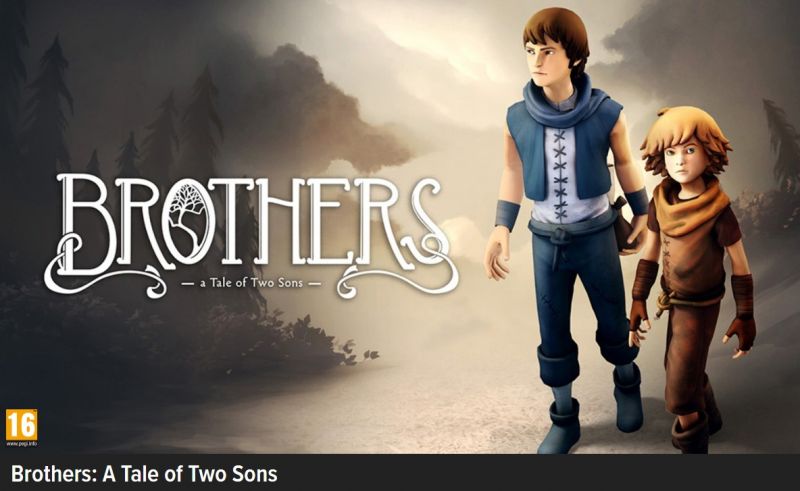 Starting today, players who pre-order Brothers: A Tale of Two Sons from the Nintendo eShop will receive a limited-time ten percent discount on the critically-acclaimed indie game from visionary Swedish film director Josef Fares (A Way Out): Pre-orders available from today, https://www.nintendo.co.uk/Games/Nintendo-Switch-download-software/Brothers-A-Tale-of-Two-Sons-1562794.html
The Nintendo Switch™ version of Brothers: A Tale of Two Sons introduces an all-new two-player local cooperative mode, offering players an opportunity to experience the heartwarming fairytale adventure together with friends or family for the very first time. Players can embark on an epic journey in single-player or with a friend to solve puzzles, explore stunning locations and face off against harrowing bosses. In addition to the new two-player cooperative mode, the Nintendo Switch™ version of the game will come with exclusive bonus content, including a behind-the-scenes commentary from director Josef Fares and a concept art gallery.
Brothers: A Tale of Two Sons is rated PEGI 16 and will be available as a digital-only download via the Nintendo eShop.
For more information on Bothers: A Tale of Two Sons, please visit: http://www.505games.com or follow the Brothers: A Tale of Two Sons community on:
ABOUT 505 GAMES
505 Games, a subsidiary of the Italian entertainment company Digital Bros., is a global video game publisher focused on offering a broad selection of titles for players of all ages and skill levels. The company publishes and distributes premium and free-to-play games on leading console, PC and handheld platforms as well as for mobile devices and social networks.
Publishing highlights in premium games include Last Day of June, PAYDAY 2, Terraria, Portal Knights, Laser League, Assetto Corsa, ABZÛ, Virginia, Brothers – A Tale of Two Sons and How to Survive. Free-to-play publishing highlights include Battle Islands, Gems of War and Hawken. Distribution highlights include No Man's Sky, Hellblade: Senua's Sacrifice, Stardew Valley, Dead by Daylight and Inside/Limbo. Upcoming titles include Remedy's Control, Indivisible (from the development team behind Skullgirls), Journey to the Savage Planet, and Koji Igarashi's next project, Bloodstained: Ritual of the Night.
505 Games has offices in California, United Kingdom, France, Germany, Italy, Spain, China and Japan. The company works with a network of distribution and sub-licensing partners in all other markets.  For more information on 505 Games and its products please visit www.505games.com.
ABOUT Turn Me Up Games
Turn Me Up is an insight driven Production Hub and Independent Development Studio working to bring games and experiences to consumers in ways that are both comfortably familiar and excitedly unprecedented. Our goal is to elevate everything we touch, challenge the ways audiences are entertained, and capture a player's imagination and mindshare in a way that resonates long after the game is turned off. TurnMeUp is known throughout the industry for our quality benchmark and production sensibilities. This year marks our 3rd expansion to our Los Angeles headquarters and 3 satellite offices throughout Eastern Europe, and the best part is, we're just getting started. For additional information please visit www.TurnMeUp.LA or contact Shout@TurnMeUp.LA