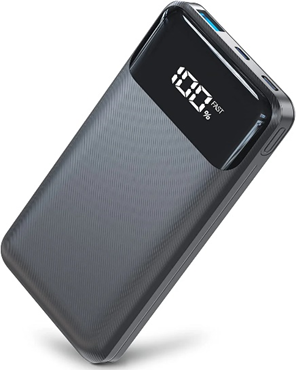 Do you usually spend several hours away from home and are worried that your cell phone will download? Then an energy bank is what your life needs.
When we want to spend a few hours or days away from our house we surely we worry that the battery of our cell phones dies, which can happen since cell phone batteries are usually designed to offer a few hours of battery (especially if your cell phone is not the latest model). So, if you do not want to be disconnected, you need to get a power bank, I would say that it is the easiest way to charge your cell phone in case you cannot use an AC port, all you need is to charge the power bank and you will get enough charge to recharge the battery of a cell phone several times.
Before buying a power bank you must consider some aspects. If you want to recharge a cell phone several times, then you need a power bank with a decent capacity, so your friends can also use the power bank. It is also important that the portable charger has 2 charging ports available, otherwise, it will not be able to charge 2 devices at the same time, which can be annoying if your friends also want to recharge their cell phones.
The LILIO power bank is a great option if you're looking for something that can charge your cell phone quickly while you're traveling. Great capacity to charge several cell phones at the same time is also compatible with most models of cell phones and other devices, so you can take advantage of fast charging. A great gift that we should all have at home. Below, discover the most interesting features of this product.
Features of the LILIO power bank
Fast charging up to 20W
If you think that a portable charger is not capable of offering fast charging, then you are wrong. The LILIO power bank is designed to offer a fast charge of up to 20W, which is faster than most chargers that cell phone manufacturers usually sell. You can charge 50% of an iPhone in as little as 30 minutes, which is pretty amazing. It is compatible with most cell phones, so if you have an iPhone, Samsung, Google Pixel, or Xiaomi, you can use this power bank.
20000mAh performance
If you plan to charge more than one cell phone, then a low-capacity power bank may not be enough to charge your friends' cell phones, so you need a portable charger with a larger capacity. The LILIO power bank has an incredible capacity of 20000mAh, which allows you to charge a cell phone up to 4 times. The LED display shows the battery level so you can know when to charge the power bank. Not only can you charge cell phones, but you can also charge energy-efficient devices like AirPods or Apple Watch.
You can charge 2 cell phones at the same time
The LILIO power bank allows you to charge 2 cell phones at the same time so that your friends can also recharge the batteries of their cell phones. This power has 3 ports (2 to charge cell phones and 1 to charge the power bank). It includes a USB A port, a USB C, and a micro-USB to charge the power bank. Get up to 20W using the USB C power and up to 18W on the remaining two ports. The compact size of this portable charger makes it easy to carry.
You can buy this item here on Amazon
My name is Joel! I love to read, I go to university like most people my age.
In my free time I usually train boxing, I love music, I also know how to play the guitar and the harmonica.