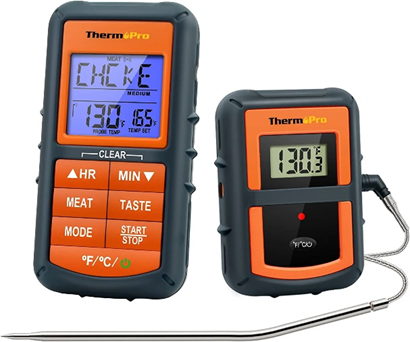 Do you usually cook on the grill and do not want to check the temperature of the meat every 10 minutes? Surely you need a wireless thermometer
If you are one of those who usually cook on the grill with your family and friends, you will surely know that having a thermometer is something important if you want to avoid burning the meat, so you can cook the meat like a real chef. There are many types of thermometers, and they can all do the job well, the only thing a thermometer does is get an accurate temperature reading so that the meats are cooked properly, allowing you to enjoy a delicious steak of meat, chicken, turkey, or any food you plan to cook on the grill.
Before choosing a thermometer it is important to know that most are not wireless, which means that you will have to manually check every time you need to know the temperature of the meat and as you know, that means that your hands will be very close to the hot steam, which increases the risk of a burn accident. So, if you use a wireless thermometer, you can go anywhere in the home and check the temperature in real time, so it is not necessary to be in front of the BBQ to check the temperature, which is much more comfortable if you think about it.
The ThermoPro TP07S is a great wireless thermometer available at an affordable price that will allow you to cook your meat to perfection, medium well? Surely with this thermometer, you can achieve it without worrying about cooking raw meat. Below, discover the most interesting features of this product.
Features of the ThermoPro TP07S Wireless Thermometer
Range up to 300 feet
One of the main features of this thermometer is that it is designed so that you can get the temperature at a distance of up to 300 feet, which means that you do not need to be near the BBQ to make sure that the meat is not burned, you just need to place the probe in the meat and you can check the temperature at any time using the control remote. Without the need to open the BBQ every 10 minutes, this wireless thermometer will prevent accidental burns.
High precision
Another feature of this wireless thermometer is that it is incredibly accurate considering that you can get the temperature at a distance of up to 300 feet (more than 90 meters). Get an accuracy of ± 1.8°F while the thermometer works in a temperature of 32°F to 572°F, so no matter how hot the BBQ is, the thermometer will run smoothly. Something incredible is that it has more than 8 preset temperatures, which allows you to cook meat, fish, and chicken professionally, so surprise your friends by cooking like a real chef.
Backlit LCD display
Do you usually cook during the night? That won't be a problem, the ThermoPro TP07S wireless thermometer features a backlit LCD display that allows you to cook in low-light conditions without problems. As if that were not enough, the LCD screen will light up in 3 different colors depending on what temperature the meat is at, so it is useful if you usually cook meat on medium well. Please note that this thermometer is powered by 4 x AAA batteries (included).
You can buy this item here on Amazon
My name is Joel! I love to read, I go to university like most people my age.
In my free time I usually train boxing, I love music, I also know how to play the guitar and the harmonica.