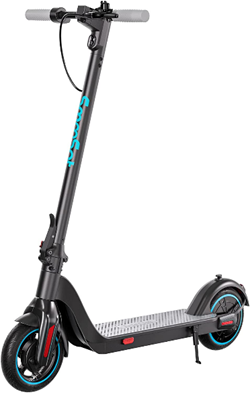 Need a good quality electric scooter available for $500?
As you know, climate change is difficult to control, especially with the pollution that humans produce every day, so it is important to be aware of the damage we can cause to the environment. Fortunately, there are many more ecological means of transport and I refer to electric means of transport, more and more people use electric means of transport, so it sounds good news for those who try to be friendly to the environment. So, you can use electric cars, electric motorcycles, electric bicycles, electric scooters, and a lot of modern transports that run solely on electric power. I would say that the electric scooter is one of the most fun means of transport you can use.
The electric scooter basically allows you to move at full speed through the streets of your city, so many students and workers use it as their main means of transport. It is cheap and in the long term ends up being profitable. But the main reason why many people use it is that it is incredibly fun, which is ideal for spending many hours away from home. Before buying an electric scooter, it is important that it can offer good autonomy and that the battery is also durable, so you can keep it for much longer.
The SmooSat SA3 electric scooter is a great option to keep in mind if you are looking for something durable and capable of reaching a speed of more than 15 mph. Unlike other electric scooters, this one is incredibly durable due to its high-performance battery. Below, discover the most interesting features of this product.
Features of the SmooSat SA3 electric scooter for adults
Powerful 350W brushless motor
The SmooSat SA3 electric scooter has a 350W motor that allows it to reach a top speed of up to 15 mph, which will allow you to drive smoothly through the streets of your city. Best of all, you can reach top speed almost immediately, which is useful if you need to increase speed to avoid an accident. The brushless motor is powerful enough for a person to climb a hill without problems, so you can use this electric scooter on most roads, even on slopes.
Incredibly long-lasting battery
We know that the batteries of electric scooters are rechargeable, but the SmooSat SA3 electric scooter promises to be up to 50% more durable compared to other brands and that achieves because they use automotive grade batteries, which allows you to recharge the electric scooter for more than 1200 cycles, that means that the battery could last more than 7 years. The battery offers 36V performance so you can travel up to 20 miles on a full charge. You can tour most places on this electric scooter, so it's a good way to spend a fun time in nature.
Easy to use
This electric scooter is designed so that beginners can use it quickly and easily, so you can start driving the scooter in a few minutes. So that you can drive in a safer way, it includes an LED screen that shows the real speed of the electric scooter. Another useful feature is that it has a foldable design, which makes it easy to carry because it will only take 3 seconds to completely fold the electric scooter.
You can buy this item here on Amazon
My name is Joel! I love to read, I go to university like most people my age.
In my free time I usually train boxing, I love music, I also know how to play the guitar and the harmonica.