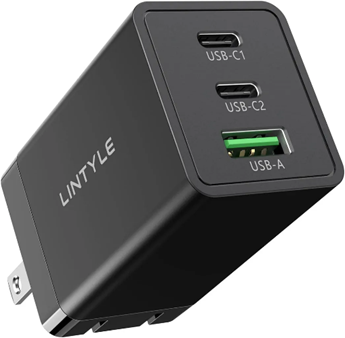 Tired of your laptop taking forever to charge? A 65W USB C charger is likely to solve that problem
Charging laptops using a UCB C cable has more benefits than disadvantages, I would say that all laptops should be charged with a USB C cable instead of using exclusive chargers for each brand, that is annoying and much more uncomfortable if you consider that some laptops chargers are giants. On the other hand, USB C chargers are comfortable and can usually fit in your pocket, so you can take them anywhere without any problems. You should know that most MacBook models include a 30W charger, which is a bit slow (I don't even know why they include a 30W charger).
So, if instead of using the included 30W charger, you use a higher-power charger, you will get your laptop to charge considerably faster, so you will have your laptop fully charged in less time. Something to keep in mind is that, if you plan to charge more devices at the same time, make sure you choose a charger with extra ports, which is much better than any Apple charger. For a low price, you can get a great charger that will allow you to recharge your laptops and devices with native USB C ports.
The LINTYLE USB C laptop charger is probably one of the best options if you are looking to charge your MacBook in a much faster way. With a powerful charge of up to 65W, you will surely have no problems taking advantage of the fast charging of your laptop. Available for less than $30 is an offer you can not miss. Next, discover the most interesting features of this product.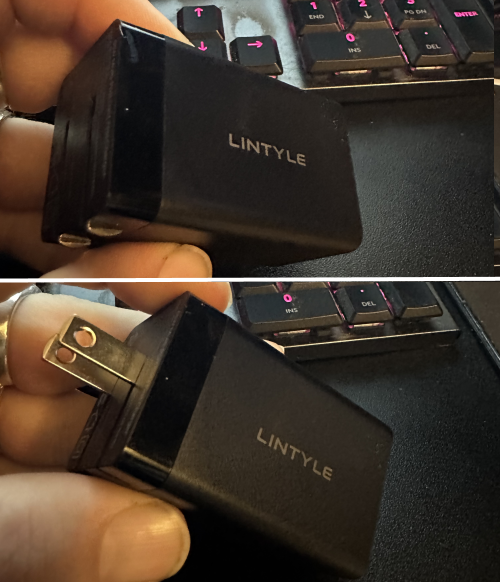 Features of the LINTYLE USB C charger
Powerful 65W charging
Charging your laptop quickly requires a powerful charger, the LINTYLE USB C charger offers powerful charging up to 65W that will allow you to charge 50% of your MacBook Pro in just 30 minutes, so that's much faster than the original charger Apple includes. Your fully charged laptop will end up in just 2 hours instead of the 3 or 5 hours it usually lasts with the original charger. It's also safe to use because it uses GaN technology, which ensures devices only get the power they need. The compact design makes it easy to carry compared to other USB C chargers.
Can charge cell phones
The LINTYLE USB C charger is not only compatible with MacBook laptops, but you can also charge any laptop that has a native USB C port (Dell XPS 13 Plus, HP Spectre x360, Google Pixelbook Go, and others). You can also charge most phones that support USB-C charging or use the USB-A port included in the charger. If you have power banks or portable game consoles compatible with USB C you can take advantage of the fast charging of this charger.
3 ports available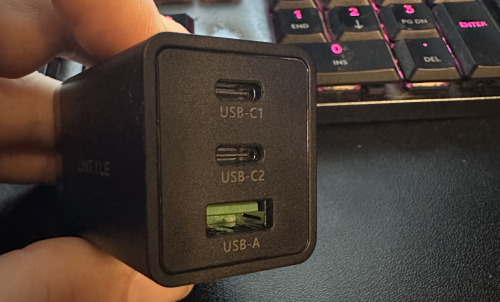 The LINTYLE USB C charger includes 3 ports (2 USB C ports and 1 USB-A port). It does not matter if you want to charge 2 laptops at the same time, you can do it without any problem, in addition to being able to use the USB-A port to charge cell phones, tablets, and any device that works with a port of that type. Note that the power may decrease slightly if you use all 3 ports at the same time.
You can buy this item here on Amazon
My name is Joel! I love to read, I go to university like most people my age.
In my free time I usually train boxing, I love music, I also know how to play the guitar and the harmonica.