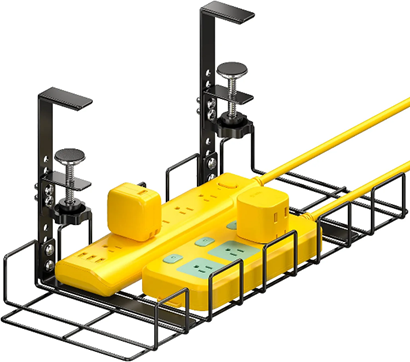 Tired of your wires lying on the floor all the time?
As you know, having a desk and a computer in the same place means that you will have to deal with a lot of cables, which can be annoying and frustrating, plus you can trip, which could cause you to damage some cables, and that can be expensive. Having messy wires can also be dangerous as it can cause electrical problems if for some reason they wear out, so it's best to keep the wires as tidy as possible. Keeping the cables tidy will also give your room a better look, so if you don't want to give your friends a bad impression, you'd better keep the cables as tidy as possible.
There are different ways to sort cables, but if you are looking for something discreet and easy to install then you need a cable management tray. You should be careful when buying a cable management system, you should make sure it is of good quality, and there shouldn't be a need to drill holes into your desk either. Another thing you should keep in mind is that they support a decent weight if do not want them to break and cause greater damage to your equipment.
The LUXEAR under desk cable management Tray is the perfect solution if you are looking to keep the cables as tidy as possible, so forget about dealing with your cables, it is easy to install, and you will give your room a better look. Made of high-strength material, to support a greater weight. Installation in less than 5 minutes so you have all the cables on your desk in order. Next, discover the most interesting features of this product.
Features of the LUXEAR Under Desk Cable Management Tray
Easy to install
The main feature of this cable management tray is that it is easy to install so you can do it on your own. Unlike other brands, this cable management tray uses clamps so you can install it in a much faster way. You can place power strips, adapters, and all kinds of cables without any problem, which will help you improve the appearance of your room. Forget about having messy cables in your room, this LUXEAR cable management tray is the perfect solution to keep all your cables tidy and safe.
No damage to your table
Another incredible feature of this cable management tray is that you do not need to drill your desk to complete the installation thanks to the fact that it works with clamps instead of fixed screws, this means that the clamps will take care of fastening the cable management tray without damaging your table. You can also move it back and forth to fit it as best as possible to your desktop. Forget to pierce your desk with horrible screws, the LUXEAR cable management tray protects your desk thanks to its system of clamps and pads.
Strong and durable
Surely you know that some cables can be heavy, especially if we add a power strip and chargers, so surely you would like to have a resistant cable management tray. No need to worry, this cable management tray is designed to support a maximum weight of up to 11 pounds, so you can color your cables safely. It is made of carbon steel to ensure a long service life, and the mesh design reduces dust accumulation.
Get 10% off at the end of your purchase by applying discount code CPZPHLZU. The discount code expires in one year (2023-12-31).
You can buy this item here on Amazon
My name is Joel! I love to read, I go to university like most people my age.
In my free time I usually train boxing, I love music, I also know how to play the guitar and the harmonica.