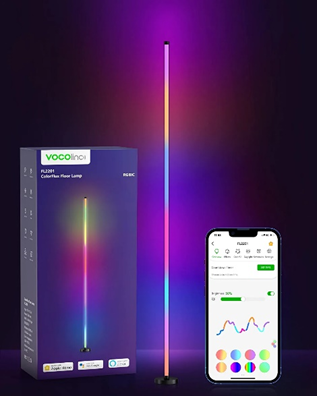 Looking for an LED lamp with millions of color settings that also work with Alexa?
RGB LED lights are becoming increasingly popular as you can set them to get different types of colors, allowing you to customize from millions of color combinations instead of getting a single color. Whether you want to give a better look to your room, living room, or anywhere in the home, you need an LED lamp, they are easy to use and some of them work with intelligent voice assistants (Alexa, Google Assistant, and even Apple Home), so you can control them quickly and easily. Most smart LED lights can be used with an app, allowing you to set colors to your liking, with millions of colors available with a single click.
You should know that there are different models of LED lamps, some are designed to illuminate a large area of your home, and others to give a modern look to your home. This time I will talk about floor lamps, although they are not designed to illuminate your room completely, they will give you a unique and colorful look that you will surely love. Keep in mind that these types of lamps are not a lighting solution but a way to decorate your home in a different way.
The VOCOlinc LED floor lamp is a great option to consider if you are looking for a lamp with a sleek and modern design. Millions of color combinations are available so you can give your room the best look. Settings to your liking so you can change the intensity of the lamp. Below, discover the most interesting features of this product.
Features of the VOCOlinc LED floor lamp
16 million colors
One of the main features of this lamp is that you can choose from 16 million colors, allowing you to get the best color combinations. To switch between colors you just have to install the free application "VOCOlinc", then you can choose your favorite colors to give a modern look to your room or room. You can also get different shades at once unlike other lamps that only allow you to use one color, this is ideal if you have a game room.
Easy to set up
Starting to use this lamp is easy and fast, you do not need tools to install it, all you need is to follow the instructions so that your lamp remains stable in your room. You can also set the light intensity from 2700K to 6500K, this means you can choose between cool and warm colors. It includes smart features such as the ability to turn off the lamp automatically, which will help save energy when you forget to turn it off.
Music mode
The VOCOlinc LED lamp has a microphone that captures the different rhythms of songs and transforms them into fun color effects. The color effects make it possible to dance in a fun way with your family. You can also control the lamp using Alexa, Google Assistant, or Apple Home.
You can buy this item here on Amazon
My name is Joel! I love to read, I go to university like most people my age.
In my free time I usually train boxing, I love music, I also know how to play the guitar and the harmonica.