Do you have a flat tire or an airless basketball? Then you need to try a portable air compressor
When our car wheels get flat, they need to be repaired and as you know that's stressful. You should know that you should not only inflate the tires of the car when they are punctured, maintaining a good level of air in the tires is important if you want to drive in a safer way, an air unevenness between the tires can cause the car not to respond correctly in curves or braking,  which can be dangerous. If you want to inflate anything without discomfort, then you need a portable air compressor, they are easy to use and can inflate several times the tires of a car, so instead of going to a gas station to inflate the tires of your car, you can use the portable air compressor.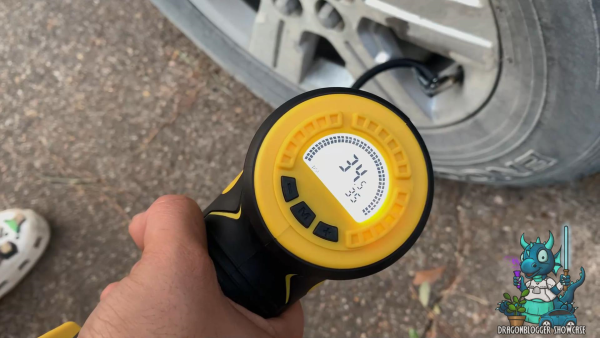 Before buying a portable air inflator it is important to get one that offers good performance so that you can inflate anything without problems or limitations. You should know that portable air compressors work with a rechargeable battery in most cases, so make sure you have a high-capacity battery, otherwise, you may not get the best performance.
The Veapoot portable air compressor is an ideal choice for those who usually drive in cars for a long time. Powerful and easy to use so you can inflate anything effortlessly. From car tires to soccer balls, you can inflate them quickly. Definitely a great purchase that everyone should have. Next, discover the most interesting features of this product.
Features of the Veapoot portable air compressor
High performance
One of the main features of this portable air compressor is that it can inflate the tires of a car in just 3 minutes (the time can vary depending on the size), so if you want to adjust the air pressure without having to go to a gas station, you can do it without problems and in a fast way. This portable air compressor can inflate the tires of up to 4 cars, 13 times the tires of a motorcycle, 16 times the tires of a bicycle, and up to 86 times a basketball, so you do not have to worry about power or performance. Keep in mind that these results may vary depending on the situation and level of pressure you plan to use.
Long-lasting rechargeable battery
The Veapoot portable air compressor features a 10,000mAh rechargeable battery, so you can inflate tires and balls without worrying about the remaining battery. The 10000 mAh battery allows the portable inflator to work with a power of 20V so you can inflate the tires quickly. The charging time is 3-5 hours and it is capable of working continuously for up to 40 minutes, without annoying cables. A charger and accessories are included so you can inflate different types of objects without having to buy them separately.
LCD display
So, you can safely inflate tires and balls, it has an LCD screen that shows different pressure units. You can switch between PSI, KPA, BAR, and KG/CM², ensuring your tires and basketballs get the perfect amount of air. It also has intelligent functions that prevent it from exceeding the pressure level, which prevents the tires from exploding carelessly.
You can buy this item here on Amazon
My name is Joel! I love to read, I go to university like most people my age.
In my free time I usually train boxing, I love music, I also know how to play the guitar and the harmonica.