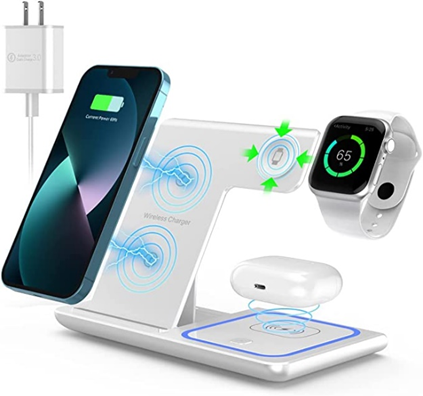 Looking for a wireless charger to recharge your Apple devices?
The new wireless charging technology has revolutionized the way we recharge our devices and now it is no longer necessary to use annoying cables. Using a wireless charger you will simply need to leave the device above the charging area to recharge the battery. You should keep in mind that not all devices have this feature included, but the latest iPhone models have this feature included, so you would surely like to take advantage of this amazing feature. As you can imagine there is a wide market for wireless chargers available in stores, but the vast majority of budget wireless chargers offer limited features and often do not offer fast charging. The good news is that manufacturers like ANYLINCON go beyond designing simple chargers and this time they have designed a 3-in-1 charger. Best of all, you can get this wireless charger for less than $30. If you are looking for a new charger for your Apple devices you would surely like to know more about this product.
How does a wireless charger work?
A wireless charger works using MRI so to work you simply need to place the device in the charging area. The main advantage of using a wireless charger is convenience as opposed to using a cable charger.
Features of the ANYLINCON 3-in-1 wireless charger
The ANYLINCON wireless charger is an amazing charger capable of charging 3 devices at the same time. The main feature of this charger is that you will not only be able to charge for iPhone, but you will also be able to charge 2 additional devices (Airpods and Apple Watch). This charger is also compatible with most Android devices (Samsung Galaxy series among others). Another feature of this wireless charger is that it offers fast charging so you'll have to wait less time to have your device fully charged. You can expect to have your device fully charged in about 2 hours. The ANYLINCON wireless charger features surge protection to protect your device in case of electrical problems. This wireless charger includes advanced technology that protects against surges, so your devices will always be safe. Remember that when charging your device you must remove the protective case. Another feature is the illuminated design, in addition to giving a futuristic look that also serves to indicate that the phone is charged, remember that you can activate and deactivate the light. This wireless charger doesn't just work for the home, if you usually travel often you'd surely like to have a charger capable of charging 3 devices at once. A USB Type-C cable and an 18W fast charging adapter are also included in the package, a manual is also included in the package. ANYLINCON is committed to reviewing each product shipped, so rest assured that you will receive a functional product.
Summary
If you are looking for a wireless charger with additional features then ANYLINCON 3 in 1 is what you need. This amazing wireless charger is capable of charging up to 3 devices at the same time. Using this charger, you will be able to have your devices close to you at all times.
You can buy this item here: Amazon.com: Wireless Charger,ANYLINCON 3 in 1 Wireless Charger Station for Apple iPhone/iWatch/Airpods,iPhone 13,12,11 (Pro, Pro Max)/XS/XR/XS/X/8(Plus),iWatch 7/6/SE/5/4/3/2,AirPods 3/2/pro : Cell Phones & Accessories
My name is Joel! I love to read, I go to university like most people my age.
In my free time I usually train boxing, I love music, I also know how to play the guitar and the harmonica.