We are influencers and brand affiliates.  This post contains affiliate links, most which go to Amazon and are Geo-Affiliate links to nearest Amazon store.
I got my hands on the new CHERRY MX BOARD 6.0 to review.  This is their new mechanical backlight keyboard. This keyboard carries their Cherry MX keys. The key is claims to have a life-span of 50 million keystrokes. Now, this does not mean it won't work after 50 million keystrokes. They claim it will still feel just as good as the day you get it, and mechanical keyboards do have that solid individual key response that you don't get with other types of keyboards.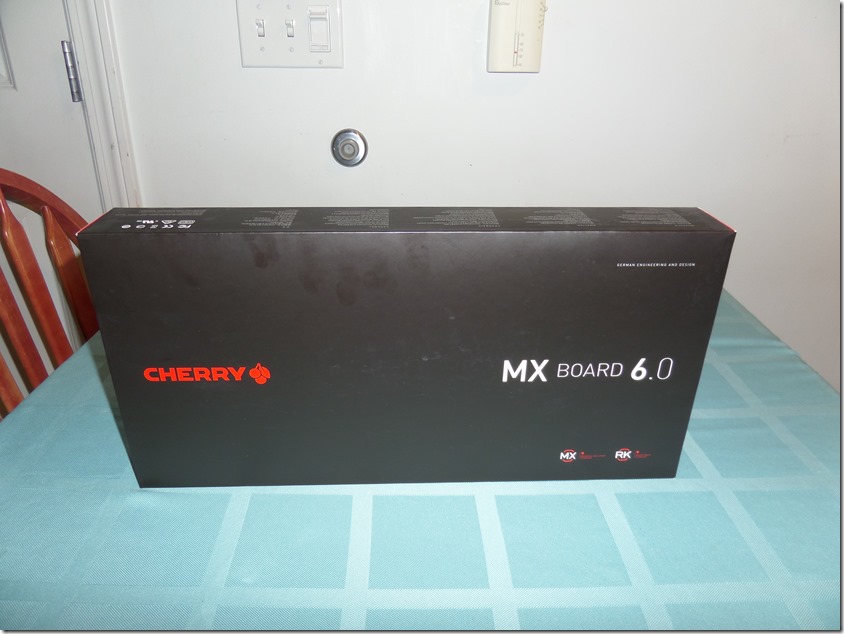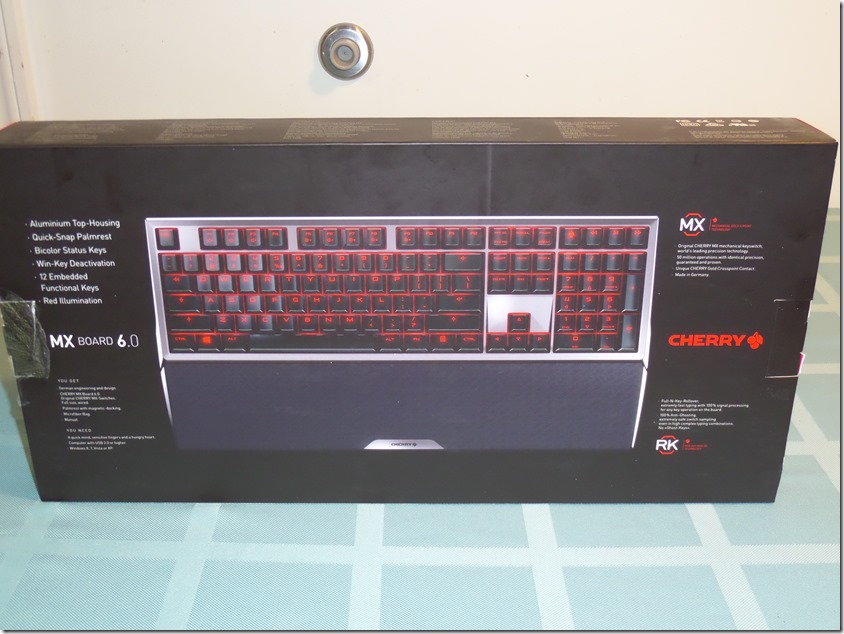 As you can see in the above pictures the package is normal size for most keyboard packages. Now one thing that will throw you off about the package is the weight of it. The package of the Cherry MX6.0 comes in at five pounds. Yes, you read that right five pounds is a rather hefty keyboard. This is due to the fact that the Cherry MX 6.0 is an aluminum. The aluminum makes it very sturdy and durable. I will talk more about that in a few though.
Watch My Unboxing here!
Once you open the package of the CHERRY MX BOARD 6.0 up, you are greeted with another box bright red with their logo off a cherry on it. The next picture does not do it justice. I just could not get a great picture of the ghost logo.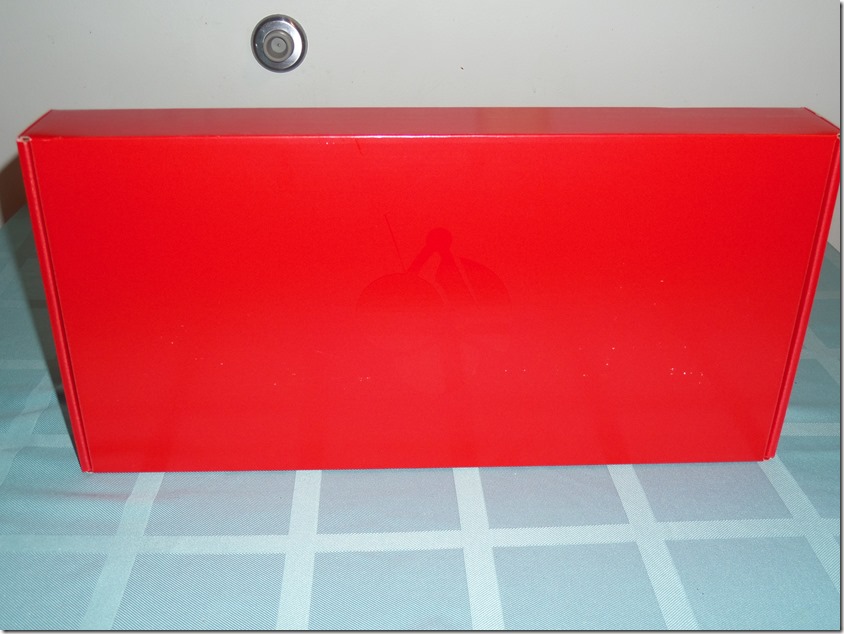 I went on to open the inner box to find a wheel wrapped keyboard. They wrap the Cherry MX6.0 in fabric material.Under that piece was a palm rest that is magnetic and a user book. Which you can see in the next few pictures I took for you.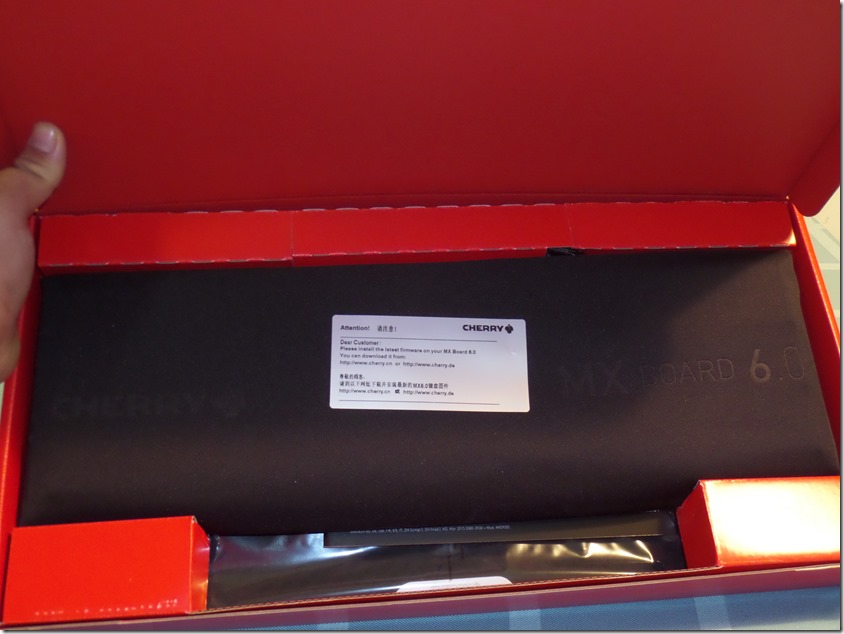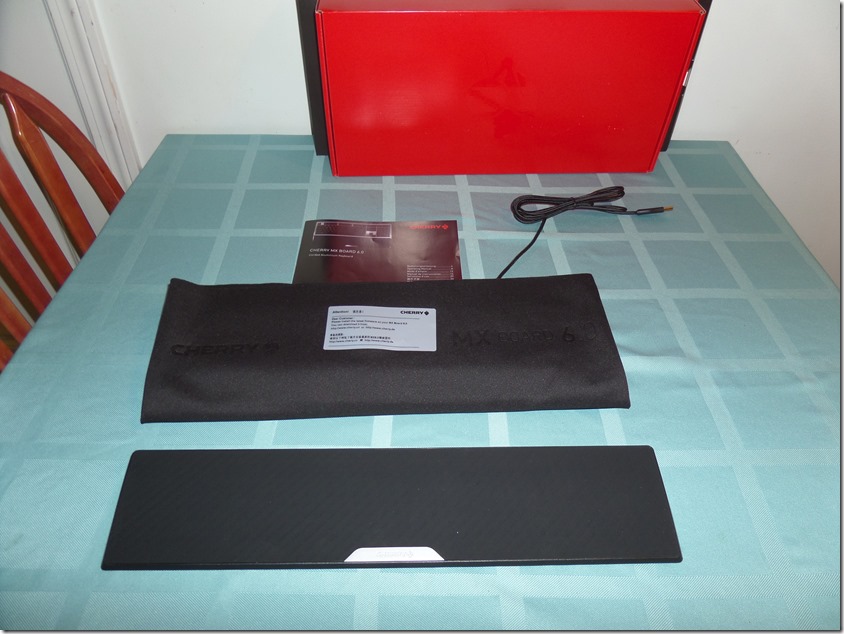 Like I said a few minutes ago the palm rest is magnetic and connects to the Cherry MX 6.0 if you want it connected. Now that is your choice. I did add it to mine to use. The palm piece is plastic with rubber top. The palm slides right onto the keyboard and connects with ease. I felt using the palm rest was rather smooth and felt good for hours of gameplay or typing. I did try it without and kept coming back to it, so I left it on.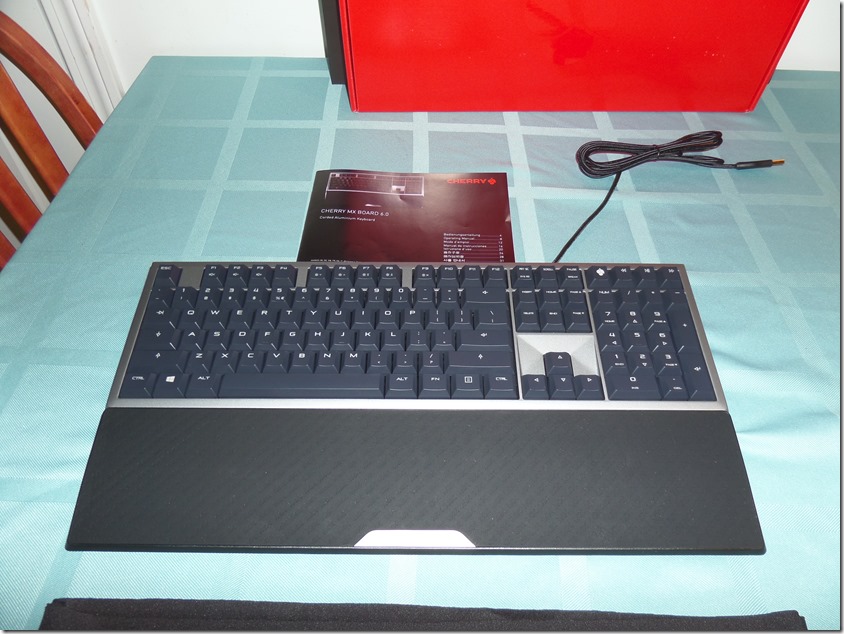 As you can see in the last picture you get your first glimpse of the Cherry MX 6.0. You can see it has an aluminum brushed finish. Now it isn't just a look, it is true aluminum which makes for a very durable keyboard. Some times you get to use a keyboard and realize that it is plastic and flimsy and it has that plastic and feels that isn't quite solid or doesn't feel like high build quality. I have used some in the past that would move and flex under game play or just typing a text to someone. The MX 6.0 is not aimed at gamers but you know me I had to try it out on games. I tested the MX 6.0 out on Heroes of the Storm, Neverwinter, Mortal Kombat X, and a few others. The response from the Cherry MX keys is some of the best I have ever tried. The feedback from the keys are great for mashing or tapping multiple times in a row with no conflict at all, every key recognizes instantly without delay or pressing the wrong key.
Let's talk a little about the options of the keys on the board. I would like to point out on the number pad there are a few media keys. The media keys range from forward, back, play, pause. Next to the media keys is a button with the Cherry logo. Now, this button operates the Windows lock keys. When pressed it locks out CTRL, ALT, DELETE, and the Windows key itself. It also locks ALT+F4, ALT+TAB. Now, this  function I did testand works fine. The Windows key lights up bright blue. This is to tell you it is working and locked so you can't accidentally knock yourself out of a game by pressing it.
You also have a few other keys like volume up,  down, and mute. Another major function on the Cherry MX 6.0 is that it has back light keys. The color is bright red. You can adjust that by pressing F5 threw F9.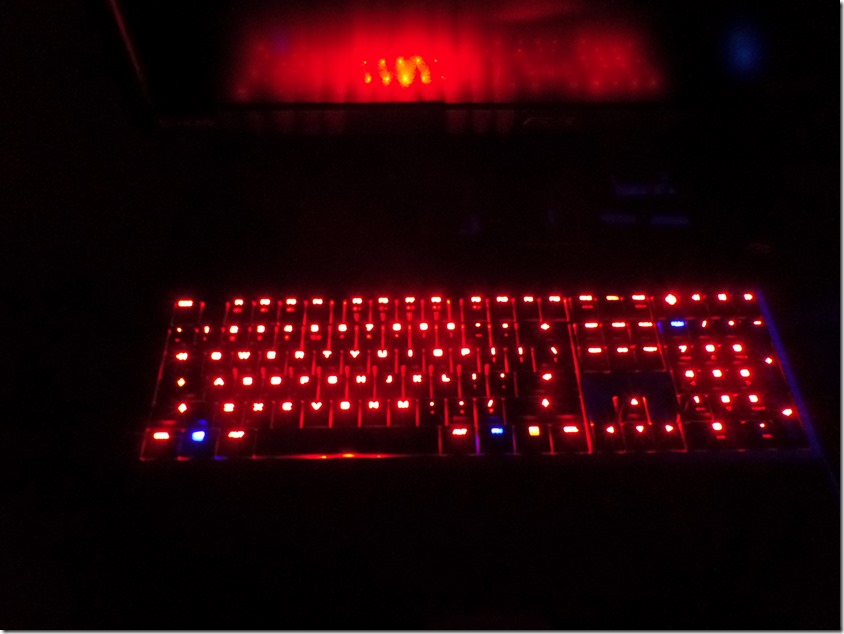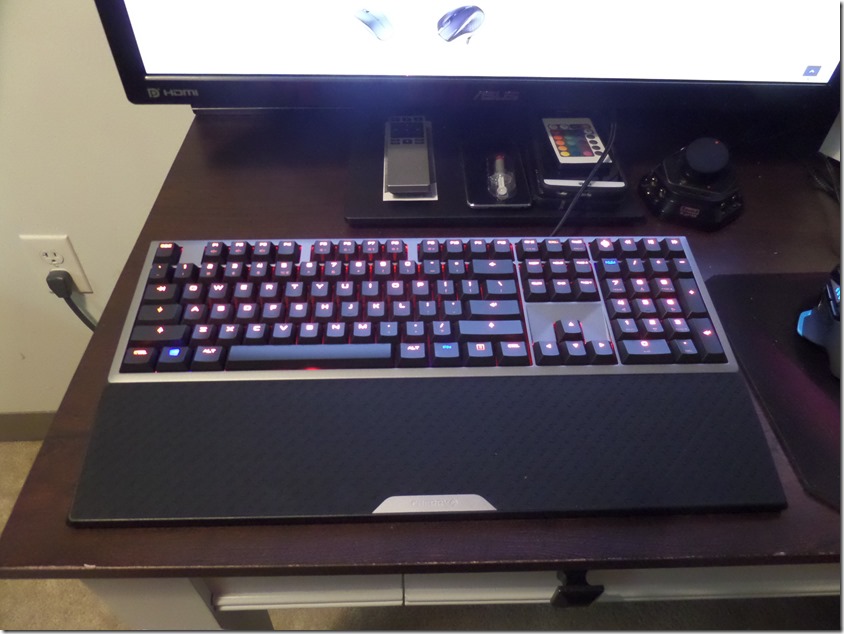 As you can see in the privies two pictures the lighting in the dark is rather bright and the lighting with lights on is a little dimmer. I loved the light all the way up in the dark. It makes for some nice typing or gaming. One downside was sometimes on a black screen in games it glared from the keyboard into the screen. So you needed to adjust it back down slightly, it is that bright that the glow from the keys can be seen on very dark games screens.
The Cherry MX6.0 Come with 200cm/6.5 feet braided cord. This is a great touch and enough length to streak it out to where every you need.I still see some keyboard makers not adding the braided cords which I always prefer.
Another piece I would like to add is that it has a no conflict system in it. Which means you can press multiple keys and have no conflict. They say the key response is 20 times faster than other previous boards. I would agree it felt much faster than a few other boards I tried. Cherry did well with their design of the MX 6.0 board. The electronics and leds seem to be working well. Even after my bonehead self-dropped it off my desk. Which I would like to add didn't even didn't even dent the aluminum frame.
Watch my Video Review Here!
One thing I can say I never really tested was cleaning a keyboard. They claim that you can clean it with a damp cloth with a little detergent on it. So I did. I can say it cleaned up rather well. It removed my grimy fingerprints and palm prints. Don't be going full goof and use a soaking wet rag it will ruin your board I'm sure but it worked fine with a damp rag.
I was speaking of the Cherry MX keys one thing I did not speak of was their RK technology. This is there Real Key technology. This is a fully analog sig The Cherry key itself comes with a gold crosspoint module for all keys on the board.
When all is said and done you can glide through the keys and type like no tomorrow. I seem to be typing better on this board than any other I have tried to date. The QWERTY key setup is nice and smooth like most are used to. I'm  sure there will be some people out there that will swap key to their own liking. I will be keeping it the way it is set up. I would like to see the backlight in a few other colors but the red is very nice. Now for the theme builder might want another color like me since my build is blue and white.
With the grease resistant housing, I don't seem to be wiping the board down as much as before. Cherry outdid themselves with this MX 6.0 and whether you're an office worker, student, teacher, or just a plain normal PC user, the MX 6.0 is probably the keyboard for you. I have found no true flaws with the MX6.0 and this is a 5-star board.
(Disclaimer-Cherry sent me the MX6.0 to do an honest review on. All opinions are mine and mine alone)
We are influencers and brand affiliates.  This post contains affiliate links, most which go to Amazon and are Geo-Affiliate links to nearest Amazon store.
Hi everyone I'm James Braga. I was born in Oregon and moved to New Hampshire a few years back. I love most things that have to do with video games and electronics, It doesn't matter if it for a car or a house, if it has electricity in it i will love it . I'm also in school for Information Systems Technology.