Say you got a big fancy new SSD drive to replace your former SSD drive that you were running Windows 7 or Windows 8 on.  Did you know that just cloning your C drive isn't enough? You need to actually run some additional tools on the drive to make it so you can boot off of a cloned Windows boot drive.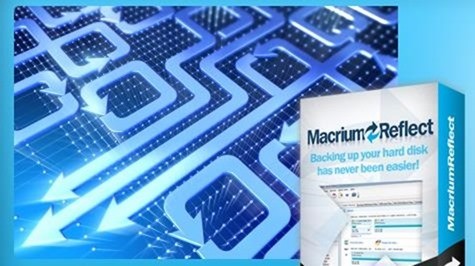 How to Clone a Windows SSD Drive
These instructions work for cloning a Windows 7 or cloning a Windows 8 boot drive. There are several software programs to clone your hard disk which include Acronis True Image, Ghost but for this article I wanted to showcase a free software called Macrium Reflect which anyone can download and use for free.
I cloned a Kingston SSDNow 200 90GB SSD Drive to a Kingston SSDNow 300 120GB SSD drive.  Here are the exact steps I took to accomplish this and they should work for anyone.
Install your new SSD Drive
First thing you want to do is shut down your PC (complete power off and unplug) and install it in your system as another drive.  It will come up under a different drive letter for now, you will eventually on the last steps use the same connector for your current boot drive and replace it on the cloned drive but for now just plug it into a separate connection.
This step assumes you know how to open up your case, attach the power cable and SATA cable for your SSD drive.  If you don't know how to do this, then you probably shouldn't be trying to clone and replace your boot drive without help from someone who has some PC build experience.
After your new SSD drive is installed, just confirm that Windows can see it by going to your computer management, storage.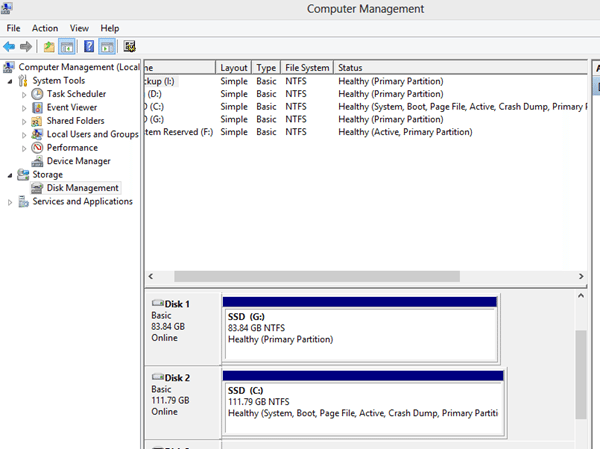 You should see your original C: SSD Drive and your new SSD drive which probably is unformatted and doesn't have a letter assigned yet.
Download Macrium Reflect Free
First, download Macrium Reflect Free
Second, click on Other Tasks –> Create Rescue Media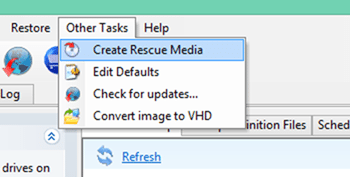 You will need to create a Windows PE Rescue Disk to  boot off of, this is required to repair the boot sectors of the cloned SSD drive or you will not be able to boot from it.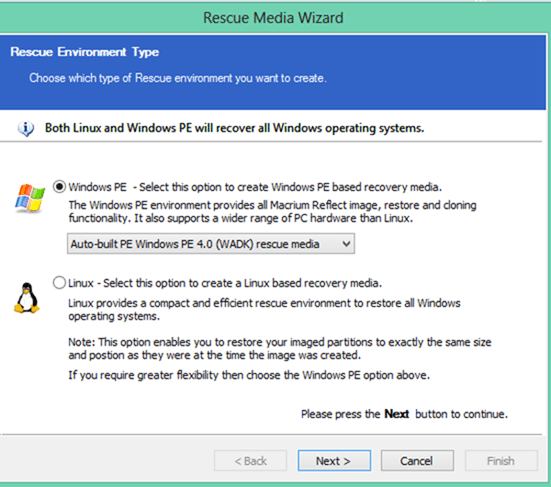 Select Windows PE and press next
Make sure you have a blank DVD in the drive or a USB Stick that you can install Windows PE as a boot device and follow instructions to download Windows PE then install it as boot media on either the DVD or USB Drive.
Now that you have your rescue media it is time to clone your drive.
Clone your Windows SSD Drive
In Macrium Reflect Free select the disk you want to clone (your C: drive) and click "Clone this Disk"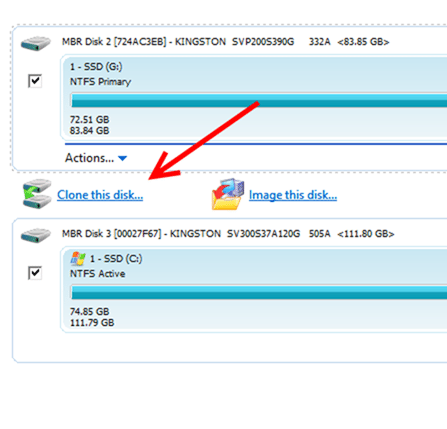 Here you will get a popup screen which asks you to select the destination drive, select the new SSD drive and proceed to clone the disk.  This can take anywhere from 15 minutes to 1 hour depending on how large your disk is.  After the clone is complete, it will be time to boot from your Windows PE Rescue Media either the DVD or USB Stick you created earlier.
But first, shut down your PC and power it off (remove power or physically switch it off).
Swap SATA Cable to New SSD Drive
Now time to unplug the SATA cable from your old SSD drive to your new SSD drive.  Just swap them so you can leave your old drive attached as well.
Boot to Windows PE Rescue Media
Boot the rescue media you created.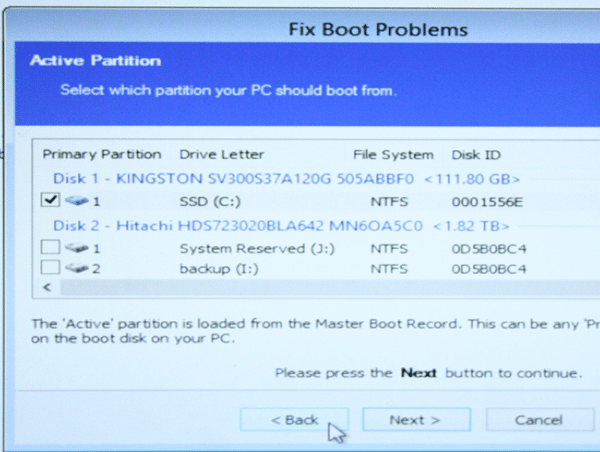 Select Fix Boot Problems, and now the new SSD Drive should show up as the C: drive since you used the original SATA cable.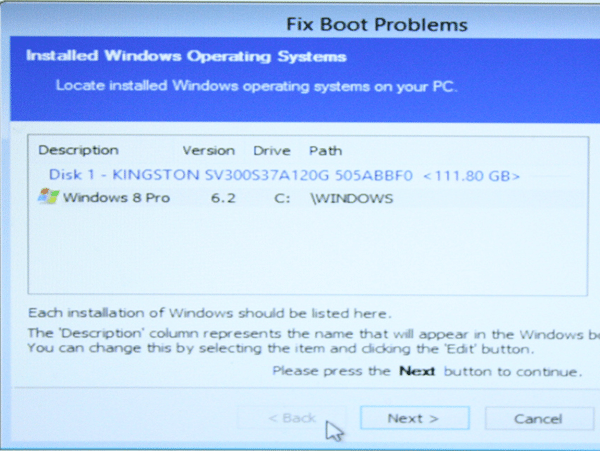 You should see a Windows 7 or Windows 8 OS detected, and click next.  If you don't see a valid Windows OS here then the clone failed and you need to go back to previous steps.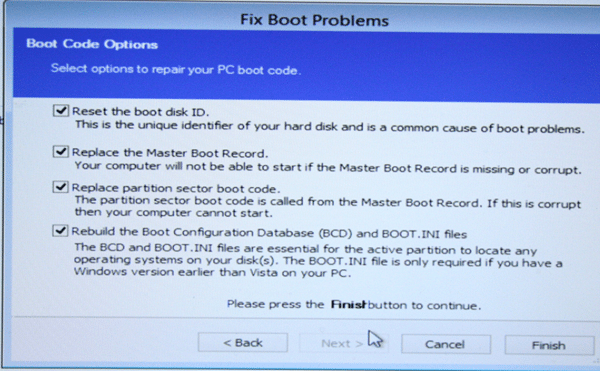 On the next screen reset the boot disk ID, replace the master boot record, replace partition sector boot code and rebuild the BCD and Boot.INI files for your SSD cloned drive.
After this you should be able to remove your rescue media and reboot, your cloned drive should be your new C: drive and you should boot to Windows.
Expand your HD Partition
If you cloned a smaller SSD drive to a larger drive, your new SSD drive will have the same exact partition size as the drive you cloned, so now you need to go to  Computer Management –> Storage and expand the partition to include the full disk (or create a 2nd partition if you prefer).
Just right click on the drive and say "extend volume"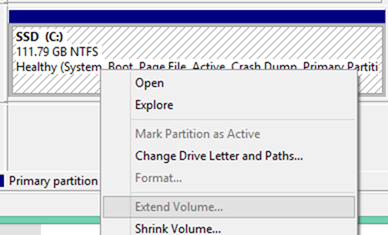 If your drive has more space you can simply extend it to include all space on the drive as your boot partition.
Summary
With the above steps I was able to clone my Windows 8 90GB SSD Drive to my new 120GB SSD drive and be up and working in less than an hour off of the new drive.  It did take me quite a while to figure out that a clone alone is not enough, you must use the repair media to replace the boot record info or the Windows will be corrupted until you repair it this way.
Hopefully this will help others who are looking to clone Windows boot drive and make sure your Windows SSD clone can boot successfully.  Note, these instructions are for an SSD to SSD clone and not for HDD to SDD.  I don't know if the exact same steps work. Also you cannot clone a larger drive to a smaller drive, the drives must be equal size or else there will be additional steps not listed in these instructions.
If you have any questions let me know.
I have been obsessed with computers, tech, gadgets and games since the early 1980's having grown up on the Commodore 64 and Amiga computers.
By day I work in the IT Security Industry and have been in IT for over 20 years. On my spare time I am a Vlogger, Blogger, Streamer, Gadget Reviewer, affiliate marketer, influencer and entertainer. I am also an avid movie fan, TV Show fan, Anime fan, video game fan and fan of trying anything and everything new.