Well as it turns out Outlook 2016 still by default doesn't have OAUTH2 support for connecting with GMail accounts but I had no problem getting to default to my personal GMail account but could not get it to access my Google Suite (Former Google Business) account so that I could use Outlook 2016 client as my primary mail client for my Dragon Blogger GMail acounts.  I spent over an hour looking at various support guides and forums until I finally stumbled upon the correct combination of configurations to make it work and I successfully was able to pair my Outlook 2016 to get 3 Gmail Suite accounts without issue.
Step 1 – Configuring and Clearing Your Gmail Account Captcha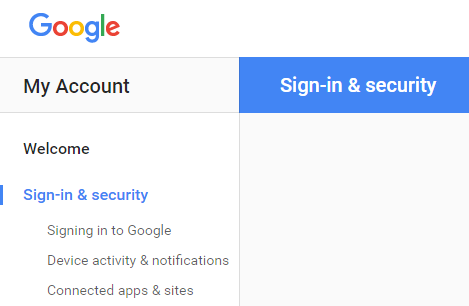 The first thing you have to do is go to your Google Account Security
Then under Sign-In Security, Connected Apps and Sites you need to change Allow Less Secure Apps to ON.

Now even if your captcha isn't locked, you might want to clear captcha for good measure on your Google account.  While signed into the Gmail account you want to configure with Outlook 2016, navigate to: https://accounts.google.com/b/0/DisplayUnlockCaptcha and allow Google to clear Captcha from your email account.
Step 2 – Configuring Outlook 2016 for Gmail Accounts
Go into File -> Account Settings and Add a New Account
Select Email Account

Select Manual Setup or Additional Servers

Select POP or IMAP and click next

Account type set to IMAP unless you really want POP which downloads all messages locally and doesn't sync messages and states 2-way with the server, I am only listing instructions for IMAP.
Enter imap.gmail.com and smtp.gmail.com for incoming mail server and outgoing mail server.
Click on More Settings on the right.
Click on the Outgoing Server Tab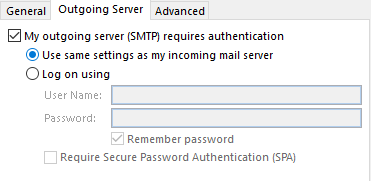 Check Mark (My Outgoing Server Requires Authentication)
Click on Advanced Tab at the top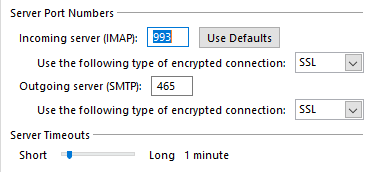 Enter port 993 for Incoming Server (IMAP)
Select SSL as default connection.
Enter port 465 for Outgoing Server (SMTP)
Select SSL as default connection.
Click Ok
After you enter your login information you can click next and it should take you through testing your GET and SEND mail functions successfully.
This is the only way I was able to successfully configure Outlook 2016 for my Gmail account and it worked allowing me to get Gmail Suite emails in my Outlook 2016 client.  I was having so many crashing issues and bugs with Mailbox that I had no choice but to switch to Outlook 2016, I tried Thunderbird first which is fine as well, but I am just used to and prefer the Outlook 2016 interface because of the built in calendar and what I found to be better preview views of emails and easier management of attachments.  One such function I love in Outlook 2016 that other email clients don't have is that when you add an attachment to an email it instantly shows you the most recent files so you don't have to browse your computer looking for that file you just saved.