We are influencers and brand affiliates.  This post contains affiliate links, most which go to Amazon and are Geo-Affiliate links to nearest Amazon store.
With so many headsets on the market, most people get annoyed that you may need a few different ones for different reasons. Like you may want earbuds for when you work out and you want a well-rounded headset to use while gaming or streaming.
You are in luck today because we take a look at a headset from Cougar that can cover all that and then some. This is Cougar's Bluetooth In-ear earbuds called the Havoc. Cougars Havoc Earbuds can be used for pretty much anything but we will get more into that in a minute. The Havoc In-ear Earbuds have 10mm drivers and a long 8-hour battery but first, let's look at the packaging and what comes in it.
Cougar Havoc Packaging and Contents
The box is nicely designed with their orange and black theme. It has most of the specs on the box, plus a window so you can get your first glimpse of the Havoc earbuds.
Packaging

As you can see the package is nice and with the window, you can finally see part of earbuds.  You clearly know what you are getting inside.
In the package, you get the Havoc BT earbuds, 5 additional ear tips, one charging cable, 2 ear hook sets, one 3.5mm audio cable, 1 carrying case and the user manual.
Contents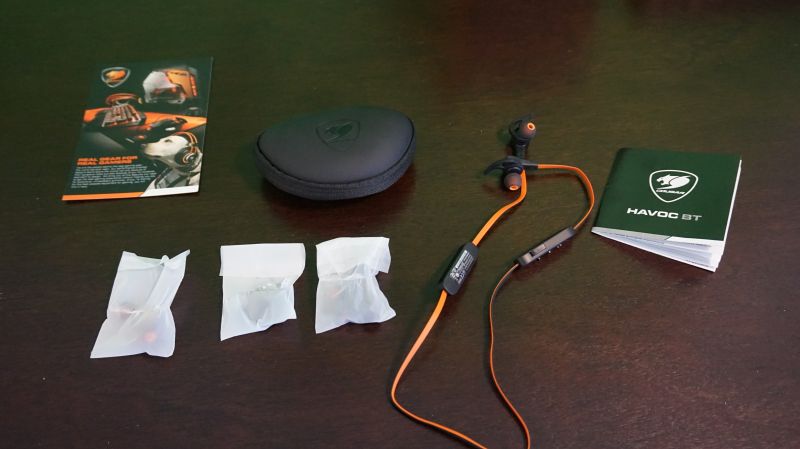 Check Out The Full Unboxing Video Here
Ear-Tips And EarHooks!
The amount of stuff they add in the package is nice as you don't have to buy any more accessories for it which in the end saves you so money. First, you have the 6 sets of ear tips which is more variety than most brands include. This means you get 5 extra sets beside the set already on the havoc earbuds. You get three foam sets and three rubber sets, most brands only give you 1 foam set. One set of the rubber tips like said before is already installed on the Havoc Bluetooth headset. You also have two sets of ear hooks. You have one large size and one small size. This is the same with the ear tips except you have three sizes-small, medium and large. What not in the picture is the set that is installed on the headset already.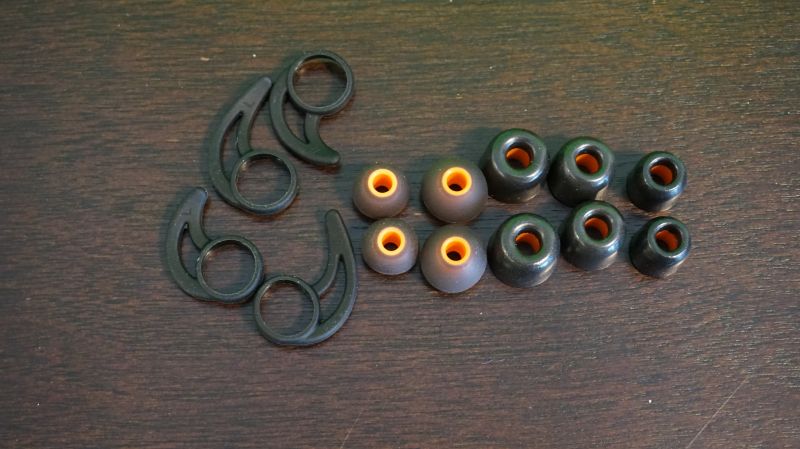 Cougar Carrying Case
Cougar has included a nice little carrying case. The case is a small eggshell case. It has a zipper along one edge and their logo on one side. It is made out of a nice fabric on the outside and is smooth but grippy. On the inside, it is a woven pattern with a mesh pocket. I would have loved to see maybe their orange theme color added but for them to add the case in it is very nice touch. This give you the option of putting them away after a workout or for traveling. That way they are not just tossed in your bag or purse.
Cougar Cables
Cougar gives you two cables. One is for Charging and the other is for turning the Havoc Bluetooth Headset into a corded pair. Now not many companies give you this option honestly. The charging cable itself is about 12 inches long. The included 3.5 to micro audio cable is longer at 31 inches long. I do think this is a little short for gameplay when used on your PC but not bad as it can still be used with little issues if PC is set right and close enough.
The Havoc Bluetooth Headset
The Cougar Havoc In-Ear BT gaming headset is nice looking from their logo on the device itself to the way it made. The headset is one place they did not skimp out on logo or their orange color. One side of the wire is orange and the other is black. You also have the duel color ear tips which you won't see much. You have one logo on each earbud and a logo on the little boxes on the device itself. On the right side of the device, you will find the control panel and charging port. The charging port is also where you plug in the adapter to turn it into a wired headset. This is where you will also find the microphone and power/volume buttons. The charging port is placed on the side of the right-hand side. You can see all this in the next few photos.
The Havoc Headset offers an 8-hour use time with the 120mAH battery. The drivers are 10mm drivers that produce some nice sound Their site claims that they can take 15mw of power. The microphone is an In-Line type microphone that uses Mems.
Final Thoughts and Actual Testing Results
I have used this set for the past week and a half.  My first test when using them was wired and then I tested them as wireless or Bluetooth earbuds. I notice when they were wired I got a more clear and vibrant sound that just produced a clear and wonderful experience. When using them in Bluetooth mode it was a little less clear and quality was a bit lower but not much less.  I found it to still very clear and very vibrant. I tested on several genres of music from classical to rap and heavy metal. The bass was well pronounced and not overpowering. So you can clearly hear the voice of the singer or the treble was right out front with the boom of the bass right there to back it up. I did also run them through my Soundblaster G6 DAC amp to see what they sounded like and must admit the pairing worked out better than I thought and the experience blew me away. Even without the g6, you can't go wrong.
One test I had to do was a microphone test. I used it to make some calls and also to stream some gameplay on twitch. Whether you were on call at home or on twitch your voice was clear.  The gameplay test and can be found on our twitch account. The phone calls were done throw a moto g7 super and the contacts called said they could clearly hear me with no issues.
My final thoughts are for 50 bucks Cougar's Havoc BT In-Ear Gaming Headset you can't go wrong. I would recommend these to anyone and give these a high mark.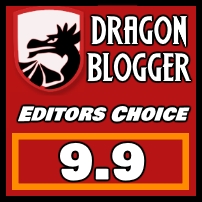 [P_REVIEW post_id=1089049 visual='full']
We are influencers and brand affiliates.  This post contains affiliate links, most which go to Amazon and are Geo-Affiliate links to nearest Amazon store.
Hi everyone I'm James Braga. I was born in Oregon and moved to New Hampshire a few years back. I love most things that have to do with video games and electronics, It doesn't matter if it for a car or a house, if it has electricity in it i will love it . I'm also in school for Information Systems Technology.