Intro
It seems like everyone makes a mouse, throw a billion buttons on it, throw some DPI and a bunch of gimmicks on it and it's good right… wrong.  Many times, these mice are clones, look and feel like every other but many don't care about the things that mater, but it seems that Cougar does.  Cougar has been around for a while now and they have been making keyboard and mice for almost as long.  With that said, I bring you my review on their newest mouse, the Cougar Revenger 12,000 DPI Ultimate Optical Gaming Mouse.
Before I get into the review, let's go over some of the features and functions.
12,000 DPI
PixArt PMW3360 Extreme Optical Sensor
32-Bit ARM Processor
OMRON Micro Switches

Guaranteed lifetime of at least 5 Million Clicks

Gaming Grade Scroll Wheel
512KB On-board Memory
Trigger Button
Anti-Slip Flanks
Premium Pro-Gaming Surface
1000Hz Poling Rate / 1ms Response Time
2-Zone RGB backlit Color LED

3-Stage DPI LED Indicator
Color Changing Logo and Palm Rest

6 Programmable Buttons

Up to 21 Different Functions

Gold Plated USB Plug
Cable length of 1.8meters/70.87 inches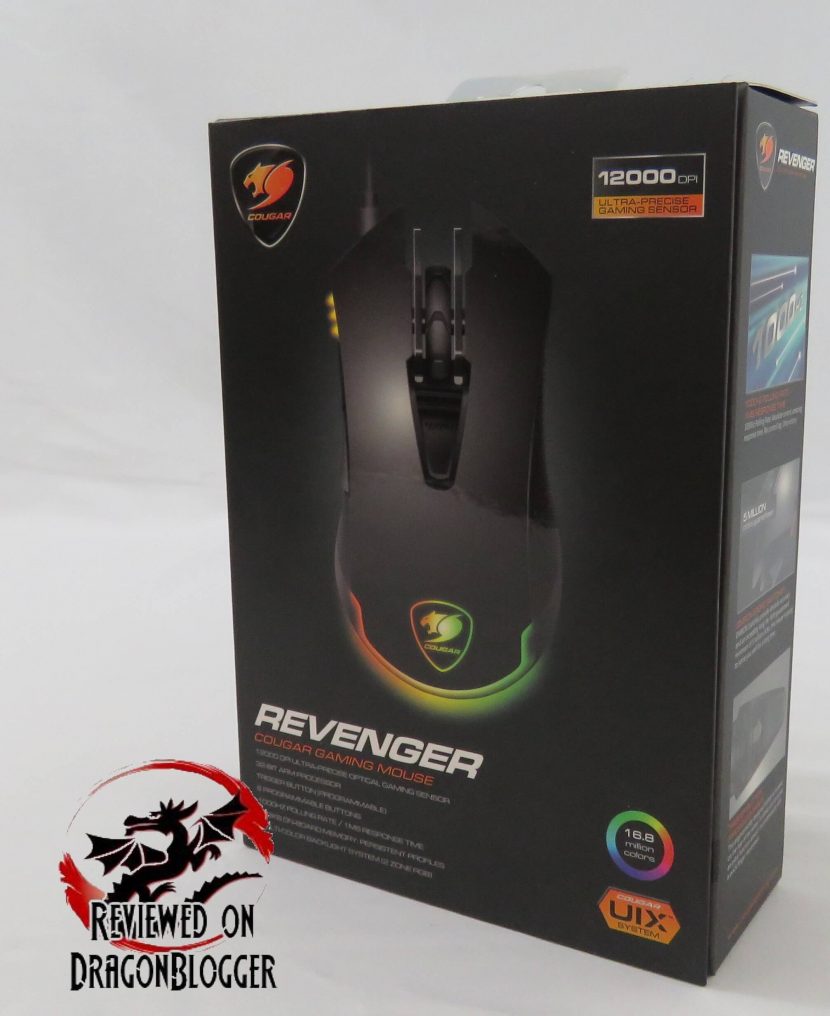 Nice specs, and the box looks nice, let's tear it open and see what's inside.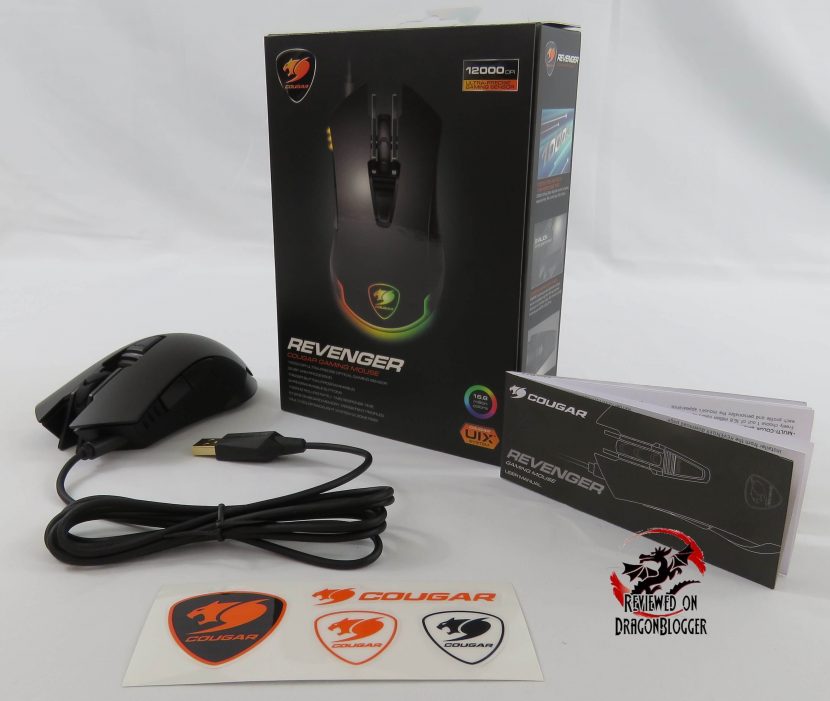 OK, before we get into the mouse itself, let's go over the other things in the box first.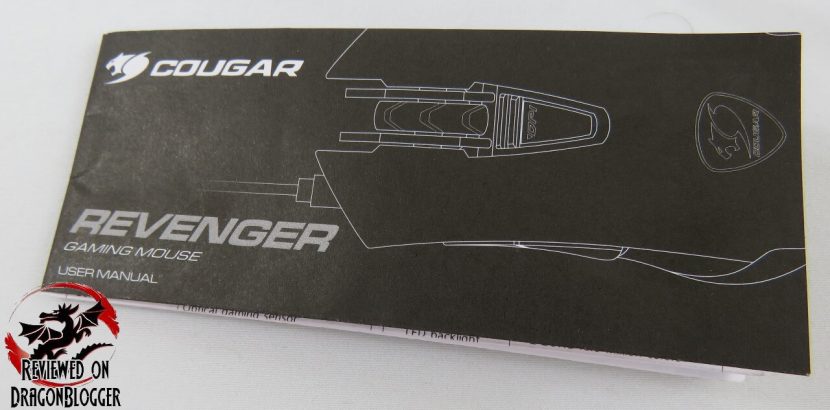 The first thing we see is the Users Manual.  It's a basic manual, but it has some good info in it.
One side goes over the default button assignment, features and specifications.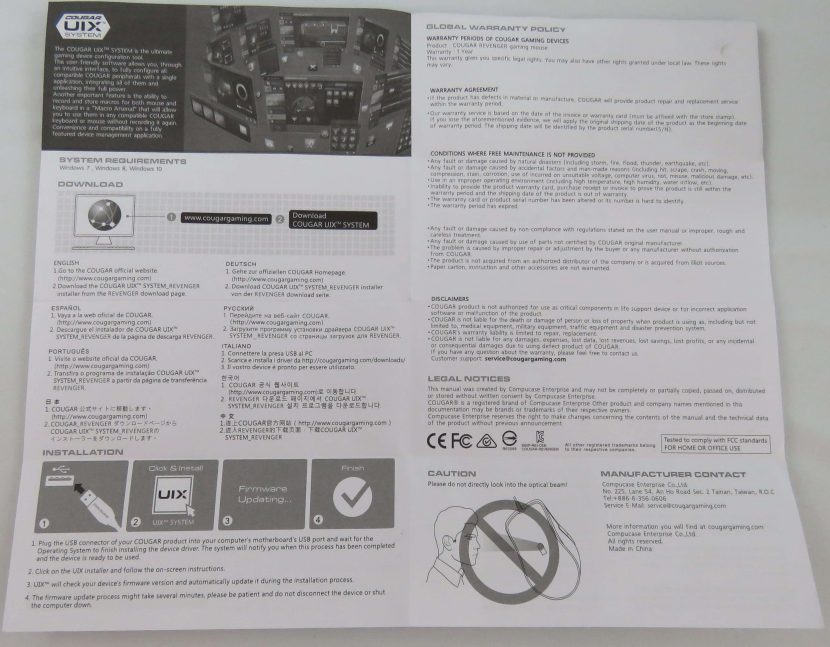 The other, goes over where to download Cougars UIX software, Installation procedures, Warranty information, Disclaimers and Legal Notices.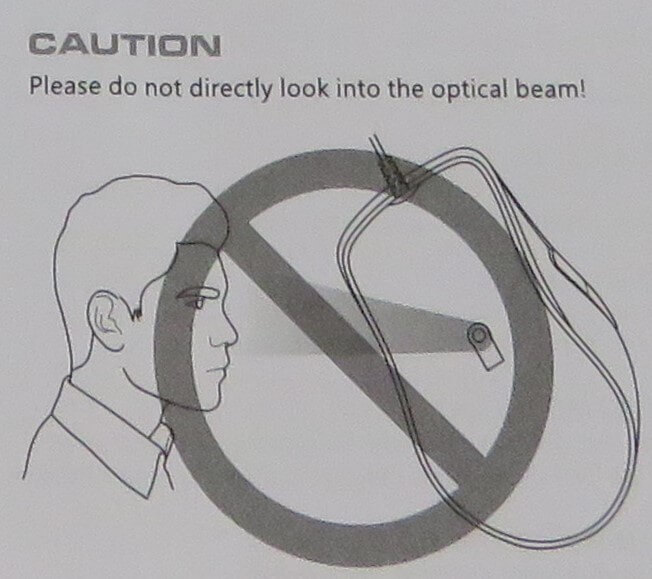 One very important thing they mention on this side as well, "Please do not directly look into the optical beam!".  Be careful with this, and yeah I giggled a little.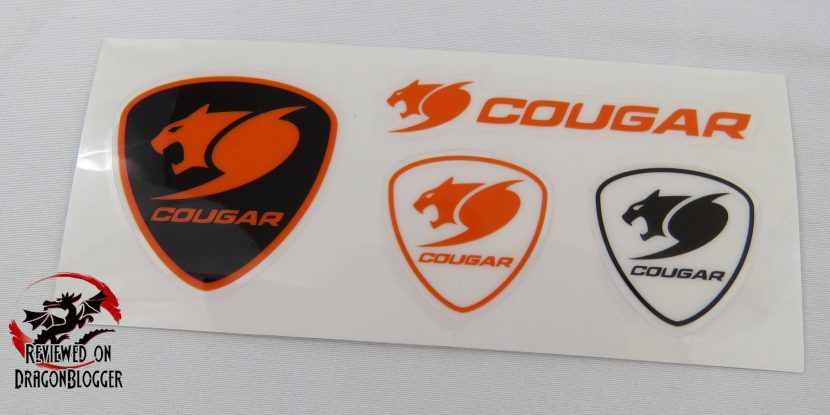 The mouse also comes with these 4 stickers.  3 of the stickers look like guitar pics, and then one is a rectangular logo on the top right hand corner.  Sadly, the Dragonblogger logo is not an included logo.
That's about it for the extra's, now let's check it out the mouse itself, the Cougar Revenger.