The bookbook laptop case designed by Twelve South allows you to disguise your Macbook laptop as an unassuming old style book in a "deter theft by deception" mentality.  The zipper is designed to be hidden with the cloth part to appear like an old style bookmark.
For those looking for a classy retro covering for their Macbook or laptop, the Book-Book sells for around $80 and you can purchase it from Twelvesouth.com directly.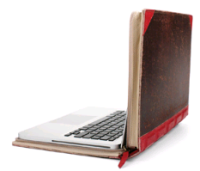 Twelve South releases a BookBook for both the 13" and 15" Macbook pro, but recommends not using with the White Macbook (don't know why though).  Twelve South also plans on releasing a version of the BookBook cover for iPad coming soon.
I think it is a unique idea and the bookbook case is hard and absorbs impact to help protect your Macbook from drops or bumps.
-Dragon Blogger