I took the whole family to see the new Disney's A Christas Carol which was really a showcase of Jim Carrey and his ability to portray multiple characters in a story just as Tom Hanks played multiple characters in The Polar Express by the same director.
I have read other reviews of the film and while most reviewers who negatively rated the film focused specifically on the shortcomings of the animation such as "the eyes" were fake and didn't portray life, I wanted to say the film was technically stunning nonetheless.
This film is very true to the Charles Dickens book and the movie itself does a fantastic job of showing the urgency and ominous path that Mr. Scrooge was on if he doesn't change his miser ways. The movie emphasizes the scare part and there were several scenes in the film that frightened my six and three year old boys.
Jim Carrey does a phenomal job as all characters in the film and shows off his versatility yet his seriousness with the role of Mr. Scrooge feels real and genuine. There is no showboating like with his Grinch character in How the Grinch Stole Christmas, this movie has a very old world feel to it.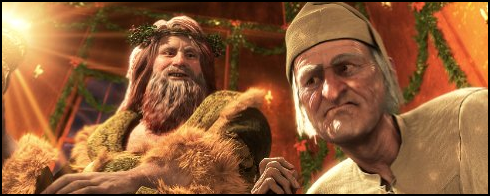 The haunting and dark imagery of the Ghost of Christmas yet to be is truly terrifying and without a spoken word the creature haunts the imagination. Though I think there were a few excess scenes where Mr. Scrooge gets banged up a bit physically, particularly when he was shrunk and slides into icicles, the film was very enjoyable and captivated my families attention from start to finish.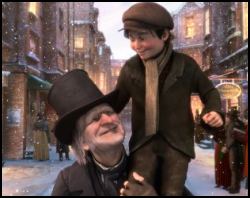 I would give Disney's A Christmas Carol 4 out of 5 stars for being so faithful to the book and for Jim Carrey's amazing portayal of Ebenezer Scrooge and the ghosts. I mean this is a story where everyone knows exactly what happens and it still manages to keep it fresh and entertaining.
If you have seen the film feel free to share your views.
-Dragon Blogger