We are influencers and brand affiliates.  This post contains affiliate links, most which go to Amazon and are Geo-Affiliate links to nearest Amazon store.
Well as we start to close out the year we like to get a round up of some of the teams favorite Entertainment related things from 2014, and this article is about our teams favorite movies from 2014.  In a few days we cover favorite video games from 2014, so stay tuned for that one as well.  With that I bring you the Dragon Blogger top movie picks of 2014.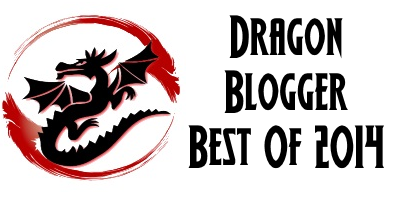 Jordan Hansen from our team says "My favorite movie of 2014 came down to Guardians of the Galaxy, which, in my opinion, turned out to be the best Marvel movie to date, and Interstellar. Guardians of the Galaxy had everything (finishing up my review on it, shortly). It had drama, comedy, action, suspense. I bought it immediately and, while I'm not proud of this, I ended up setting it FOUR times in the theater. However, it took Interstellar only one time for it to be my clear choice for top movie of 2014. It completely reaffirmed my thoughts on what the human race needs to do in order to continue being. It was breathtakingly beautiful, especially the black hole sequences. Even when it got a little strange towards the end, my mind was completely open to anything. Plus, it's a Christopher Nolan film. I wouldn't have it any other way."

Brian Alford from our team is even more in love with Guardians of the Galaxy "When you ask me "Brian, what's your favorite movie of 2014?" I don't even need to think about it
For me hands down Marvel's Guardians of the Galaxy. This movie has everything! It has action, comedy, characters you can actually care about and a cast that is probably one of the most well picked cast that I've seen in a movie. The pop culture references are so awesome and the soundtrack, I couldn't imagine a movie with any other music but the one this movie has.

The best part? There is going to be a sequel out in a few years from now I am I completely stoked for these characters to return. Matter of fact I enjoyed this movie so much that I saw it twice in theaters which is something I never do unless I am that impressed with a movie.

If you haven't seen this movie your just not living! Go pick up Guardians of the Galaxy now!"

Lynda Tomkinson also chimed in with "I will say Guardians of the galaxy. The cast was good. And the movie was funny and entertaining even for my kids. I also want to own a baby Groot."

Ronald Smith however adds a completely different movie with "For me, it's a no-brainer. Deliver Us From Evil is my absolute favorite film of 2014. I'm actually reading the book as well (just started). It's based on a true story, I'm a major sucker for exorcism (and most other horror) movies, and it was just all-over spectacularly well-produced. As with most movies, I didn't like some of the language, but aside from that I had absolutely no negative marks against it whatsoever. Well-written, spectacular FX, you name it. I notice most people faved Guardians of the Galaxy, and while it's clearly a good film, it is in no way even close to my favorite. I actually have many negative marks against it, but I'm also a big stickler for continuity and movies based on comic books actually matching the source material as much as possible, to which GotG only does in a very slight few degrees. For me, though, it was a little bit of a tough choice, but when it really boiled down to it all, Deliver Us From Evil came in strong at #1. #2 fave? It's a tie between Labor Day and Automata, and #4 is Annabelle, but that's another set of stories for another time…"

Nabeel Farooqi weighs in with his favorite by saying "After careful consideration, The Hobbit: The Battle of the Five Armies has to be the one I liked the most. Maybe its because I've read the books, or maybe its because the movie is just too awesome. Either way, it was, in my opinion, the best way to close the year. Now I just need to get some time together and watch all the 6 movies (LOTR+Hobbit)!"

Geoffrey Marks from the team says "I have to go with Birdman. I was tempted to say Guardians, but I after I left Birdman I was still blown away days later by the intensity and relevance. The only disappointment I had in the movie was that Micheal Keaton said the role was hard to relate to. I thought it was a sort of coming to grips role for him,but it was just a character."

Iggy Castillo didn't see too many movies, but did manage to add "Well, I barely watch movies, maybe 4 or 5 a year, I looked through this list and I see how many movies I have missed and how much money I have saved (http://www.wildaboutmovies.com/…/Movies_In_Theaters…), I just saw TMNT 2 nights ago and it was pretty good, not great but good, too many holes (you know like falling off the top of a building on the tip of the tower and not even knowing you hit the ground, BS in 52 font). I saw Frozen, Lego Movie (which was pretty good) but I would have to say out of the 4 or 5 I have seen, I think "Big Hero 6" was amazing. Had a great story, amazing animation , gave me the lump in my throat, for some reason I got some "dirt" in my eye too and was great for the entire family. Such a great movie"

For Victor Salazar he adds the following "Guardians of the Galaxy was my movie if the year. It was funny, entertaining, and just an awesome movie all around."
And I thought and thought about it, and would have to say that my favorite movie of 2014 was also Guardians of the Galaxy, it was the family movie that just had so many of us laughing, clapping and we talked about our favorite scenes and desire to get it on Blu-Ray the moment it came out.  Though the Hobbit: Battle of the Five Armies was very good and my kids liked it, Guardians was just a bigger hit this year.  I will give honorable mention to Dawn of the Planet of the Apes which was brilliant in how it was a part silent film and you really felt for the primates, Edge of Tomorrow: Live, Die, Repeat was also a phenomenal movie as well and in my opinion Tom Cruises best movie.  I haven't seen Interstellar yet myself so letting that be known.  For animated films, The Lego Movie was the best with How to Train Your Dragon 2 a close second in my opinion.
Looking forward to even more movies in 2015 with Avengers: Age of Ultron in the spring and ending the year with the new Star Wars Episode VII.
What movies did you love most in 2014, which ones disappointed you even though you heard great things about it?  We want to know what movies left you upset, happy, scared, indifferent and if you have any recommends for us and other readers.  Also, what movies are most exciting for you to release in 2015?
We are influencers and brand affiliates.  This post contains affiliate links, most which go to Amazon and are Geo-Affiliate links to nearest Amazon store.
I have been obsessed with computers, tech, gadgets and games since the early 1980's having grown up on the Commodore 64 and Amiga computers.
By day I work in the IT Security Industry and have been in IT for over 20 years. On my spare time I am a Vlogger, Blogger, Streamer, Gadget Reviewer, affiliate marketer, influencer and entertainer. I am also an avid movie fan, TV Show fan, Anime fan, video game fan and fan of trying anything and everything new.