Vacuuming is a chore that cannot be avoided. Even if manual vacuum cleaners are always more advanced and more practical it remains necessary to do it ourselves and the only solution for us geek, a connected robot vacuum cleaner! Dreame has just launched a new, more efficient and versatile model, the Dreame F9.
Dreame F9 – Powerful and impeccable cleaning
Dreame's latest robot vacuum model, the Dreame F9, comes equipped with an all-new navigation model. Visual navigation Pioneer 2.0 – Truly V-Slam, behind this barbaric name, hides a 180º camera that scans more than 30,000 points per second in your room. And thus, allows us to efficiently calibrating its movements in your places even in low light. Its route is updated more than 50 times per second for accurate mapping and anywhere in your home. The Time of Flight (ToF) lens (sensor) that can be seen on the front will therefore scan the room in 3D; will be able to avoid obstacles and objects dragging on the ground.
Vacuum and mop
The Dreame F9 is like many robot vacuum cleaners on the market today, equipped with a mop module. In addition to vacuuming for more than 150 minutes in one charge, or about 250m², it can vacuum properly with its power of 2500Pa and intelligent detection of floors and carpets for better cleaning and a double dust filter. In addition to these functions, the Dreame F9 provides a "mop" function which consists of removing the suction manifold to place the water tank and the microfiber wipe there. Just fill the 20cl tank with water and a little product, and its microfiber mop will make your floors shine.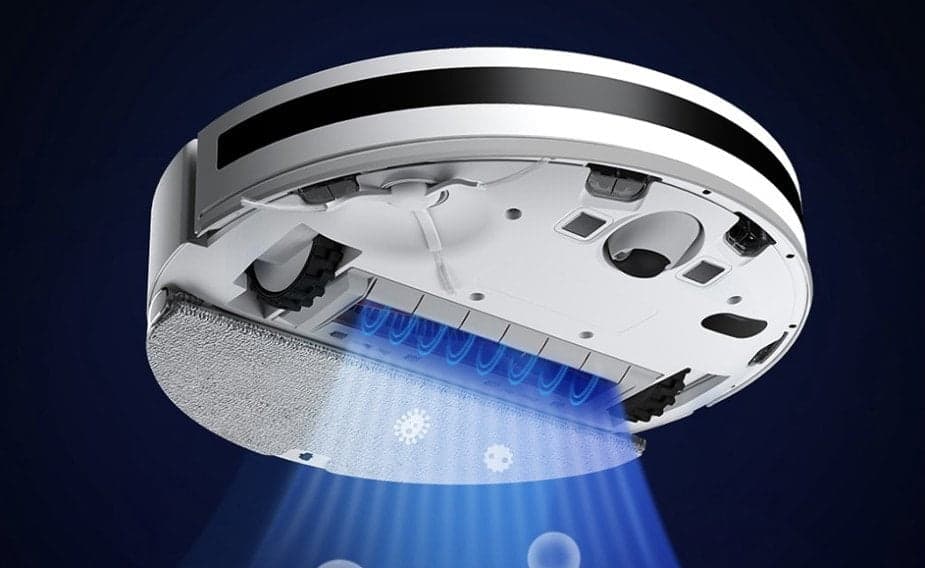 An essential companion app
A robot vacuum is a good machine, and being able to configure it is a better advantage. Some brands offer an application, that allows you to program it and that's it. We can often put virtual barriers with a small box. But here, Dreame has released an application worthy of the greatest.
You will be able to find a plan for your accommodation, divided into rooms. The Dreame F9 knows exactly its location, and where it needs to go. Thus, you can ask him to clean only a specific part of your home, such as in front of the TV, because the children have eaten like animals or in the kitchen after dinner. It is also possible to set virtual barriers to prevent it from going into unnecessary areas. No limit on the number of obstacles, knowing that everything is done on the app.
And so, you can intelligently program it and ask it to clean certain rooms at certain times. All by the voice of course, with the Mijia application, the download QR code is on the cardboard.
A complete robot for a mini price
Apart from its high suction power, its ability to wash the floor and many sensors, that prevent banging everywhere, it is a complete vacuum cleaner. The built-in application adds many features and makes it even more competitive in the market. It provides a guarantee for 3 years and also allows you to clean a large.
I am interested in all things technology, especially automation, robotics and tech that helps change how society will live in the future.