We are influencers and brand affiliates.  This post contains affiliate links, most which go to Amazon and are Geo-Affiliate links to nearest Amazon store.
My friends over at DXRacer sent me their new series chair to review. This is their Tank Series chair. I don't normally get to test and review allot of chairs so when I got word about this chair I got excited. This is a larger chair that can hold more weight. Now when you get the box in the mail make sure you can move it by yourself or have a friend help you move it in, since it's rather large. The shipping label said 75 pounds. My guess is chair is around 65 plus pounds alone. As you can see in the photo below the box is about as long as my large TV.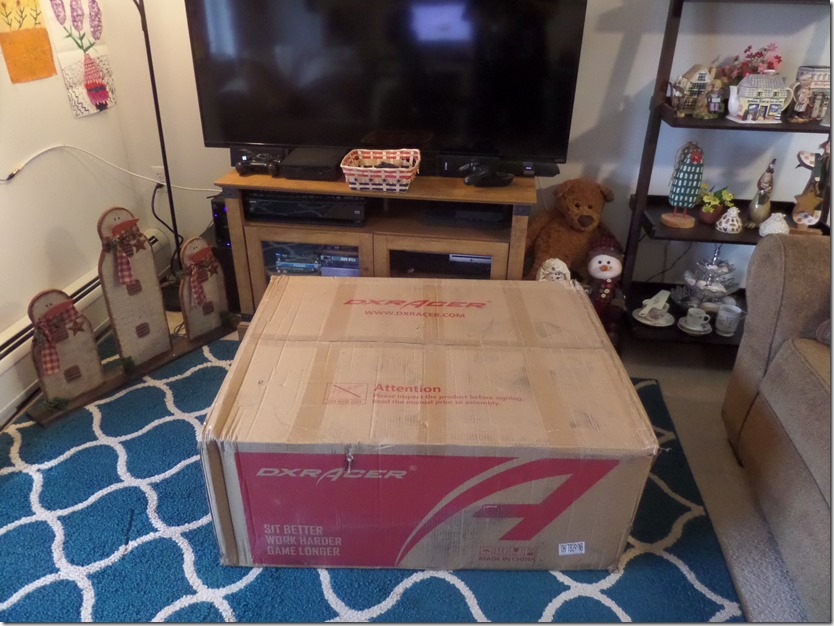 Now in the package you get the backrest, seat, arms, wheels, two shocks, tools, and pillows for your back and neck. You also get some instructions and a few extra bolts. You also get some plastic covers for the bottom. I will get more into each piece for you.
First lets get into the base, wheels, and plastic covers for the base. The base comes in at  31.5  inches wide. DXRacer claims that is 20 percent larger then their other bases. The base is made of  aluminum.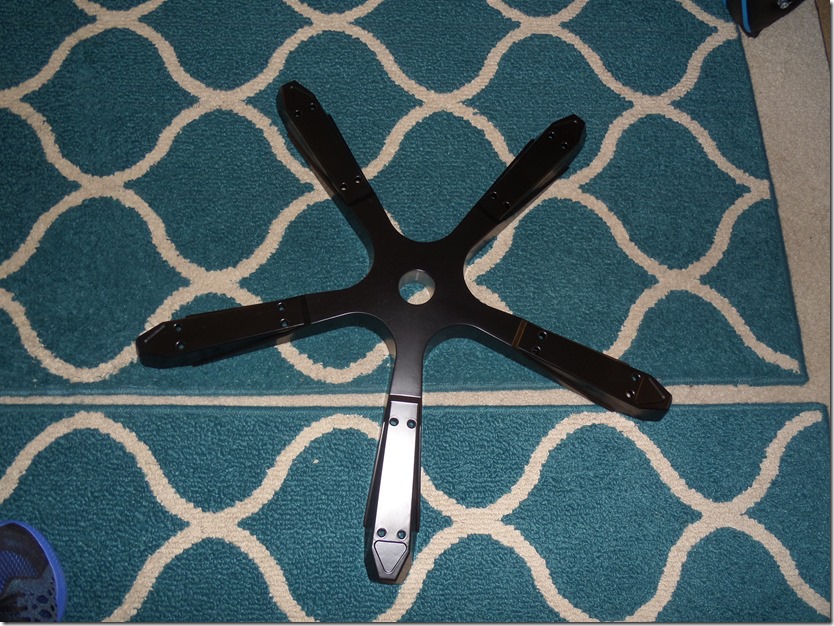 As you can see the base looks small in the picture but it is larger then it looks. You can clearly see the holes that the plastic covers connect to. The plastic covers in my box was blue.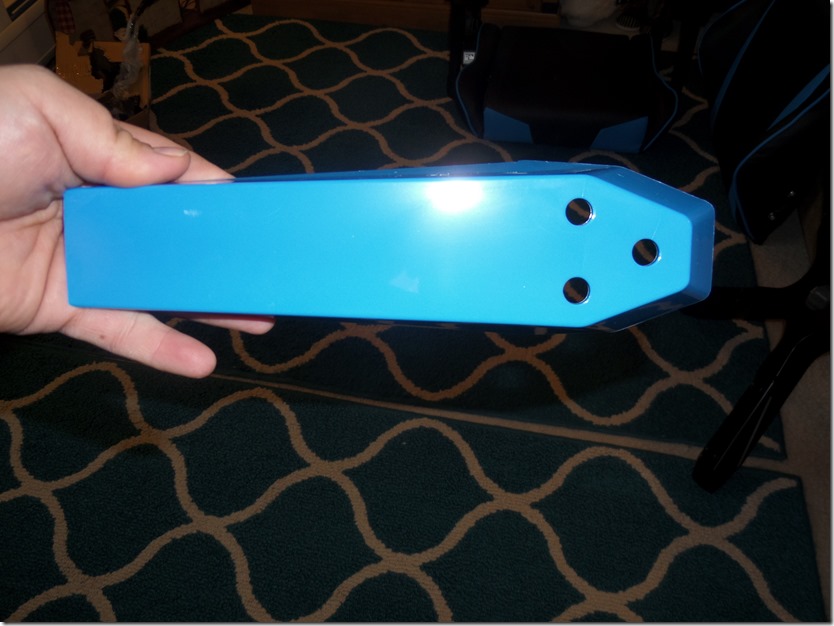 I felt with the quality of pieces I would have loved to see these in light weight aluminum instead of plastic since they say the base is to rest your feet on. I have yet to have a issue though so no complaints on the plastic so far.
Now the casters/wheels are about 3 inches. This DXRacer claims to be 30 percent larger then before.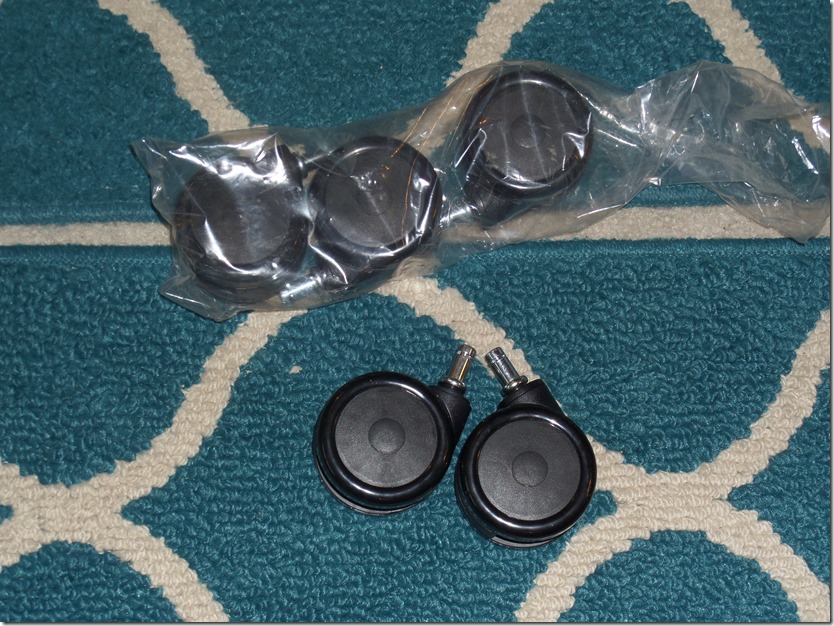 When each piece is placed together the base is nice looking and seems very sturdy.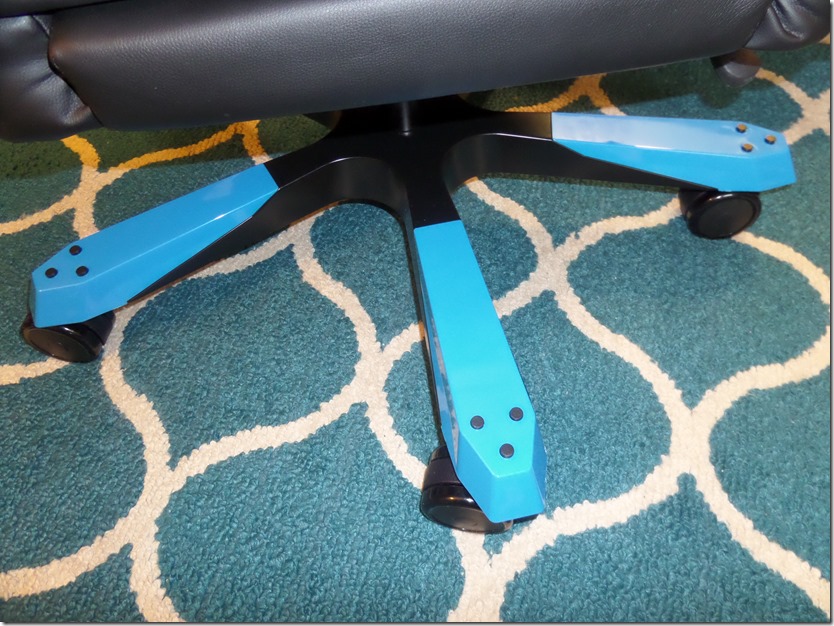 As you can see it does look rather nice. Now as for resting my feet on the base I tend to not do that for some reason guess I still like to sit on my one leg.
Check Out My Unboxing and Assembly Video here!
Now for the back rest and the seat bottom, it is made from cold formed high density foam. They say it is 20 percent thicker.  The fabric covering is leather and an layer of polyurethane. So you get the best of both worlds. The leather is nice and soft to the touch. It is easy to clean just soft wet cloth should clean anything you get on it. The stitching that holds the fabric together is a nice tight stitch that is barely noticeable in most areas. The piping down the edge is a nice blue that is stitched on also. The coloring on my set was blue and black. There are a few other colors like green, red, white, and black on black. As you can see in the next few picture you will see the coloring and the back piece and seat bottom. You will also see the nicely stitched DXRacer logo.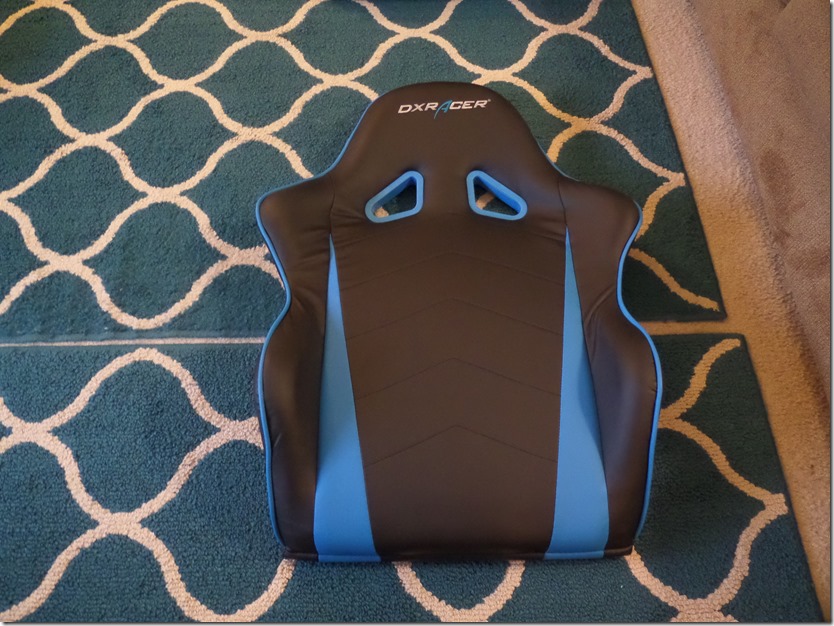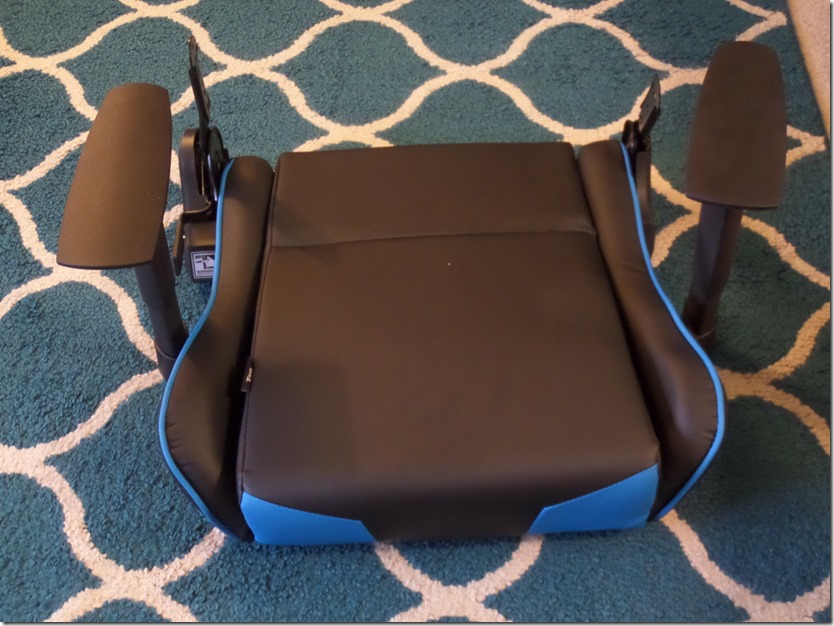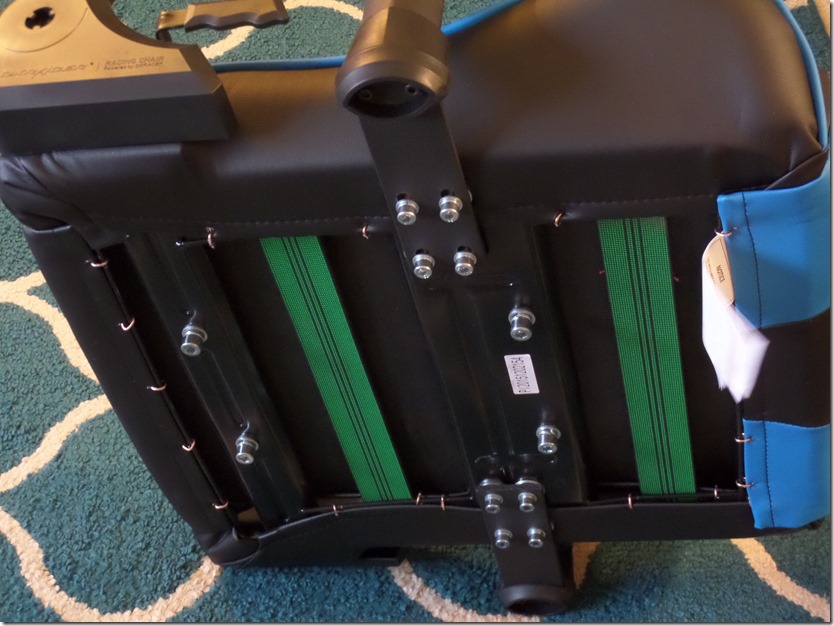 As you can see the coloring and pattern is nice. The pieces have a steel frame built inside. The bottom has the brackets built in so you can connect the back to it. Now one thing I have yet to mention is that DXRacer pre-screwed the screws in each piece for you. This makes the hard to open packets obsolete.  They also pre-connected the arm rest for you. This make less work for you as well, but I suggest going through and checking to make sure each one is secure and tight.
Now on the side of the back rest piece you can see the pre-drilled holes for the screws that fasten the bottom to the back. You can also see the zipper which is on the back piece.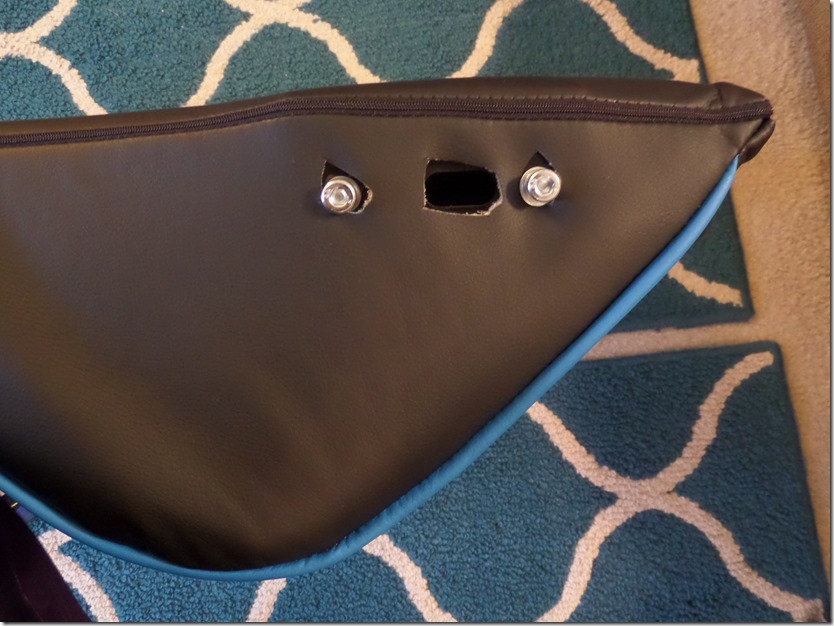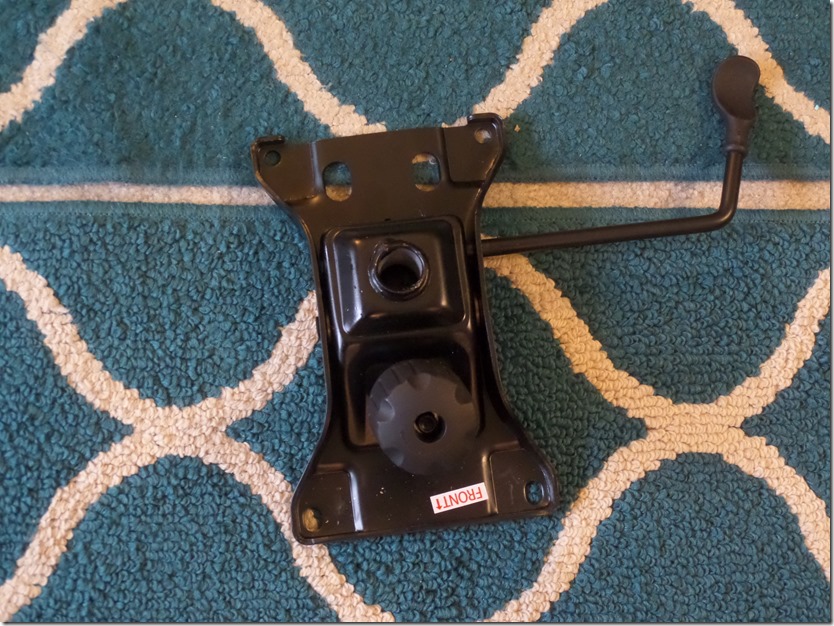 Now on the bottom you will also need to connect the bracket that connects to the shock.
The piece has dual adjustments. Like most chairs I'm sure you all have tried.
Now for the shocks there are two.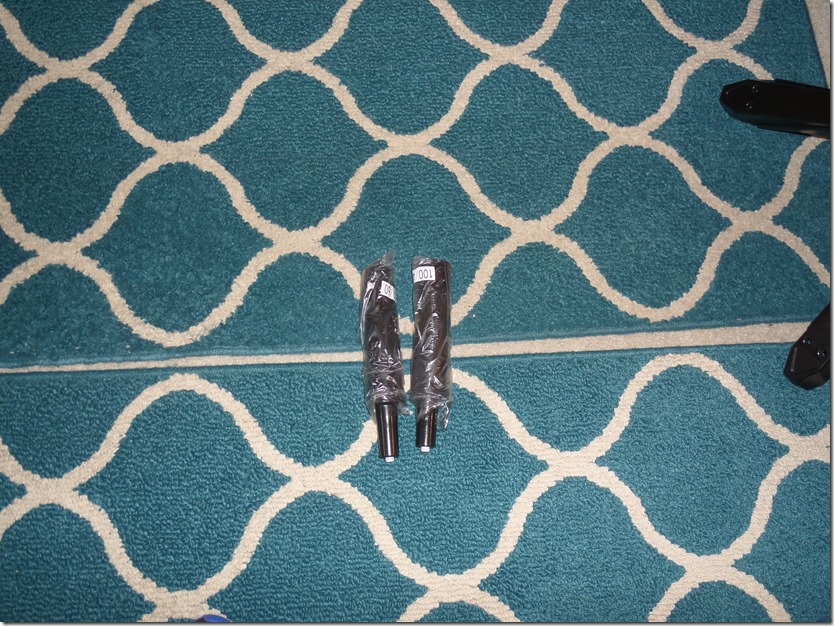 Now they send you two for height adjustment. One is longer than the other. Plus it comes in handy if you're a larger person like me you can replace it after a while and make your seat firm again.
You connect it all and your set is together. all except the cushions that is. They add two cushions one for your head and one for lumbar support. The first photo is the lumbar support. The second is the head rest cushion.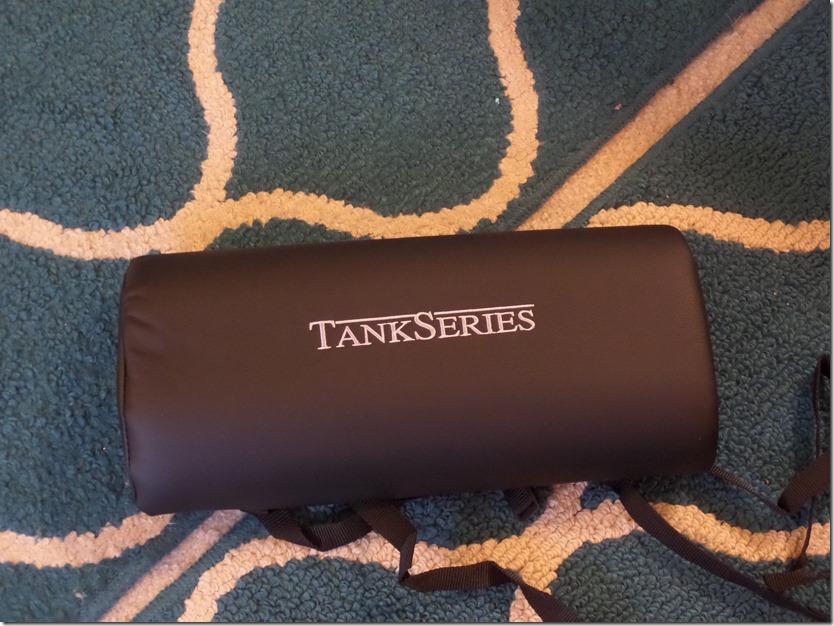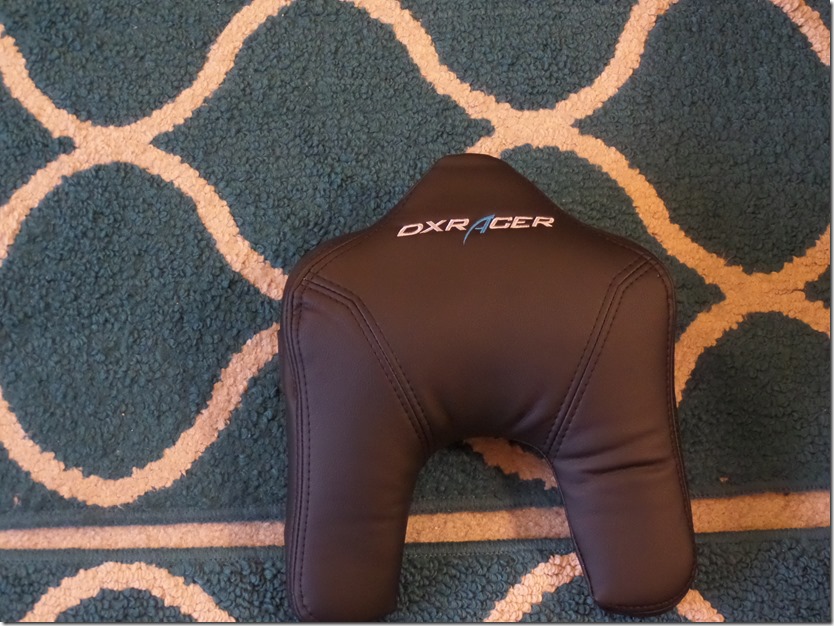 The head rest cushion connects with a Velcro strap. Now you can connect it in one of two ways through the cutouts on the chair or just all the way around the headrest section.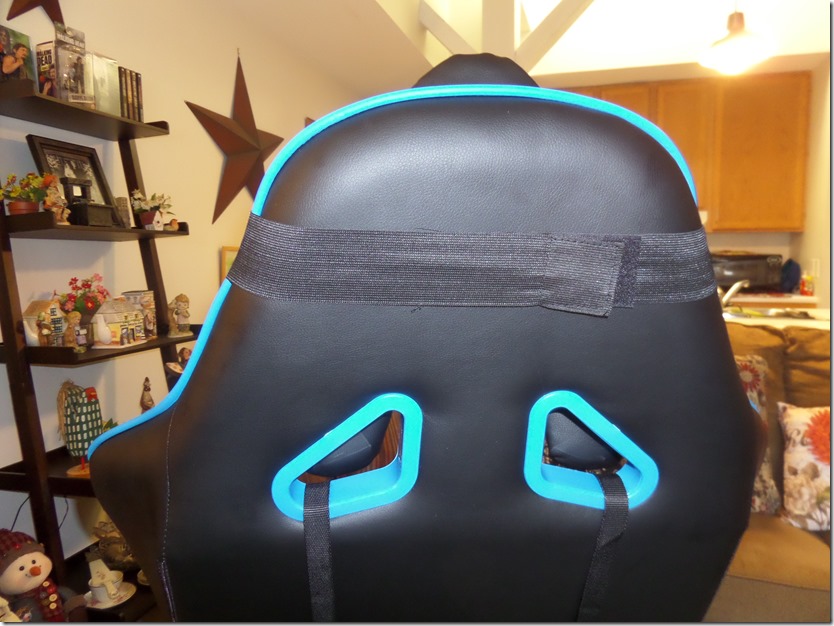 The lumbar support connect with straps that connect like a helmet strap.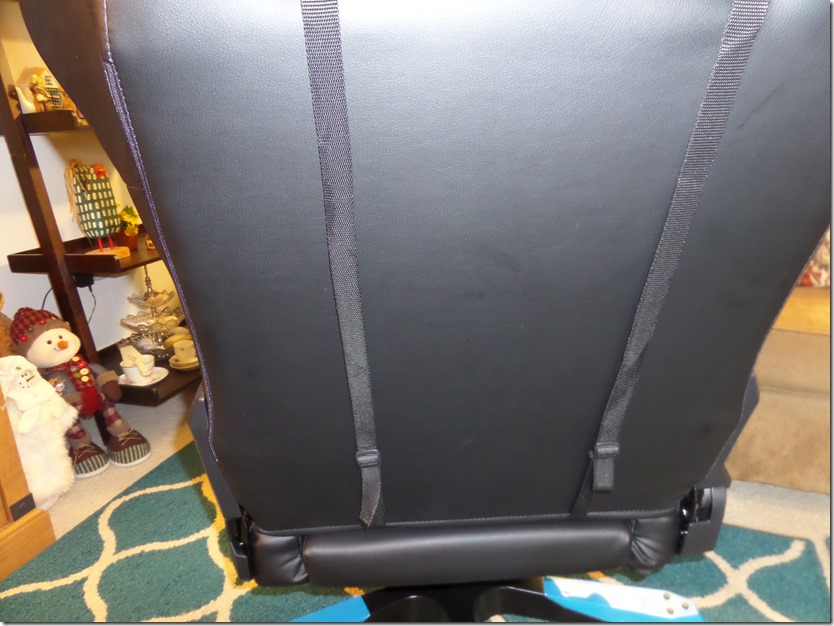 The lumbar has their Tank series logo. The headrest has their company logo. I know DXRacer has been known for doing other logos and gamer tags. In the next photo you can see the whole chair together and the cushions placed on the chair.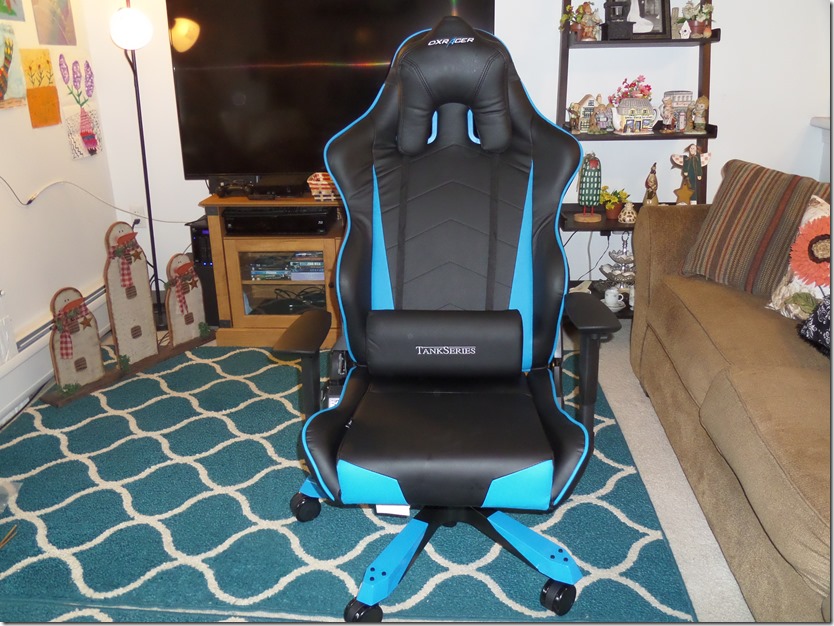 Now the arm rest can adjust in a few positions for you. You can adjust it higher or lower. They also move forward and backwards. You can also angle them inwards or outwards. Pretty much any position to make you more comfy.
One thing I do suggest is you make sure you have room for this chair it is rather large and wont fit in tight areas. I will also post some shots of the instructions for you know.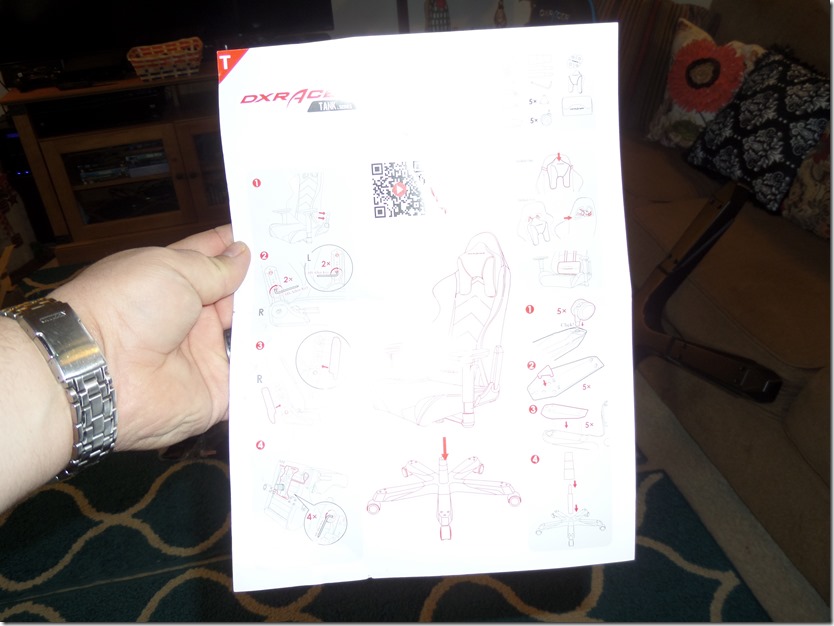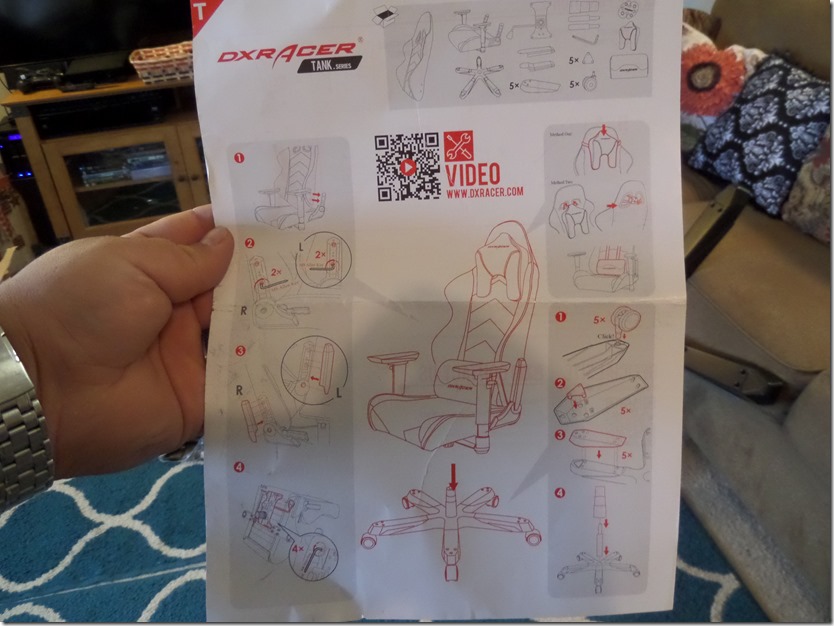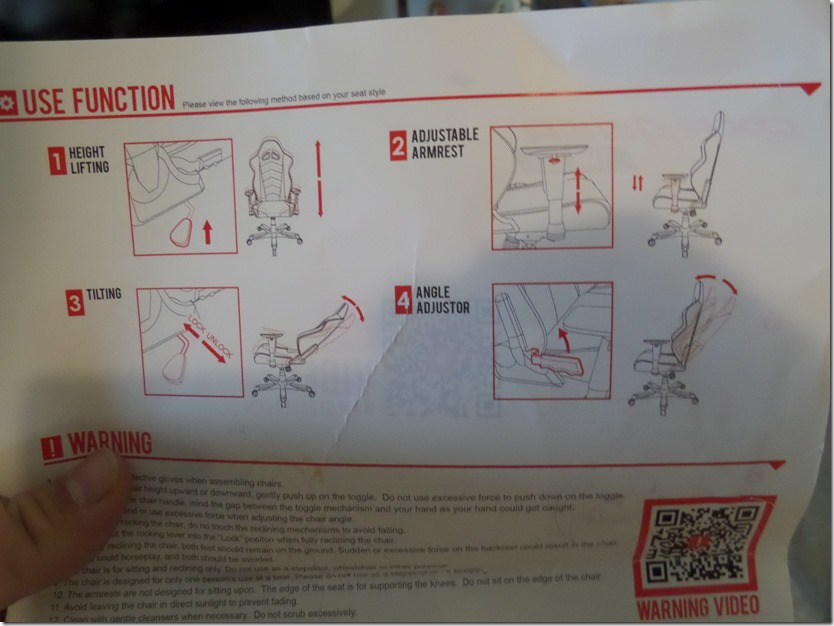 The instructions show you how to set the chair up and use all the adjustments.
One adjustment and piece I have not mentioned yet was the back rest lay down at a 120 degrees and wont tip with you laying at that position. You can literally lay down and take a nap in your chair if you would like to.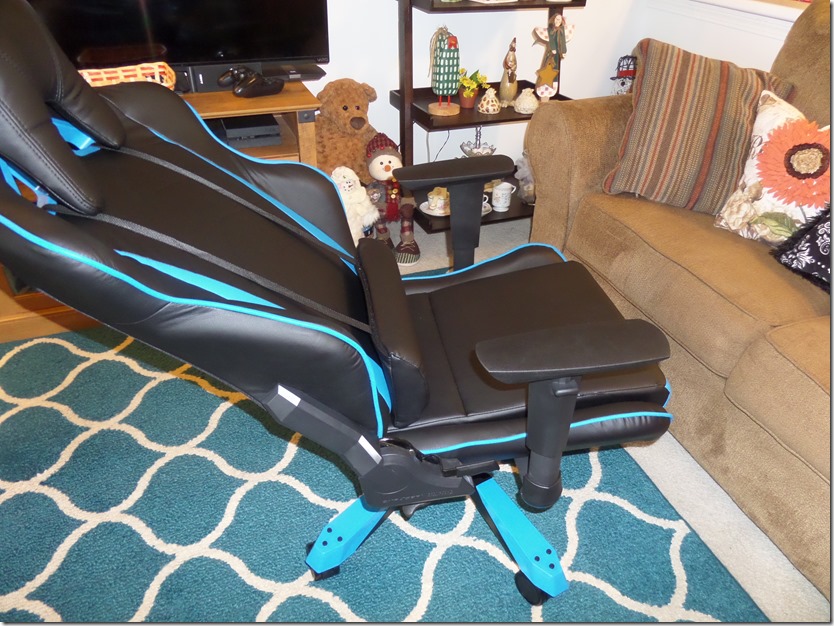 Now the photo does not show it at 1220 but you get a glance at how it  lays back. that as with the adjustment on the base you can lay even farther back. By using both levers in the next few photo.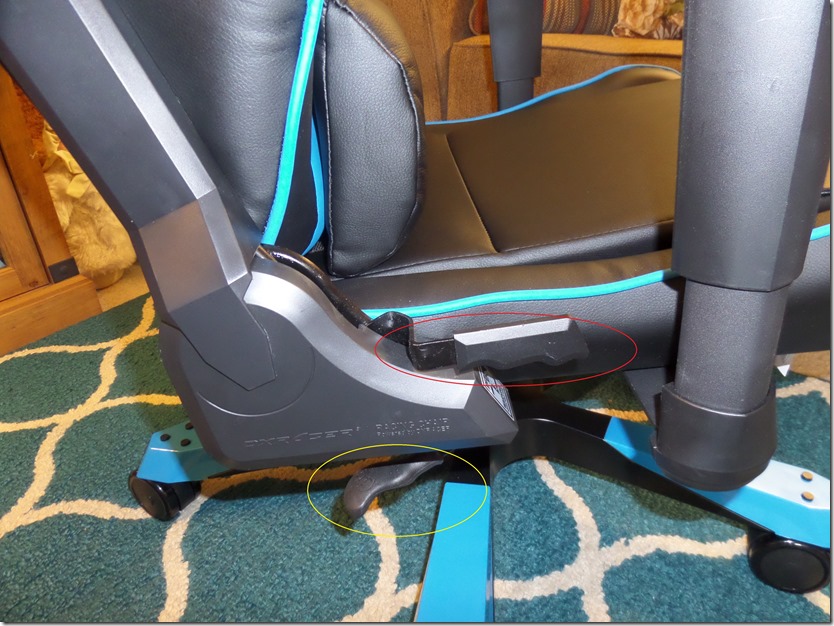 You can see one level on the upper piece and one on the lower. They are the piece with colored circles.
Now I been using the DXRacer Tank series chair for a week or so now and can say I am not disappointed one bit. Unless you call falling asleep in this chair more then my bed bad. The chair has surpassed what I used to call comfortable. I have never wanted to sleep in my chair before. DXRacer did a great job with making this chair. Definitely makes someone my size feel comfy and not worried about a chair falling apart or falling over. The color theme is great and any color scheme you go with you wont be disappointed. With the extras they add in like the extra shock and cushions it make you feel like your important to there company and they thought about you when making this chair.
You probably want to know if it is worth paying the amount of money they ask for this chair. Simply put " Yes". The chair surpasses my comfort test and I can easily to sleep in it. One other test is weight test and it can hold me so I'm sure it will hold others. I have had other chairs break within weeks of owning them. Now I'm not saying that this chair is for every one. They do make other models and one of those may be for you. I would say that if you want a quality gaming chair like this one you will need to pay out some money for it.
If you have any questions about this chair that I did not answer for you. Please feel free to ask.  You will find more reviews at dxracerreviews.com.
Disclaimer: DXRacer sent me their Tank Series chair to give a honest review of. All opinions are mine and mine alone.
We are influencers and brand affiliates.  This post contains affiliate links, most which go to Amazon and are Geo-Affiliate links to nearest Amazon store.
Hi everyone I'm James Braga. I was born in Oregon and moved to New Hampshire a few years back. I love most things that have to do with video games and electronics, It doesn't matter if it for a car or a house, if it has electricity in it i will love it . I'm also in school for Information Systems Technology.