home backup
solutions – The EF ECOFLOW DELTA series.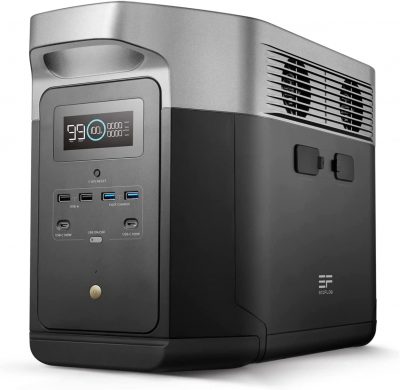 The similarities between the DELTA and the RIVER
Similar to the RIVER series, the DELTA series comes with the most outstanding and well-known technology X-Stream. This signature technology enables the DELTA products to get a fast charge. It can get a rapid charge from 0 to 80% within 65 minutes. However, depends on the specific product, it might require different time for a full charge. Specifically, the
DELTA Max
– our focus today – requires only 1.6 hours for a full charge. Another similarity between the two series is how versatile they are in recharging. Customers can easily charge the DELTA through Wall outlets, 800W solar energy and Car outlet. The mind-blown feature is the DELTA can also get charge from the Smart Generator. It can fully charge the device within 1.6 hours, the same performance from the wall. Moreover, the DELTA also packs with a 3100W dual charging. This allows the station to receive power from both X-Stream AC technology and Smart Generator. Let's use the outdoor scenario as an example. They can use two 160W solar panels and a smart generator to have a device ready within 1.6 hours. This allows consumers to maximize usage efficiency. The DELTA series also come with X-boost technology, which allows the generator to power devices up high wattage devices. This is one of the most important features. Being a reliable back up power for home usage requires a wide range of support. The
power station
certainly support personal device such as laptops, cell phones, internet routers. Moreover, it also supports essential devices such as oven, cooker, and washer. Thanks to this feature, customers don't have to worry about any inconvenient that they might have when there is a power outage.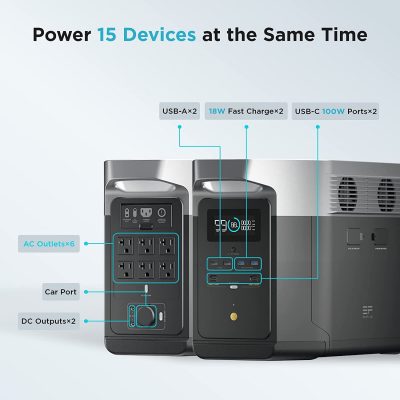 A big step up to be a reliable home back up power
One of the main differences between the DELTA series and the RIVER series is the targeted audience. The RIVER mainly focuses on portability, ease of convenience to carry around. On the other hand, DELTA series focus on providing backup energy for the whole home. In an event of a power outage, users will not experience any difference in their routine. The station can provide energy for a 1-day emergency backup use for the whole house. For instance, with simultaneous use, the
power station
can support all the essential electronic devices up to 24 hours. Even though the data is only for reference, it proves a fact that the device can keep your daily routine undisrupted. Another safety feature that comes with the DELTA Max is the Emergency Power Supply (EPS) technology. When customer plugs the
power station
into the wall, any electronics plugged into it are powered from the grid and not is battery. Hence, when the power from the grid stops (as a power outage for example), the power station will automatically
switch
to battery power within 30ms. Customers won't notice if their plugged-in devices go off for few milliseconds. The DELTA Max will also come with a pioneer BMS technology for rechargeable battery. The BMS – battery management system- will protect the battery from operating outside its safe operating area. Furthermore, it will also monitor the battery's state, calculate secondary data, report that data. It can also control the environment around the batter and authenticate it. This lets users to monitor voltage, current short circuit in real life. Have we mentioned that all the information is available within your palm as well? There is an app for your DELTA Max station that are available for your smart phone App Store, or Google Play Store. Not only does the app have all the information, but also it lets users control the state of the device as well.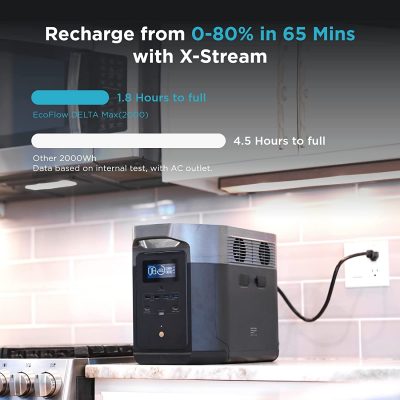 The ultimate backup power solution for your house
Believe it or not, you still have not seen the most amazing feature from the DELTA Max. In our opinion, this feature totally surprises and leaves us jaw-dropping. This
power station
can also equip with up to two 2016Wh batteries. To be precise,  it can have up to 6048Wh capacity. This means that the full package DELTA Max can provide enough energy for you in a power outage event up to three days. Together with the dual charging, and high ranges of supporting devices, the
DELTA Max
will let you stay powered on in any situation. That is the reason why the DELTA Max earns its name "Unleash Your Capacity". With all that features, you must have pictured a bulky
power station
. You might have visualized an inconvenient to carry around. However, that is not the case. The DELTA Max power station has an reasonable weight (48 lbs.) and dimensions. Therefore, it makes the device perfect for any situation. You will not need to assemble a team to carry it around. A group of two adults can carry the station to the right spot.  Moreover, the device also has rugged build for convenient outdoor travel and camping. Besides the provided information on the mobile app, the
DELTA Max
also comes with a detailed LCD display. On the screen, you will find all the essential and useful information about your DELTA Max. There are remaining charges, battery level Indicator and percentage. It will also have temperature indicator as well current Input / Output. Moreover, there will be an overload warning as well as the overload protection too.
The solution that you have been looking for
When people are in the market for a backup power solution to their homes, there are many different criteria. The machine must be powerful enough to provide enough energy for a day. At the same time, it must support a wide range of higher wattage devices. Moreover, the machine must be safe and reliable to operate. The DELTA Series, especially the
DELTA Max
, can certainly check and pass these requirements. If you are looking for an ultimate backup power solution for your home, the DELTA Max is the one you are looking for. You can buy the EF ECOFLOW
DELTA Max
on
Amazon
at this
link
You can find full list of EF ECOFLOW Power Station Products Here:
| # | Preview | Product | |
| --- | --- | --- | --- |
| 1 | | EF ECOFLOW Portable Power Station DELTA, UPS Power Supply 1260Wh Battery Pack with 6 1800W (3300W… | Buy on Amazon |
| 2 | | EF ECOFLOW RIVER Pro Portable Power Station 720Wh, Power Multiple Devices, Recharge 0-80% Within 1… | Buy on Amazon |
| 3 | | EF ECOFLOW RIVER 288Wh Portable Power Station,3 x 600W(Peak 1200W) AC Outlets & LED Flashlight, Fast… | Buy on Amazon |
| 4 | | EF ECOFLOW EFDELTA Solar Generator 1260Wh with 160W Solar Panel, 6 X 1800W (3300W Surge) AC Outlets,… | Buy on Amazon |
| 5 | | EF ECOFLOW DELTA Max (2000) Portable Power Station, 2016Wh Expandable Capacity with 6 x 2400W AC… | Buy on Amazon |
| 6 | | EF ECOFLOW Solar Generator RIVER Pro, 720Wh Portable Power Station with 160W Solar Panel, Power… | Buy on Amazon |
| 7 | | EF ECOFLOW Portable Power Station RIVER Max, 1.6hrs Fully Recharge 576Wh Backup Power with 3 x 600W… | Buy on Amazon |
| 8 | | EF ECOFLOW DELTA Pro Portable Home Battery, Expandable Portable Power Station, 3.6kWh-25kWh, Huge… | Buy on Amazon |
| 9 | | EF ECOFLOW Portable Power Station DELTA mini, 882Wh Solar Generator (Solar Panel Not Included) with… | Buy on Amazon |
| 10 | | EF ECOFLOW Portable Power Station River Mini, 210Wh Backup Lithium Battery, Fast Charging, 110V/300W… | Buy on Amazon |
If you can't find me at the table coding, then you can find me at another table playing boardgames. I want to share the fun, the intense, the `ah-ha` moments, the sabotage, the nerve wracking experience … that Boardgames can offer to the community.