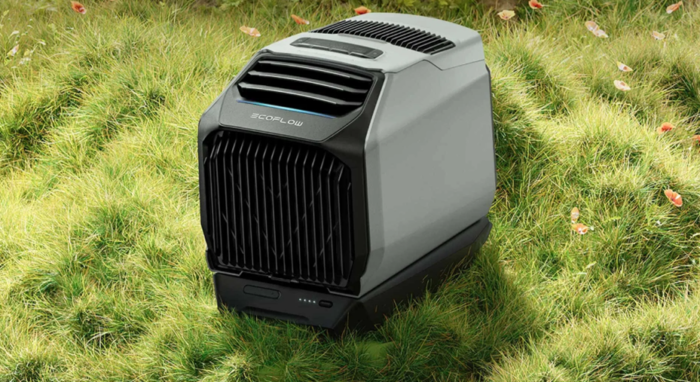 Summer is approaching, one of the seasons of the year most awaited by people. Who does not enjoy a nice day at the beach, hiking activities and many other fun things can do in the summer. Although summer is usually the favorite season for people, the truth is that high temperatures often end up being unbearable, so many people choose to buy portable fans, but as you know that is not always refreshing enough.
We all know EcoFlow, one of the best brands that make power stations, and everything related to high-performance rechargeable batteries.  EcoFlow is a brand that has always been characterized by innovation with useful products to meet the needs of people. The best thing about EcoFlow is that it only makes high-quality things, plus all of its products are backed by a friendly warranty. Recently announced was the WAVE 2, a high-performance portable air conditioner that keeps you cool during the high summer temperatures. Discover the main highlights of this new portable air conditioner.
Key improvements to the EcoFlow WAVE 2
1. Faster cooling
2. Better battery optimization
3. It can not only cool but also heat
4. Quiet design
The EcoFlow WAVE 2 is equipped with new technology that significantly helps improve performance, so cooling is much faster compared to other brands. The battery has been upgraded so that it can offer up to 8 hours of continuous use if you consider that this is an air conditioner that can cool to 5100 BTU. As I had mentioned earlier, the WAVE 2 can not only cool but also heat to 6100 BTU. Another of the most interesting features of this new portable air conditioner is that it can operate silently (44dB) which makes it ideal for use in a tent. To optimize the battery and get the best performance you'll be able to set the WAVE 2 to different modes, so you could get up to 8 hours, which is amazing when you consider this thing can run at 5100BTU in cooling mode. The best thing about this portable air conditioner is that you can increase battery life if you add a portable power station (you'll get better efficiency if you use an EcoFlow power station). You will have 4 ways to recharge the WAVE 2 portable air conditioner, you can do it from an outlet, solar panels, DC port, or with a power station.
As I write this article the EcoFlow WAVE 2 air conditioner is not for sale, but it may already be available in the official Ecoflow store at the time of publication. EcoFlow has done a great job on this innovative new air conditioner, so if you plan on traveling during the summer then this is one of the best purchases you can make to stay cool during the high temperatures.  Remember that EcoFlow is a reliable brand that is characterized by offering high-quality products (especially for its incredible portable power stations). All EcoFlow products are backed by a friendly warranty and personalized customer service.
Learn more about the EcoFlow WAVE 2 here on ECOFLOW Direct
My name is Joel! I love to read, I go to university like most people my age.
In my free time I usually train boxing, I love music, I also know how to play the guitar and the harmonica.