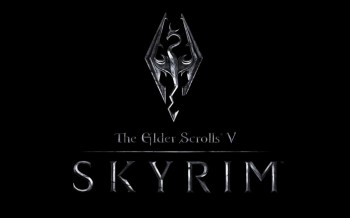 Hey there.  If you're a gamer, these past couple of weeks have been exciting.  Battlefield 3 and Call of Duty: Modern Warfare 3 have had the attention of gamers but the release of The Elder Scrolls V: Skyrim has taken the cake.  Even though lines outside of Gamestop and other retailers across the country, were long with players anticipating the release of their multiplayer war games, no video game has been as wanted by fans as Skyrim has.  It broke the record of concurrent players on Stream with over 230,000 players and just yesterday, Nov. 17th, 2011, it broke it's own record with over 280,000 concurrent players!
With over 3.5 Million copies sold in the first 2 days, it's no wonder that the world of Skyrim is packed with players embarking on their quests to prove they are dragonborn by encountering and defeating the Nordic dragon god, Alduin.  Bethesda has created a beautifully crafted experience with Skyrim and it has captivated at least one of our very own Dragonbloggers in it's adventure!  And keep in mind, friends, there are players that want this game and that have yet to buy it!  The game is so enthralling that you WILL lose track of time.  Gamers everywhere will not see the light of day for awhile and will forget what month they're in.  I've already read stories of college students deciding against buying the game because they do not want to miss any courses and be distracted by Skyrim!  The game is that great.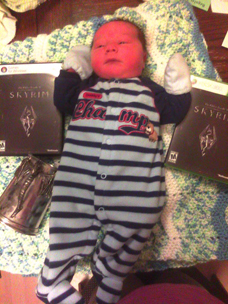 So how popular is Skyrim?  As if monstrous sales and record breaking players aren't enough, a family responded to the challenge from Bethesda and named their child Dovahkiin!  Bethesda issued the challenge, more in jest than anything else, to name a child born on 11/11/11 (Skyrim's release date) with the name of the main character, Dovahkiin.  It seemed unlikely that it would happen but they offered a serious prize if it did.  The Dovahkinn that would be born on 11/11/11 would win all past, present, and future games from Bethesda, FOR LIFE!  WOW!
Would you name your child after a video game character for free games for life?  Are you currently enthralled in battle in the world of Skyrim?  Do you like or do you love Skyrim?  Stay tuned!  Once we're able to reintroduce our Skyrim player back to Earth, we'll have a The Elder Scrolls V: Skyrim review here on Dragonblogger.com.
Also, we found some of the top Skyrim wallpapers on the web and are hosting for you to download for free and get your Skyrim groove on.
Later!
[easyazon_block asin="B004HYK956″]