The TemplateMonster Elementor templates are the most sought after because they are innovative and very functional. This ensures that your website is guaranteed content that will be easy to work with.
Business has become quite competitive and it is poised to get even more so. Whichever business you are engaged in, tangible products or service provision, it is prudent to be prepared to grab your position. Your website is one way of ensuring that you are visible.
However, almost everyone has a website. What sets yours apart and gives it that extra edge? The answer is Elementor templates.
The Elementor page builder equips you with the ability to create attractive designs. Elementor pro templates even allow you shortcuts to starting with an existing foundation which you can manipulate as you like.
Finding Reliable Templates
There are thousands of templates to choose from. This makes finding reliable templates a testy task. Good Elementor templates are not easy to find. To avoid spending your hard earned cash on templates that will disappoint, you must find reliable platforms to buy them from.
One of the most reliable platforms for reliable Elementor templates that will be worth your money is the Template Monster platform.
TemplateMonster Elementor Templates
TemplateMonster is a well known and trusted market that is affiliated with the WordPress platform. It is popular for its ability to shape its products depending on the latest trends. You will find a wide range of Elementor templates on TemplateMonster. The following list makes it easier for you to find useful templates that you can use.
Square
Square is an excellent template for app developers. If you have an app that you wish to promote, the first thing you need is a landing page. Square allows you to first build your product and then bring out its most useful traits.
This template also makes it easy for you to:
· Write your app's best selling features
· Include screenshots
· Use counters
· Call to action
Additionally, Square avails pricing tables as well as an alluring interface that makes your app highly visible.
Studiex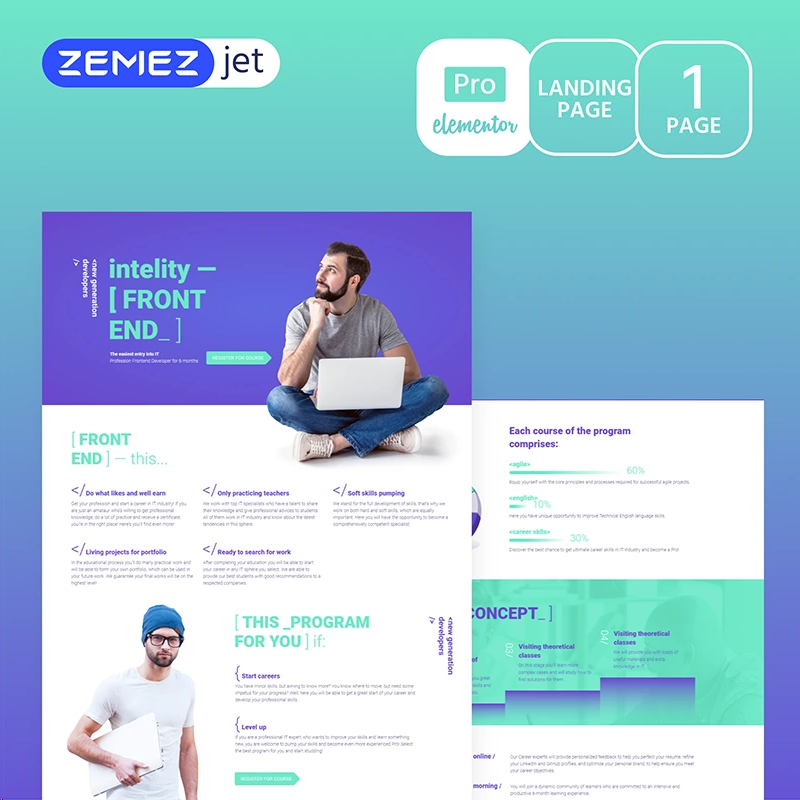 This template works best with those who have websites for online IT courses. It gives you the following:
· A registration form
· A schedule
· Training format
· Methodology program
· Pricing tables
· Training format
It comes with a colorful interface and lazy loading that makes it very appealing to users.
Novelistic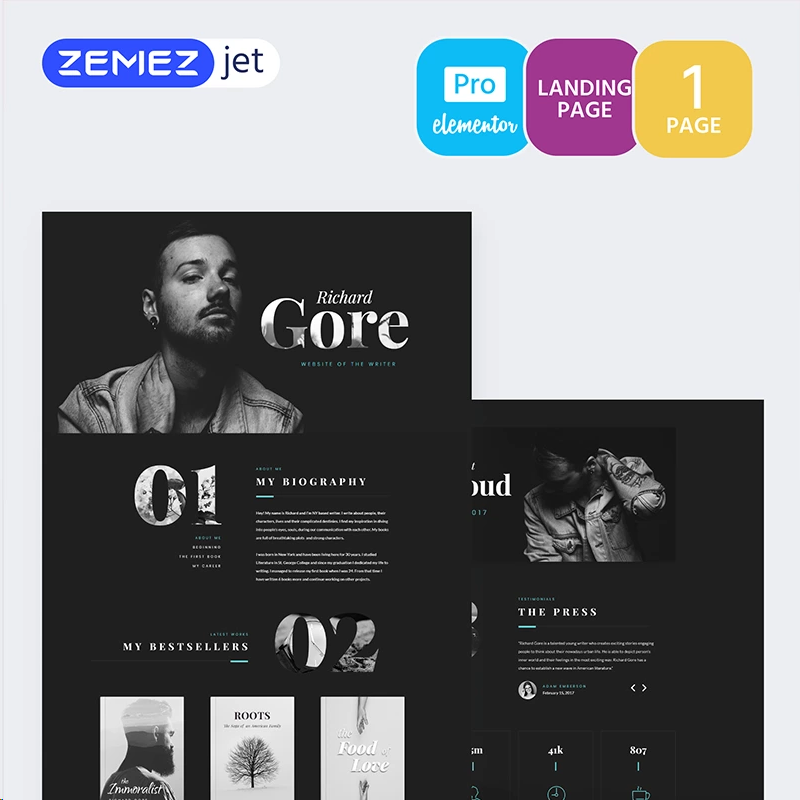 Novelistic targets the modern writer who wants to create a professional looking portfolio. Elementor gives you a black and white design which is stylish and attention-grabbing. It is minimalist in appearance which gives the writer the space needed to focus on writing and book-based issues.
One page of your website can be dedicated to:
· Press reviews
· Readers' feedback
· Contact information
Other details that are pertinent to the website can also be added on this one page. Elementor page builder and Jet Family plugins allow you to make any changes you deem necessary for your web page.
Classic Cupcakes
If you run a website primarily for those who love to indulge their sweet tooth, this template is your perfect companion. You can showcase your cooking prowess and your best recipes using the Classic Cupcakes template.
You can also use this template to host tasting parties and other cake-related events. The template gives you an events section, a range of showcase styles including slideshow and grid as well as fancy topography that makes very inviting.
SEO Magic Homepage
This template is a paradise for SEO agencies as well as freelancers. It comes with an eye-catching color scheme and beguiling illustrations. The template includes sections such as:
· Call to action
· Hire us
· Marketing icons
· Expert skills section
This template also allows you to post an introduction video as well as testimonials.
Gracia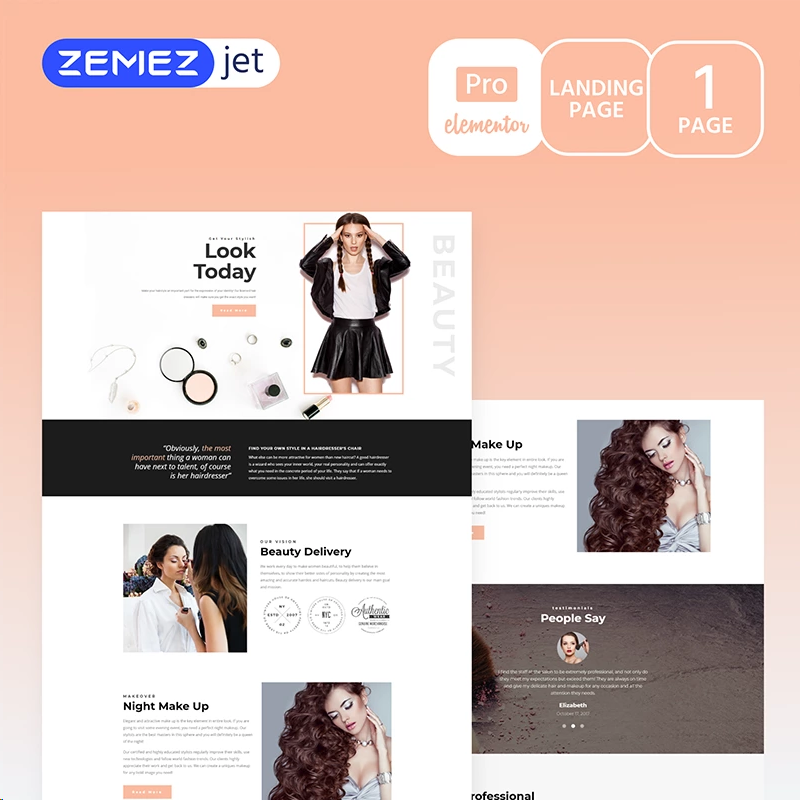 Beauty salons have a winner with this template. It allows you to build an elegant website for your beauty salon that will have clients clamoring to check the site out.
It comes with a variety of tools and add-ons that help you to display a wondrous gallery of your best work and share feedback from satisfied clients. It also allows you to present your staff showcasing their special skills and also highlight the services that are available in your salon.
The Elementor page builder makes it easy for you to:
· Create and edit widgets
· Create plugins
· Build and edit backgrounds
· Create parallax effects
These and other web elements are made possible by this Elementor template. In addition, if you are interested in adding more functionality to your web resource, then Garcia is your go-to template.
Conclusion
Templates are relatively new and there are thousands of them available on various platforms. It is pertinent that you search for those sold by trusted platforms such as TemplateMonster to get the most reliable one. Finally, Elementor templates make the work of building an inviting and professional website easy when you are a novice.
I am interested in all things technology, especially automation, robotics and tech that helps change how society will live in the future.