We are influencers and brand affiliates.  This post contains affiliate links, most which go to Amazon and are Geo-Affiliate links to nearest Amazon store.
Have you ever wondered what happens when you press send while mailing the message? So, if you are sending it through your Gmail App, it directly gets routed through email service's Simple Mail Transfer Protocol service to your recipient's SMTP mail service. Millions of people use mail for their official purpose, but how it works remains ignored. So if you are thinking about how these emails get sends, it's with the help of transactional Email services, which makes sure to deliver it on time. If you are sending Emails in bulk, these are known to be transactional Emails. If you need to send millions of emails per day, you can switch to options like newsletter tool or drip mail. In this article, we will know about the benefits of such outbound email services.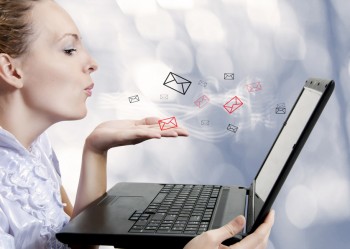 Send More Messages, Faster
Any person can send a handful of emails at the same time. A standard Gmail allows you to send up to 500 Emails per day by setting a limit per day, whereas the hosted exchange account lets you send 30 messages per minute. Even your private server could face technical challenges with thousands of emails to be sent at once and might need new developer time. This is why big companies use this SMTP as a service to make their work easy and efficient.
Ensure Your Messages Get Delivered
Sending Emails from your app can get it dumped in the recipient's folder most of the time. Even if you send these messages from your server, there remains a lot of impossibility that it would appear in the recipient's inbox.
Also, most of the apps check blacklist IP address to eliminate spam, so if you send your mail from a shared server, it might be on those blacklists. Even the sites which are not associated with the reputed IP address or domain name can also be marked as spam. You don't remain with any better option to test whether you are marked spam and to check those by sending thousands of mail to do so. Whitelisting your IP address sounds possible for only big companies like Google. In such a situation, these email delivery services open the path by eliminating the risk or possibilities of getting your mail reached to the recipient.
The SMTP services come with many other advanced facilities, including advanced stats, notifications, filtering, and much more. The API updates the user profile automatically without clicking on the activation link, which makes the website friendlier. This gives more email analytics on its own.
Let's know detail about the top Email delivery services which are doing their task well.
DuoCircle
DuoCircle is by far the best email delivery service on this list. DuoCircle's email delivery services take away the hard work of managing the email marketing campaigns while ensuring all your emails reach your client's inboxes safely and securely.
Amazon SES
Amazon SES services are best known for their offered price. They provide $0.10 per thousand emails, which turns out to be cost-effective and scalable. Bit playing with their API can be a real headache. The other way is to use tools which are self-hosted interfaces and use Amazon SES to send the mails.
SendGrid
Sendgrid is known to be industry leaders of the email space. Though they are not the cheapest or most expensive one but their offers remain attractive. They provide incredible email analytics, 24/7 live support, easy integration with a dead-simple API. They have built up trust by achieving reasonable deliverability rates.
Mailjet
Mailjjet has the same price near to SendGrid, but their mobile applications are evident. They provide features like Email backup, email forwarding, archiving, and migration services.
SendinBlue
With SendinBlue, you can send up to 9,000 emails per month within a cost-effective price. They have a clean user interface and can also be used for regular email marketing campaigns, automation, or transactional SMS messages. Though they don't hold a strong brand reputation but has excellent deliverability and offers free IP address to their customers sending more than 350,000 emails per. They have a unique variety of integration to get you connected with the app.
Conclusion
There are many cheaper options available like Sendy, but they come with less outbound SMTP service or additional features. You will only be able to send mails from a verified address with limited analytics. If you are ready to invest more in getting the best software and hardware to keep your data secure, you can use Postcard. Mandrill is also a good option if you are looking for a user dashboard and a simple interface.
We are influencers and brand affiliates.  This post contains affiliate links, most which go to Amazon and are Geo-Affiliate links to nearest Amazon store.
I am interested in all things technology, especially automation, robotics and tech that helps change how society will live in the future.