We are influencers and brand affiliates.  This post contains affiliate links, most which go to Amazon and are Geo-Affiliate links to nearest Amazon store.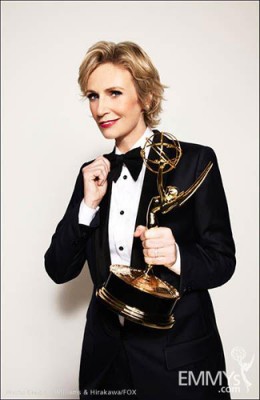 The 2011 Primetime Emmy Awards were glittered with guys and gals from TV land's best comedies and dramas last night.  Red carpet looks were chic and tasteful – red va va voom dresses certainly seemed to be the favorite this year.  Of course what really was getting the most attention was Emmy hostess Jane Lynch from [easyazon-link asin="B003L77GB0″]Glee[/easyazon-link] prepping for one of TV's biggest hosting gigs.  There was a mixed reception regarding Jane Lynch being chosen to master the ceremonies.  Lynch even took a dig at the critics herself when she whipped out her "Gay agenda"…which turned out to be a regular notebook with a To-Do list scribbled on it.
Moments like that are what truly made me dig Lynch as an Emmy host.  Sure she did not have the Fallonesque scruffy charm but Lynch's brash delivery is what makes you love her.  The opening number was your cookie cutter award show musical routine – no moment really stuck in my memory.  I got the whole shtick of jumping into the world of television and how any oneliner automatically equals a bout of canned laughter.  What was odd though was an expected clip from Alec Baldwin being cut due to it referencing Murdoch's embarrassing phone hack scandal.  Fox naturally wanted to look out for its better interests but I think its a cheap shot to chuck out Baldwin because of that…oh well, whats new?
The rest of the show teetered between great and glum – with a dash of awkward.  To get the bad bits out of the way first, I could not stand the Emmytones.  Their only great moment was when L.L. Cool J crashed one of their numbers and busted out a rap about miniseries.  The reaction they all had was priceless.  Another portion of the show that fell short was the facts announcer guy or whatever you would call him.  His sarcastic trivia delivered between award winners leaving their seat and walking up to the stage was dreadful.  How interesting or funny is knowing that someone likes their "chicken nuggets shaped like dinosaurs"?  Thats not compelling comedy or good television if you ask me.  Lastly, I must admit with a heavy heart that I did not like the [easyazon-link asin="B001R91138″]Lonely Island[/easyazon-link] performance.  Their song selection turned out to be my least favorite ones…thats my bias I suppose.  A quick medley of On a Boat, Threw It On the Ground, etc. would have really made my night.
Alright enough of being a Debbie Downer – now lets get to the highlights of the show!  I surprisingly liked two of the controversial guest appearances on the show…those being Ricky Gervais and Charlie Sheen.  Gervais was excruciatingly painful to watch as a host of the Golden Globes but his little bit for the Emmys really got me to laugh.  For example, he expressed in his clip how his offensive humor meant that he was required to be out of the States whenever an award show aired and that his videos would be heavily edited. One of the silliest edits was when he allowed the following criticism slip: "What a bunch of cowardly c[edit] countrymen like Simon Cowell and Piers Morgan." Sheen's minor moment in the spotlight (does he ever have one of those?) wasn't bad either. He humbly went up and gave his best wishes to the cast of Two and a Half Men. Regardless of whether they were genuine or not, good on him not to be the fool for a change and have the last laugh.
The biggest highlights of the show for me were the Best Actress in a Comedy pageant-like setup with the nominees walking on the stage and The Office mashup. It was really unexpected when I saw Amy Pohler first run up on that stage and the girls following after her. When Melissa McCarthy was crowned with a lopsided tiara and given a handful of roses I was rolling on the floor in laughter. This moment was matched by the equally hilarious Office clip showing stars from all over television expressing what they disliked about their day jobs. The quick appearance by my crush Jesse from Breaking Bad when he was handing over a batch of meth to Creed was a stroke of pure genius. I want to hug whoever scripted this clip…it made watching the 2011 Emmys so worth it.
The 63rd Annual Primetime Emmy Awards turned out to be a decent effort. Lynch may not have reached the heights of her predecessors but she certainly held the fort well. Even with the embarrassing misses, the show turned out to be well-rounded and fun to watch.
We are influencers and brand affiliates.  This post contains affiliate links, most which go to Amazon and are Geo-Affiliate links to nearest Amazon store.
Mitra Faridian first joined the site in 2011 under the handle "Persian Poetess." Her gaming and entertainment taste is very eclectic and she's always open to a fun new virtual adverture. Email her at the following address: mitra [at] dragonblogger.com