Occasionally here at Dragon Blogger we partner with other blogs and sites so that we can bring more giveaways to the masses and this is just such a partnership.  We have partnered with Biggie Tips which is a site where you can get everyday advice, info and tips on how to do things.  For this giveaway we are offering something for those who want to keep watch over their baby or pet, and this is the Hello Baby Wireless Video Baby Monitor.
The HelloBaby HB24  is a wireless video baby monitor that enables you to always keep an eye on your baby. It provides a crystal clear image without grainy or pixelated textures.  I wish I had a video baby monitor when I had my kids, I only had a regular audio baby monitor and a video one is better to make sure your baby is resting comfortably in the crib, is still on his or her back for example.  I would use it to monitor my baby and make sure their face doesn't get lodged up against a crib bumper too.
There is also a quiet mode as a row of LEDs on parent unit allows you to see the sound of your baby voice alerting you if he/she is crying out when you have the volume turned down. The function provides assistance for poor hearing person.  This is the perfect device to monitor your baby while you are working in your office looking for professional essay writing services from a site like Essayseek.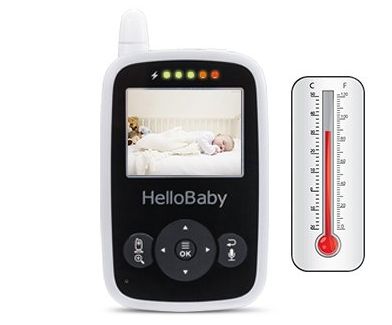 But there is more, this baby monitor also lets you know the temperature in the room to make sure you are aware if the room is getting too warm if the heater is on, or too cold for your baby.  It also has 8 different music lullabies to help sooth a baby to to sleep as well.  Literally this is the Swiss Army Knife of baby monitors.  I had one reader mention they would use it to monitor their garage from their office and that could be another use for it too if you don't have a baby to monitor.
Enter to Win the Hello Baby Wireless Baby Monitor
Hello Baby Wireless Video Baby Monitor Giveaway