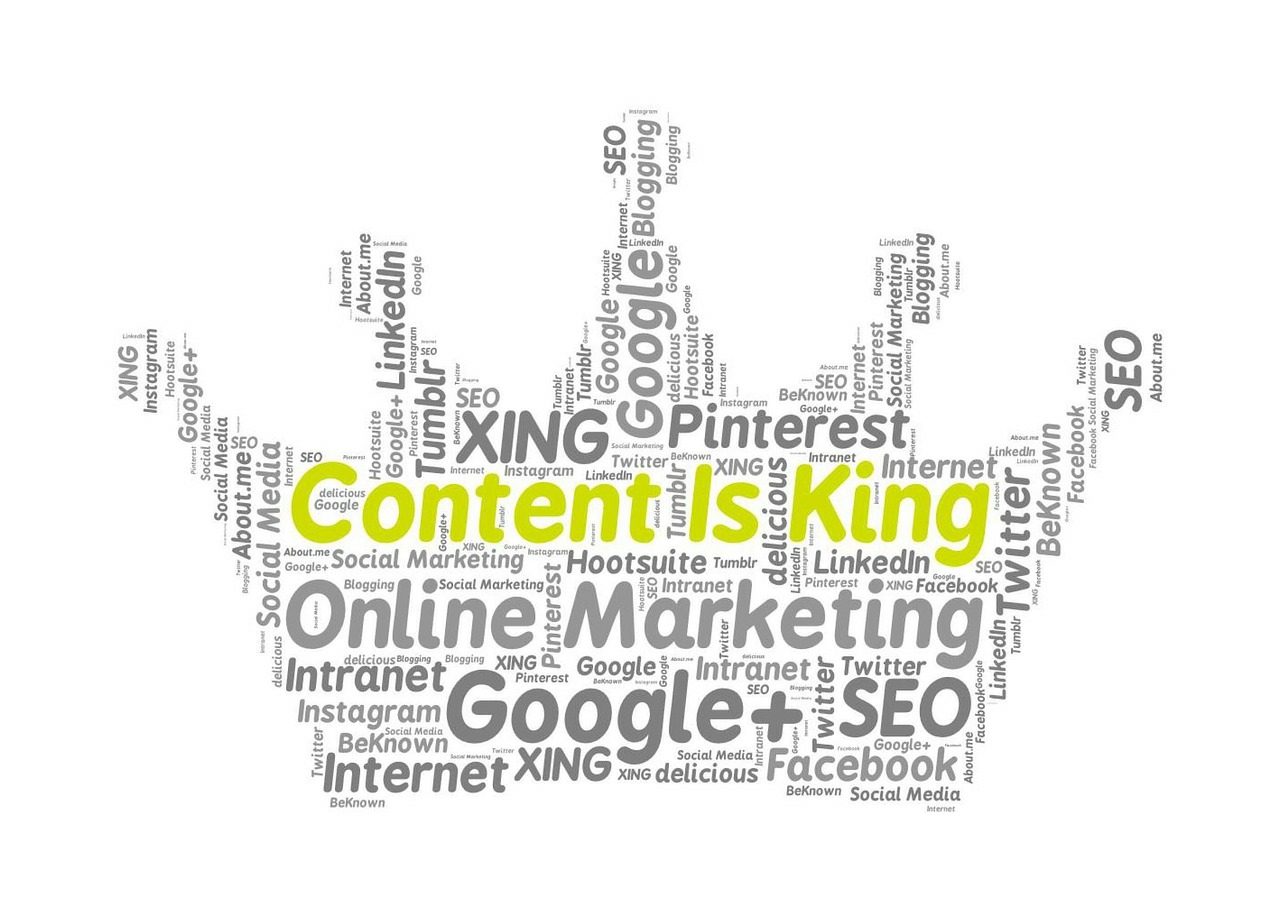 Source: Pixabay
Creating quality content is the goal of serious minded content creators. Some manage to create great content every now and then. Others have become adept at it, creating solid content every time, all the time. Apart from practice there are several tools like text, photo and video editing software that help expert content creators excel at their work. In this post we will highlight some of such tools that can help you create better content.
The following Google Trends chart shows how content marketing has trended worldwide in the last 5 years.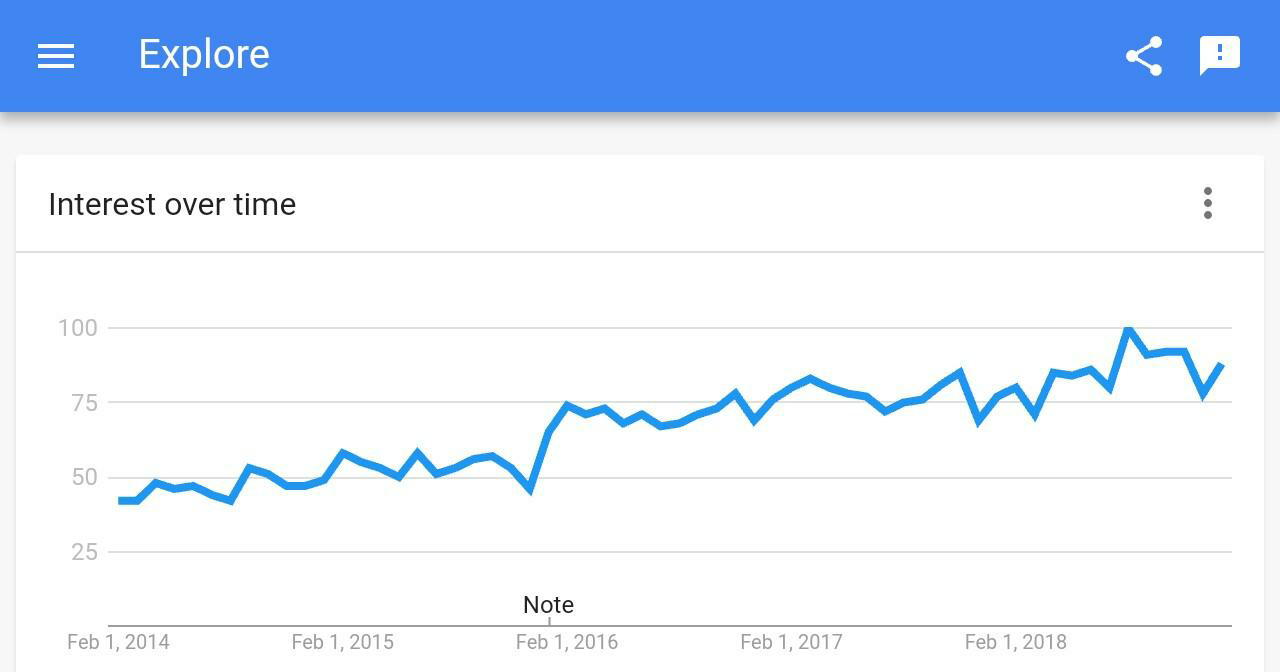 Source: Google Trends
There has been phenomenal increase in interest in content marketing in the last half decade. The following content marketing statistics echo the above sentiments and helps us put it in perspective.
Important Content Marketing Statistics
Content Marketing Institute reports that content marketing gets 3 times more leads than paid advertising. In 2016 a Demand Gen Report showed that 47% of buyers read 3-5 pieces of content before engaging with a sales rep.
Following are more key content marketing stats to note:
84% of people expect brands to create content (Havas Group)
86% of buyers conduct non-branded search queries (GroupM).
70-80% of people ignore paid ads preferring organic search results instead (ImFORZA)
74% of companies say content marketing increased their lead quantity and quality (Curata)
The list runs on and long. And here are
Some Popular Content Types
Some well known types of content include:
Blog posts
Infographics
GIFs
Meme
Photos
Video
Animation
White papers
Case studies
Interviews
Podcasts, and a host of others.
Which brings us to
The Right Content Mix
Some content marketers focus exclusively on one type of content ignoring others. This approach fails to recognize the dynamics of content consumption.
A balanced content marketing strategy on the other hand is like balanced diet, serving the audience every nutrient necessary in the right amounts.
Certain software or tools are required to achieve this critical balance in content creation and delivery.
Following are
Some Essential Software for Serious Content Creators in 2019
To achieve more with content marketing this year try these software:
1. Photo Editing Software
A picture they say is worth a thousand words; a good picture that is. This means this entire blog post can be creatively captured in one good picture or photograph. This again means that incorporating the right pictures into written content can amplify the message, impact and response received.
Thankfully, these days you do not require expensive software or hardware to take or create great photos. With the right tools and a little imagination you can create awesome photos to include in your written content, whether blog posts, case studies, whitepapers, etc.
Canva is a popular photo editing software that allows you create photos for your blog posts, social media posts, quotes, etc. Some other popular free photo editing software/apps include:
Microsoft Photos (for Windows 10)
Apple Photos (for MacOS)
GIMP (Windows, MacOS, Linux)
Pixlr X (Web/Mobile Browser)
Photoshop Lightroom CC (iOS, Android)
Photoshop Express (iOS, Android)
MuseCam (iOS)
Qwik (iOS)
PicLab (iOS, Android)
2. Infographics Makers
Infographics present detailed information like specific industry statistics in a neat, organized manner. One infographic can contain data, statistics or information from hundreds of sources and condense them into one photo.
These infographics save content creators time they'd otherwise spend chasing and gathering facts from place to place. Plus a well designed infographic adds to the color and beauty of your content whether blog post, white paper, case study etc.
There are tons of free infographics makers or software out there that can help you create great looking infographics in no time with little or no technical know how. Some of these include:
Kartograph
Piktochart
Infogram
Biteable
BeFunky
Snappa
Canva
Mind the Graph
Venngage

3. Video Editing Software
Video is another high in-demand content type. YouTube is one of the most popular video platforms where users can upload and share their videos to the world. Several tech blogs write in-depth mobile phone reviews and get their fair share of reads and shares.
However, phone unboxing videos go a step further by showing real life unboxing followed by reviews in most cases. In fact, I've changed my mind about a particular product after watching the unboxing video.
Reports also indicate that 85% of other online shoppers like me watch at least one product video before making purchases.
The right video editing software can help you create great looking videos for your business, home or hobby. Here are some of our favorites:
HitFilm Express
Blender
Openshot
Shotcut
Lightworks
VSDC
DaVinci Resolve
Splice (iOS)
Horizon (iOS, Android)
Boomerang (iOS, Android)

4. Social Media Automation Software

After heavy research and creating that amazing piece of content you want it shared across the continent. From experience we know it can be time consuming to promote and share content across all social networks.
Social media automation software makes this job a lot easier by automatically and simultaneously distributing or posting programmed or pre-scheduled content to all your social media accounts.
This could be random posts, excerpts or quotes from the article, photos, quotes, videos, just about anything. Instead of logging into all your accounts one after the other or launching several social media apps, these social media automation software/apps do the heavy lifting for you with one click.
Examples of social media automation software include:
Hootsuite
Buffer
MeetEdgar
Sprout Social
SocialOomph
IFTTT
Oktopost
Everypost
SocialFlow
Tailwind
5. Content Tracking Software
Serious content creators want to know how their content is performing plus they want to be able to measure ROI from content marketing to justify future budget cuts or increase. Plus it feels great to know your guest post for instance has reached 1k shares and counting.
All of these and more can be achieved using the right content tracking software. These feature neat dashboards that give a detailed account of your posts performance like number of likes, shares, ranking keywords, etc.
Priceonomics recently released a content tracking software for this purpose. Others worth checking out include:
CrowdBooster
Audisense
Socialbakers
Google Analytics
Bitly
Open Web Analytics
TrackMaven
GetSocial
MarketMuse
Priceonomics
Conclusion
Great content takes work, sometimes a lot of work. These and more content creation software help you do and achieve more with each piece of content you put out there. Try them today and let's hear your thoughts, also feel free to let us know about other such software you know or have tried.
About the Author:
Amos Onwukwe is an AWAI trained Business and Ecommerce Copywriter who has been featured in scores of blogs including Huffington Post, Dumb Little Man, Ecommerce Nation, eCommerce Insights, Understanding Ecommerce, Result First, Floship, Successful Startup 101, Small Biz Club, Small Business Bonfire, among others.
He is available for hire
Twitter: amos_onwukwe
This is the Dragon Blogger Guest Bloggers account for author's who want to submit articles and only have credit in the post instead of having to manage their own WordPress profile.